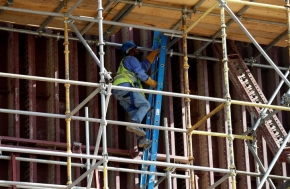 WorkSafe Saskatchewan and the Saskatchewan Construction Safety Association (SCSA) have issued a notice reminding homebuilders and renovators to cover unguarded openings on work sites and to wear proper equipment.
The most dangerous and pressing compliance issues in residential construction in Saskatchewan are: covering openings, wearing personal protective equipment (PPE) and using and wearing fall protection equipment.
"Workers fall through uncovered openings or drop tools or fall from scaffolding with unguarded sides. They are injured when they are allowed to work on sites without proper hard hats or footwear. There is non-compliance with training and wearing fall arrest," said Shelly McFadden, director of prevention at the Saskatchewan Workers' Compensation Board.
In 2015, there was only 41 per cent compliance with covering openings into which a worker could step or fall and there was 20 per cent compliance with providing barriers for open shafts, according to government OHS inspectors.
According to the 2015 WCB Annual Report, construction trades helpers and labourers had the fourth-highest number of total claims accepted in the province (775 claims).
OHS will be out inspecting residential construction sites throughout the summer and fall. During two residential construction workplace inspection campaigns in 2015, visiting 161 residential construction sites, OHS found that 41 per cent of the workplaces were using fall protection as required. Fewer than 50 per cent of the workers on the sites inspected were wearing protective headgear.
"Safety needs to be at the top of our minds at all times," said Ray Anthony, executive director, Occupational Health and Safety Division. "Employers and supervisors have the highest degree of responsibility for safety on the workplace. It is everyone's responsibility to comply with the law and safe work practices."
Collin Pullar, president of the SCSA, strongly recommends that consumers ask questions about safety when choosing a homebuilder or renovator.
"No builder wants an injury to happen on their job site, but no home owner wants their new home tainted by the thought that a worker was killed or injured building that home."
He encourages home buyers to make sure they use a qualified, licensed and insured home builder or renovation company.
"Always ask if they are registered with the WCB. If they are doing something you think is unsafe on your property, you have the right to ask them about it," Pullar says.
Chris Guérette, CEO of the Saskatoon and Region Home Builders' Association, agrees.
"There is a security in knowing you are building your home with a registered homebuilder. We all want a home built on time with zero deficiencies. Our homebuilders are continuously improving the quality of housing projects through safety training and culture education via our Certified Professional Home Builder Program. A commitment to worker safety is a commitment to professionalism, consumer protection, and zero injuries."
Photo: REUTERS/Faisal Al Nasser