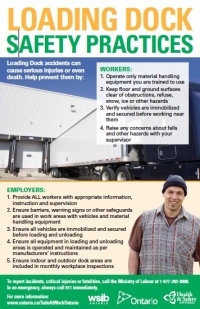 Ontario will launch a heightened enforcement focus related to hazards in shipping and receiving areas, including loading docks, as part of an ongoing campaign to increase safety in workplaces, according to a statement from the Ministry of Labour.

Ministry of Labour inspectors will visit industrial and healthcare workplaces during the month of February, as part of the enforcement blitz. They will focus on hazards involving:

* Positioning and securing of vehicles, including checking that vehicles are immobilized and secured against accidental movement;

* Loading and unloading activities, including checking for hazards involving material handling equipment, fall hazards and manual material handling that could lead to musculoskeletal disorders, and;

* Entry and exit of transport vehicles, including checking for traffic hazards affecting pedestrians and the general work environment

"Workers face a variety of high-risk hazards in shipping and receiving areas of workplaces," said labour minister Charles Sousa. "Our government is taking steps to prevent these types of injuries and deaths. Workers have the right to return home safe and sound to their families at the end of each day."

Between January 2000 and October 2010, the province saw 15 workers die from workplace incidents involving shipping and receiving areas, including loading docks, a ministry statement said. The province currently employs 430 occupational health and safety inspectors.

The blitz is part of the government's Safe At Work Ontario strategy. Safe workplaces lead to increased productivity for businesses and result in less strain on the health care system, the ministry said.