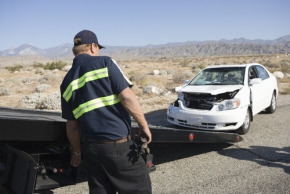 Effective Sept. 1, Ontario drivers will be required to slow down and move over when there are tow trucks on the side of the highway with their amber lights flashing.
About 100 tow truck drivers die every year across North America because other drivers don't give them enough space while they're working on the side of the road.

Driver will still also need to slow down and move over for emergency vehicles with red or red and blue flashing lights.

The changes to the Highway Traffic Act stipulate drivers who don't slow down or move over will face a minimum fine of $490 and a penalty of three demerit points.

The amendments also increase penalties for distracted driving. While the current fine range is $60 to $500, the new fines effective Sept. 1 range from $300 to $1,000 and three demerit points (there are currently no demerit points connected to distracted driving).

For novice drivers and gradated licensing, there is currently no escalating consequences but the new act will implement a 30-day license suspension upon first conviction; a 90-day suspension for the second conviction; and a license cancellation for the third conviction.

Deaths from distracted driving are predicted to be higher than those caused by drinking and driving by 2016. According to the Ontario Provincial Police, 73 people died in distracted driving related collisions in 2014.

The new law includes the following changes for truck safety:
•Allowing B-train double-trailer combinations to be extended from 25 metres to 27.5 metres to accommodate new technologies required to meet air quality and greenhouse gas emissions standards.
•Allow for more comfortable sleeper berths for drivers.
•Accommodate the use of "moose bumpers" that help prevent animal strikes to the front of tractors.