Marijuana use affects the brain far longer than 24 hours after initial ingestion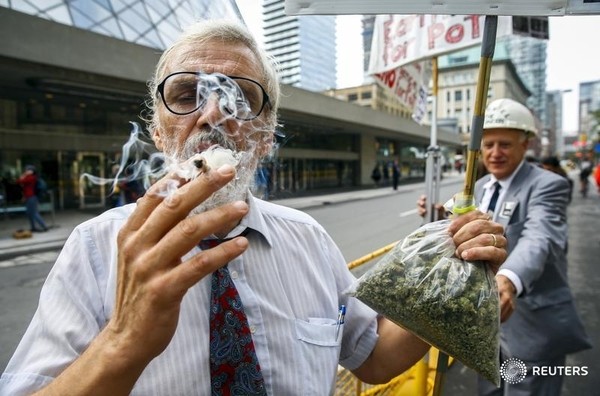 When Dan Demers asked a room full of 125 safety professionals "Who thinks marijuana is a current issue in their workplace?" hands quickly shot up and the room erupted into laughter.
The strategic business development manager from CannAmm was speaking at the Assembly of Manitoba Safety Professionals on Jan. 23 in Winnipeg, hosted by Safety Services Manitoba. Demers provided insight into the actual effect cannabis has on the body and why this should be keeping health and safety managers up at night, with the federal legalization of recreational cannabis looming.
The big problem with cannabis is that it opens a bunch of doors all over the brain, Demers explained. Some are experienced as being high but others are completely unknown to the user.
"Cannabis is more than just THC. There's complexity in cannabis in its whole form that makes it really, really challenging to safely and reliably know if you can use cannabis and be 100 per cent safe a few hours later, maybe a day later, maybe 10 days later," Demers said. "Just because you aren't aware of it doesn't mean it isn't going on, doesn't mean the hangover doesn't exist and it is affecting areas of the brain that you have no idea about."
After the initial high, the neocortex ends up being disrupted for a long time, far longer than 24 hours after initial ingestion. The neocortex is the grey matter of the brain that is responsible for executive function. It controls the ability to think, interpret what is about to happen and take into account more than one piece of information at a time.
"How fast am I going? What's going on around me? What's about to come?... It may not matter for someone at a desk pushing paper, but if you're operating aircraft, for instance, and all of a sudden the conditions change, you have a gust of air coming in to a landing and you need to align your plane appropriately, this matters big time," Demers said.
The lingering effects of cannabis impair alertness, complex reasoning and the ability to judge distance, time and speed.
"This is the area where most employers are failing to understand that marijuana will have huge impacts on workplace safety," Demers said.
Because of the potential for such long-term negative effects, Demers said safety managers have to say to staff: "What you do on your own time is actually our business."
Demers also asked the room full of safety professionals "How many of you have heard marijuana is just like alcohol?" There were collective nods and sounds of agreement, especially as he continued with statements he often hears from workers.
"'I can have glass of wine at the end of the day, a couple beers, whatever, I go to work the next day no problem. Why can't I have a (cannabis) gummy bear? What's the difference?' The difference is it's like comparing an apple to a hubcap. They are just such different substances," Demers said.
Demers urged the crowd to forge ahead with their own workplace rules around marijuana. They may want to make it clear that cannabis and certain occupations simply can't co-exist, such as within transportation, aviation, railways and policing or other safety-sensitive positions, he said.
"Please don't wait for regulations to support your activities. They don't want to touch it. It's a hot potato," Demers said. "You will have to establish what the safety standards are for your workplace and your industry — what makes sense for you."
This article originally appeared in the April/May 2018 issue of COS.