Sellery ensures that the show will always safely go on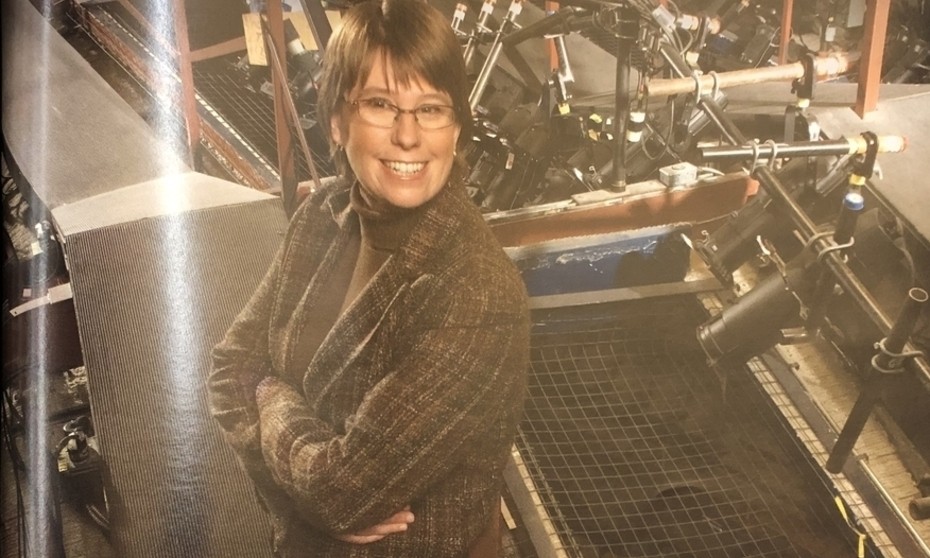 When patrons take their seats at the Stratford Theatre they are transported to another time and place, witness tempests and sword fights, epic battles, and experience a full range of human emotions.
But the people who help stage these fantasies need to ensure they aren't risking their own safety for our entertainment.
To mount the elaborate and awe inspiring productions we see at Stratford, there are dozens of craftspeople and artisans, stagehands, administrative staff, actors and directors and a team of creative people working off stage to produce top quality and artistically meaningful entertainment.
"They will do whatever it takes to get the show on," says Janet Sellery, CRSP, the Stratford Festival of Canada's full-time health and safety manager, and the 2007 COS Safety Manager of the Year.
"Actors will do what they are asked," she says, whether that's jumping off something, firing a gun, carrying a live flame, suspending from a bungee or sword fighting.But that "show must go on" mentality is one of the obstacles to improved worker and performer safety. These, and other factors, such as time constraints, an environment of constant change, and exposure to a range of potentially hazardous substances, can brew a "hazardous stew" that requires constant vigilance.
"It's a different kind of challenge to bring people into health and safety," says Sellery. "There is a strong feeling that we are special, that we are different — that we are not a factory," she says, and adds that some creative people bristle at the risk that health and safety regulations might encroach on their artistic environment.
Dawn Brennan, who nominated Sellery, is general manager of the B.C.-based Safety & Health in Arts Production and Entertainment (SHAPE) and a 25-year veteran of the theatre industry. She understands the challenges Sellery faces. "Our focus as an industry is putting art on the stage and sharing it with people," says Brennan. "A lot of people do believe the show must go on, and you are battling century's old traditions," she says. "The show must go on, yes, but the show must go on — safely."
Brennan says Sellery is a national resource for the performing arts industry, and she frequently volunteers to speak and help train artists, performers and managers across Canada. "I think Stratford took the leadership of putting this position into place," says Brennan. "They invested in it. They are to be admired in our industry for their commitment to health and safety."
Caught off guard
Sellery had no idea she'd been nominated, but is appreciative of the extra attention the award has put on her safety efforts. "It's been very exciting. I've been flooded with best wishes, and emails and chocolates!" says Sellery. While she still has much work ahead of her, she says it has been nice to pause for a moment and recognize that she has made progress.
"She was absolutely shocked," says Brennan with a laugh, when she called Sellery to tell her she had won the award. "She was dumbfounded."
Sellery's manager also had high praise for her efforts."Janet has had a huge influence on the performing arts and theatre industry," says Shelley Stevenson, the Stratford Festival's director of human resources. "She is a very hard worker and passionate about health and safety."
Behind the scenes risks
Most theatregoers don't ever pause to think about the health and safety of the performers and the dozens of people working to bring drama to life. Why would they? At first blush, the theatre wouldn't strike most of us as a particularly hazardous place, and part of the magical allure of theatre is that we don't get to see — or want to see — what's going on behind the curtains.
That's why Sellery's work is so important. As Canada's first full-time safety manager in the theatre industry, she has carved a role for herself and emerged as a spokesperson for safer practices across the entire industry.
"Part of Janet's job is balancing the needs of the forklift driver with the actor playing King Lear — who could easily be eighty and has been in the past," says Brennan.
At Stratford, you have the typical range of office worker issues, but you also have carpenters and welders building scenery and sets and making props, others sewing costumes, making wigs, spray painting, and other related crafts. "We are working with a lot of hazardous products," she says
Indeed, during a tour of the theatre during our photo shoot, I witnessed an underground maze of activity, with workshops and workers immersed in their crafts. There is safety signage throughout and warnings and cautions and safety gear visibly on display.
The people setting up and moving the sets around also have to move quickly and do lots of material handling, and the sets often have to be broken apart and set up quickly. During the shows, some work has to be done in very low light and this too can pose hazards.
Because of this rather peculiar environment, Sellery has had to figure out a lot of things on her own, and modify ideas and procedures to suit the variety of people and processes. "The challenge for our industry is it's very hard to figure out all the legislation that applies and give it some context," she says.
Apart from keeping employees safe, 600,000 members of the public go through Stratford's various theatres and facilities each year, and Sellery is also responsible for ensuring they safely enjoy their visit.
Incident prompted career change
Sellery has worked at Stratford since 1985, but her career took a sharp turn toward safety in 1995 after an actor was seriously injured in a fall during a technical rehearsal. The actor fell from about nine feet from a balcony and fractured her skull, shoulder, broke her ribs and punctured her lung. When the Ontario Ministry of Labour came in they had lots of tough questions for Sellery because she was the worker co-chair of the health and safety committee. They asked her about the steps her organization was going to take to ensure it wouldn't happen again. "I was put in a position where I felt I needed to step up, and maybe this way I could make a difference," says Sellery.
So Sellery made the transition from stage management to health and safety, and took an Occupational Health & Safety Certificate at Ryerson University and worked at developing programs for the theatre. Her job grew to include things like policy development, emergency procedures, drills, training, claims management, return to work, public health, wellness for a staff of almost 1,000, of which 85 per cent are seasonal contract workers.
Sellery is the one person who does everything she can to keep her colleagues from truly breaking a leg! Congratulations Janet!
Todd Phillips is the editor of COS magazine. You can reach him at tphillips@clbmedia.ca