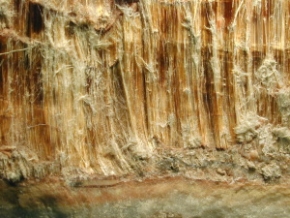 Asbestos mine LAB Chrysotile says it could be forced to shutdown, indefinitely, its mining operations by November in the face of on-going labour dispute with the company's workers' union.
THETFORD MINES, Que. — Canada's last fully operational
asbestos mine
says it could be on the verge of shutting down, a closure that would deliver a major blow to the
country's controversial asbestos industry.
Quebec's LAB Chrysotile said in a statement Tuesday that the operation could be forced to shut down in November for an undetermined period of time. Because the mine is currently embroiled in a labour conflict with its workers' union, it's unclear whether the threat is anything more than a negotiating tactic.
Mine president Simon Dupere expressed confidence in the
future of the asbestos industry.
"We've given ourselves 16 weeks to deal with our (labour) problems," Dupere told The Canadian Press in a telephone conversation, referring to the Nov. 13 deadline.
"We're confident that we will succeed in getting past this — and we will work together to make sure that happens."
The industry has declined severely in recent decades as the use of chrysotile — the only type of asbestos still mined in Canada — has plummeted due to health concerns.
Now Canada's continued exporting of asbestos to developing countries is facing mounting opposition from physicians and environmentalists around the world. The Canadian industry was even mocked recently on the popular U.S. satire program, "The Daily Show with Jon Stewart."
Proponents of the Quebec asbestos industry — including the Harper government — insist it can be harmless if handled according to proper safety standards. They also say the mining operations create hundreds of jobs in central Quebec, the only region of Canada where the material is still extracted.
But the industry's critics say safety practices in the developing world are so inadequate that it's impossible to guarantee secure use of the substance.
The World Health Organization estimates that more than 107,000 people die each year from chrysotile-related lung cancer, mesothelioma and respiratory diseases from workplace exposure.
The once-thriving industry is a rump of what it once was: LAB Chrysotile, of Thetford Mines, Que., says it employs 350 people.
A second operation in Quebec — the Jeffrey Mine — is hoping for a provincial government loan guarantee to extend its life.
Jeffrey Mine, a 90-kilometre drive southwest of Thetford Mines in the city of Asbestos, is only operational for a few months a year.
The Quebec government is mulling over whether to give the mine a controversial $58-million bank-loan guarantee.
Supporters of the Jeffrey loan guarantee say it would breathe another 25 years of life into the mine and create 500 jobs in the region, about 150 kilometres east of Montreal.
Back in Thetford Mines, Dupere said challenges faced by LAB Chrysotile's mine reach beyond issues with the union. But they have nothing to do with a failing international market for the substance.
"There are personnel problems, there are mining problems, there are all sorts of problems — it's a business, there's always something," he said Tuesday.
"(But) I am very confident in chrysotile, the market is there."
(With files from Annie Mathieu)