Sentenced last year for misdemeanour conviction after 29 workers died in 2010 explosion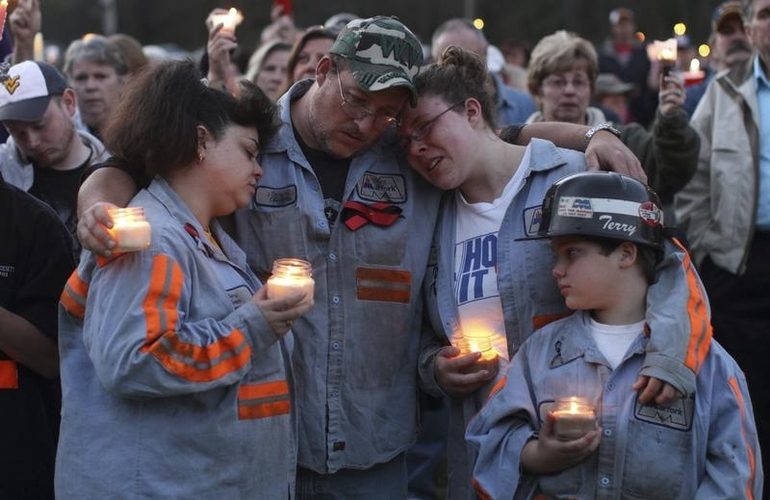 CHARLESTON, W.Va. (AP) — Former Massey Energy CEO Don Blankenship is finishing up a one-year federal prison sentence arising from the deadliest United States mine explosion in four decades.
According to the U.S. Bureau of Prisons website, Blankenship was set to be released Wednesday from a halfway house in Phoenix, Ariz. He must serve one year of supervised release.
``I'm glad he had time to reflect on the pain he caused,'' former U.S. Attorney Booth Goodwin, whose office in Charleston prosecuted the case, said in a text message to The Associated Press ahead of Blankenship's release. ``I hope he used it wisely and will come out of prison ready to make amends.''
It wasn't immediately clear where Blankenship will serve his supervised release. After his indictment, federal prosecutors indicated Blankenship owned homes in several states, and Blankenship said he lived in Las Vegas. A spokesman for the U.S. attorney's office in Charleston referred questions to the federal Bureau of Prisons.
A bureau spokesman and Blankenship's attorney, William Taylor, didn't return requests for comment.
Blankenship was sentenced last year for a misdemeanour conviction of conspiring to violate federal mine safety standards at Massey's Upper Big Branch Mine in southern West Virginia, where 29 workers died in a 2010 explosion. He was acquitted of felonies that could have stretched his sentence to 30 years.
``He shouldn't be coming out,'' said former Upper Big Branch miner Tommy Davis, who lost a son, brother and a nephew in the explosion. ``He didn't get what he deserved.''
Four investigations found worn and broken cutting equipment created a spark that ignited accumulations of coal dust and methane gas at Upper Big Branch. Broken and clogged water sprayers then allowed what should have been a minor flare-up to become an inferno.
Blankenship has said natural gas, and not methane gas and excess coal dust, was at the root of the explosion. Authorities dismissed that argument.
Massey was later bought by Alpha Natural Resources of Bristol, Virginia. Alpha agreed in 2011 to pay $210 million to compensate the grieving families, bankroll cutting-edge safety improvements and pay for years of violations by Massey Energy. Alpha announced in 2012 that the mine would be permanently sealed.
Blankenship, 67, served most of his sentence at Correctional Institute Taft near Bakersfield, Calif. While there, he wrote a 67-page blog before his appeal was heard in which he called himself an ``American political prisoner.''
He wrote that politicians imprisoned him for self-serving reasons and claimed misconduct by prosecutors, judges, law clerks, the FBI, former President Barack Obama, U.S. Sen. Joe Manchin and the Mine Safety and Health Administration.
During the trial, prosecutors called Blankenship a bullish micromanager who meddled in the smallest details of Upper Big Branch. They said Massey's safety programs were just a facade — never backed by more money to hire additional miners or take more time on safety tasks.
Blankenship said his indictment was the federal government's ``'poster child' case of what is wrong with the American judicial system.''
Davis is concerned that Blankenship will work again in the coal industry, either by getting hired by a company or starting one himself.
``He'll be doing the same thing he's done before. Just give it a little bit of time,'' Davis said. ``He'll be back to his same old ways. He ain't going to change. That man ain't out for nothing but money. He has disregarded safety. He don't care — he just wants that money.''