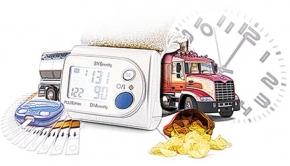 Long-haul truck drivers are facing a slew of serious health problems, according to a recently published survey out of the United States. Sixty-one per cent of the 1,670 truck drivers surveyed have two or more of the following conditions: hypertension, obesity, smoking, high cholesterol, no physical activity and six or fewer hours of sleep per 24-hour period.

The findings are comparable to what we would find in Canada as well, says Barry Kurtzer, medical director and chief medical review officer at DriverCheck in Ayr, Ont.

"Driving so many hours per day means there is less opportunity for structured physical fitness programs — they don't get to the gym. And of course the shift work they do and the prolonged hours… In that context, sleep gets disrupted, eating styles are wrong, exercise styles are wrong and suddenly you basically have a recipe for ill health," he says.

More than two-thirds (69 per cent) of truck drivers surveyed are obese, as defined by a body mass index (BMI) of 30 or higher and 17 per cent are morbidly obese (BMI of 40 or higher), found Obesity and Other Risk Factors: The National Survey of U.S. Long-Haul Truck Driver Health and Injury. In comparison, one-third of U.S. working adults are obese and seven per cent are morbidly obese.

Improper eating, not enough exercise, poor sleep and a sedentary lifestyle contribute to obesity — all factors common in the daily life of a long-haul truck driver.

Obesity has been associated with numerous health conditions, including heart disease, diabetes, hypertension, high cholesterol and sleep apnea.

The prevalence of diabetes among truck drivers is twice that of the general population (14 per cent versus seven per cent), found the study.

According to the Canadian Council of Motor Transport Administrators, there is clear evidence to show drivers with diabetes are at an increased risk of motor vehicle crashes. Study results "consistently indicate" that individuals taking insulin have an elevated risk of crashes, the council says. Anyone who requires treatment with insulin is at risk of hypoglycemia (low blood glucose). Severe hypoglycemia can significantly impair the sensory, motor and cognitive functions required for driving. As a result, a driver may not be deemed medically qualified to drive.

At Liberty Linehaul in Ayr, Ont., president and CEO Brian Taylor tries to be proactive about preventing diabetes among his workforce.

"Our thought is to talk to guys before that becomes an issue for them to say 'Listen, why do you want to wait until you're scared into this? At the end of day, there are enough statistics here that this is a real possibility for you to have an issue with diabetes if you don't take care of your health.' So we try to get them involved in different programs," says Taylor.

Liberty's employee assistance program (EAP) includes online resources for preventing and managing diabetes.

Lack of exercise

Physical inactivity is strongly associated with the development of Type 2 diabetes and obesity. More than one-quarter (27 per cent) of drivers surveyed reported no moderate or vigorous physical activity for 30 minutes in duration over the past seven days.

Taylor encourages his workers to find ways to be active throughout the day.

"Sometimes guys have this thought that they're driving and they don't have a lot of options but just parking further away from a truck stop, so walking a quarter mile in and a quarter mile back, you can build exercise into your daily routine without going to the gym," he says.

Liberty has also just recently joined a three-month walking challenge — the Healthy Fleet Challenge — where employees compete against other trucking companies all across North America to see who can log the most steps per day.

While they might not be getting as much exercise as they should, there is a trend among drivers to try and move around whenever they can, says Linda Corkum, executive director of the Nova Scotia Trucking Safety Association in Halifax.

"We have seen at different truck stops the driver gets out and walks around the truck and he is doing stretching exercises and then when he's done, before he gets back in the truck, he is stretching and twisting and you can see the evolution taking place," she says.

According to a 2012 survey out of McMaster University in Hamilton, 31.1 per cent of truck drivers are physically inactive.

To help workers stave off obesity and Type 2 diabetes, employers can offer benefits such as counselling, access to nutritionists and discounts for fitness equipment.
Poor nutrition
The McMaster study found 48.2 per cent of truck drivers had poor health, with more than eight in 10 (82.4 per cent) having high salt intake, found the survey of 406 truck drivers in southern Ontario.
Liberty Linehaul posts healthy recipes and tips for healthy living and eating on the company Facebook page. The small staff of 150 are very active on Facebook, posting pictures of themselves with customers or at interesting places along their routes, so it's a great venue to get out safety, health and wellness information, says Taylor.

Liberty's trucks are outfitting with fridges and microwaves, so many drivers stop at grocery stores and stock up on healthier options. The trucks have auxiliary power units so drivers can use their devices without having the trucks on.

"We are finally seeing the bigger guys buying Lean Cuisine and they just heat it up," says Taylor.

Overall, truckers are starting to be more conscious of what they eat, says Corkum.

"Even the places where they stop to eat now have healthier menus as well," she says. "It's not just the employers who are helping the drivers, it's the driver's family and there's The Healthy Trucker website where drivers can go on and have discussions about this, so it is becoming a social topic as well."

In Canada, truckers generally need to complete a physical fit-for-duty examination before they get their commercial license and then again every three years. (This varies based on age and jurisdiction.)

Physicians are required to report any medical conditions or diagnoses that may disqualify a driver to the medical review board (or other designated internal body) of the provincial driver's licensing department.

Along with diabetes, other medical conditions that may prevent a driver from receiving or renewing his license include epilepsy, brain hemorrhage, Parkinson's disease, multiple sclerosis, certain heart conditions and high blood pressure.

But this does not mean a driver with one of these conditions will never be able to drive again. If he manages the problem, he can re-qualify down the road.

Liberty's drivers complete their physical examinations through a third-party facility.

"You can get these older guys where their doctor will sign anything they want them to. So, we want to make sure we are getting a good physical and an objective view," says Taylor. "And this is good for the employee, too. If their own doctor is not being straight up with them and saying 'Listen there are some underlying health issues you need to deal with,' this is kind of a wake-up call."

Smoking

The U.S. survey found more than one-half (51 per cent) of long-haul truck drivers are cigarette smokers. In Canada, 18.1 per cent of the general population are smokers, according to Statistics Canada. And the McMaster survey found 31.5 per cent of truck drivers smoke.

Employers can offer smoking cessation resources and counselling through their EAPs. Companies can also contribute to the cost of the nicotine patch or other smoking cessation aids.

"It's so important for the educational component to be there too. It's not just write a prescription or tell somebody to buy something off the shelf, but rather a whole program of support has to be in place," says Kurtzer. "It's not only the medication side but also the psychosocial side as well to get the drivers the assistance they need to stop smoking."

Through the support of the company EAP, many of Liberty's drivers have quit smoking over the past 10 to 15 years, and Taylor estimates about 15 per cent of his workforce are currently smokers.

Sleep apnea

Any day now, the U.S. Department of Transportation is supposed make sleep apnea testing mandatory for truck drivers, which could include screening, confirmation diagnostic testing and treatment. This would also be mandatory for Canadian truck drivers who cross the border.

Sleep apnea is a disorder where the airways are obstructed and a person has pauses in breathing or shallow breaths while he sleeps. The hallmark of it is very loud snoring. At a severe rate, individuals can be waking up 30 times per hour.

Sleep apnea often goes hand-in-hand with obesity, high blood pressure, diabetes and a variety of other illnesses. It is estimated as many as 30 per cent of the trucking industry has sleep apnea at some level, says Kurtzer.

"If you're not getting a good, deep sleep, it can be as incapacitating as being drunk. It can be that severe over time," he says. "If you're not getting a good sleep, you're going to be fatigued, you're not going to be alert, you're not going to be responding when there is an emergency… and the biggest problem of all is falling asleep behind the wheel."

There have been several studies out of the U.S. that showed sleep apnea was a factor in a number of significant accidents, which is why the government is looking to put this legislation in place.

But drivers may object to the screening because they are nervous it may result in them being out of work, says Roger Clarke, chairman of the North American Fatigue Management Program Steering Committee, who is based in Red Deer, Alta. If a driver tests positive for sleep apnea, he will need to stop driving and start using a continuous positive airway pressure (CPAP) machine.

Under the proposed U.S. regulation, the driver has to use the machine for one month before he can be recertified and drive again.

"(Companies) need to support the drivers that have an issue so you can get them to medical facilities and address the issue and get them back on the road and being productive again," says Clarke.

The CPAP machines are very common among older drivers who may be overweight, says Corkum, and they are beneficial not only for sleep apnea.

"It's a positive for all the other medical conditions they might have, so it is helping them and they feel better, they're more alert, they have more energy," she says. "This is a move that's happening now and we do have companies that have medical plans for the purchase of a CPAP machines."

If the sleep apnea is too severe, the driver may not be permitted to retain his commercial driving license.

Nearly 45 per cent of the truck drivers in the U.S. survey had spent only one to six days sleeping at home at all in the past 30 days, while 18 per cent had not slept at home in the past 30 days. The McMaster survey identified 17.2 per cent of truck drivers as having sleep problems.

Liberty tries to do as much as it can to make sure its drivers get the best sleep possible.

"We buy (trucks) with bigger sleepers and the best mattresses we can get. To be honest with you, when I drove for a few years, I actually slept better in my truck than I did at home," says Taylor.

Fatigue is the principal cause in 31 per cent of fatal-to-the-driver large truck crashes, according to statistics from the National Transportation Safety Board in the U.S. Fatigue-related crashes may be the result of lack of sleep, extended driving hours, switching day and night shifts without time to adjust and working conditions.

Carriers must follow hours of service regulations. Different jurisdictions may have different hours of service restrictions, and the various matrices for hours of service can be quite complex.

Generally, truckers across Canada work 16-hour days.

"If you're working those long hours… you're going to be fatigued," says Corkum.

Fleet companies should have a comprehensive fatigue management program in place to manage this risk. Firstly, carriers have to realize that abiding by government hours of service regulations are not an effective means of fatigue management, says Clarke.

"It does not deal with things like the difficulty of enforcement, the circadian fit of drivers, the limited ability to rest, driver health. There are so many things that are a part of fatigue management that just aren't considered in hours of service," he says.

Carriers can implement the North American Fatigue Management Program in their organizations for free. The program consists of 10 different modules covering topics such as safety culture, sleep disorder management and driver scheduling.

"The most effective thing you can do is have your drivers and dispatchers and drivers' families and company executives all take the training so they have an understanding of what fatigue is; they start to recognize it in themselves," says Clarke.

As individuals, there is a lot of research that shows we grossly underestimate our level of fatigue, says Clarke, so it's important to make sure others are aware of the signs and symptoms.

The corporate safety culture plays a big role in managing fatigue, as drivers need to know they are supported if they need to take a break.

"The drivers, if they are feeling fatigued, are permitted to haul off on the side of the road and rest, as long as they let the dispatcher know, and they need to record it in their log books," says Corkum. "It's up to the individual drivers. There are drivers that will go until they arrive at their destination and there are others that will say 'You know what, my life is worth more, so I'm going to take a pause here.'"

There is also a wide range of fatigue management technology available that can alert the driver when it's time for a break. These include scheduling and trip routing software; in-vehicle monitoring systems that look at eye measurements, lane departures, steering input and reaction time; and personal monitoring devices the driver wears that assess sleep, rest and activity patterns.

Fatigue can also contribute to mental health issues. Truckers have significant issues affecting their mental health, such as loneliness (27.9 per cent), depression (26.9 per cent), chronic sleep disturbances (20.6 per cent) and anxiety (14.5 per cent), according to Trucking Organization and Mental Health Disorders of Truck Drivers, a survey of 316 American truck drivers in 2012.

"When they're on the road, their loved ones are back home, so there's an amount of stress that's playing on their minds while they are sitting there behind the wheel," says Corkum. "It's just not about getting the product out, it's about their home life and their personal life and who's looking after the washing machine when it breaks down and all those types of things."

Liberty has a wonderful resource for helping its workers deal with mental health issues: one of its part-time drivers is also a professional counsellor. Because he works for the trucking company, the counsellor is perfectly equipped to understand the stressors drivers face and to assist them in coping with difficult situations.

"We actually had a fatality where a young girl made a big mistake in front of one of our trucks and it had nothing to do with our driver but that's still a horrific thing, when a girl gets killed. It's a worst-case scenario for that driver and our company so we worked with him post-accident for a couple of months to try to deal with what his feelings were," says Taylor.

Supervisors at Liberty Linehaul are trained to pick up on changes of behaviour among drivers. For example, if a guy who is normally punctual is suddenly late a lot, his supervisor knows to bring him in and find out what's really going on — not just reprimand him, says Taylor.

"We have had guys come in and they don't seem themselves, something's going on at home and we have said 'Listen, you're not going anywhere, you need to go home and take care of that, you're not going to be safe on the road with all that on your mind. We'll figure out how to cover this load, we'll get someone else on it.'"

Employees have access to a 24-7 mental health hotline and they are covered for in-person counselling sessions through the EAP as well.

Injuries

Drivers of heavy trucks and tractor trailers experience high rates of non-fatal injuries — three times more than the general worker population, found the Obesity and Other Risk Factors survey. And worker health has a role to play.

"People who are not fit and well are more prone to injuries from their day-to-day activities," says Kurtzer. "Some drivers don't just drive, they need to load and unload their vehicles and someone who is obese and not exercising at all is going to be more prone to musculoskeletal injuries."

Workers with poor health are at an increased risk of strains and sprains, particularly to the back, shoulder, neck and knees, he says, which can keep them off work.

It's in employers' best interest to invest in their employees' health because it results in improved productivity and decreased benefits costs, says Kurtzer. In addition, the employer also has various responsibilities to make sure drivers are healthy because that could affect liability insurance, says Corkum.

For Liberty Linehaul, creating a "culture of caring" about the employees has clear benefits for all.

"From our perspective, health issues create inconsistent workers," says Taylor. "If we want to have a good workforce and have them available, we need to make sure they're successful, they're making money and also that they're healthy. That filters back economically for us through workers' compensation issues and days off and doctor's appointments and the more proactive we can be with their health, the better off we are and they are."

This article originally appeared in the December/January 2016 issue of COS.