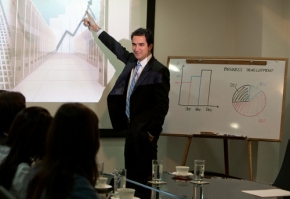 Looking to get more out of your workers? What about your bottom line? A recent study found that employing effective health and productivity programs can go a long way towards achieving both.
Researchers studying the benefits of health and productivity (H&P) programs in North America found that companies who employ effective H&P programs enjoy significant financial and productivity advantages over those who don't.
Conducted in 2009/2010 by Wyatt Watson International as a component of their inaugural
[email protected]
report, the study surveyed 352 human resources and health benefits managers—282 in the United States, and 70 in Canada— from all major industry sectors. What they found was that companies with effective health and productivity programs experienced better financial results, including 11 per cent higher revenue per employee and 28 per cent higher stakeholder returns.
Companies that employ what the report describes as "High-H&P-effectiveness" programs also see significant indications of increased health and wellness in the workplace, from lower health care costs and missed time for disability and absence to lower levels of turnover and workplace presenteeism (when an employee is physically at work but not fully productive or engaged.) More specifically, these companies enjoy lower medical trends by 1.2 per cent and 1.8 fewer absent days per employee.
In line with these findings, the study identified an increasing trend toward the creation and enhancement of new and existing health and productivity programs within organizations: of those surveyed, more than two-thirds had already improved or were planning to improve their H&P programs within the next year. While the study found organizational commitment to health and well-being consistent across North America, researchers did identify a number of key differences in the structure, focus and culture of programs in Canada and those of the United States.
In Canada, organizations have developed advanced approaches to dealing with absence, disability and stress management; they also better understand mental health issues as a workplace challenge and equals in importance to physical illnesses. Lastly, organizations in Canada tend to place greater emphasis on HR managers and employees working together to actively improve and maintain a healthy organization.
In the United States, meanwhile, researchers found that organizations have a more developed approach to health promotion and management— with an emphasis on reducing lifestyle risks and managing chronic health conditions— but lag behind in programs that effectively manage absence and disability.
The report suggests that these differences might be a result of philosophical differences between the two countries' healthcare infrastructure: while Canada has an established primary care system that effectively generates general lifestyle, health and well-being awareness, the U.S. model is typified by various specialty-based provider programs that make health care an important issue for employers.
Regardless of the differences in practices between the two countries, however, one crucial finding from the study remains the same: The companies with the most effective H&P programs also typically possess the strongest organizational leadership and most effective internal communication. This is likely due to the fact that while effective communication and strong leadership can go a long way towards promoting health and well-being, health and well-being can play an equally significant role in making a work environment productive and professional.
Going forward, the report offered 10 best practices for organizations seeking to reap the benefits of effective health and productivity programs:
• Make H&P programs part of the broader culture by connecting them to organizational goals, promoting a healthy work environment and benchmarking their programs externally.
• Take action against stress by working to reduce the stigma associated with mental health issues and seek ways to help the workforce manage excessive workloads and balance work/life issues.
• Integrate data across programs, regularly measure program performance and achieve higher levels of engagement in their H&P programs.
• Regularly analyze data to identify opportunities, design H&P programs and make H&P policy decisions.
• Simplify H&P programs, integrate delivery and consolidate program vendors to improve utilization.
• Offer a variety of incentives to promote the company's H&P strategy, especially active participation in H&P programs.
• Engage the support of senior leaders as visible champions and provide adequate H&P budgetary support.
• Help employees to understand business decisions and to take responsibility.
• Involve employees in organizational decisions and communicate those decisions to employees effectively.
• Work to ensure that employees know their compensation and benefits are competitive for their industry and skills.