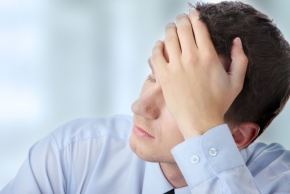 A recent survey found that more than half of workers surveyed admitted to showing up at work on days they felt ill. Ironically, even more said they worry about exposure to viruses when coworkers show up under the weather. Which is the right attitude toward illness in the workplace?

"In sickness and in health" may apply to marriage, but it's also an increasingly common workplace vow as workers continue to report for work even if they're sick, a new Accountemps survey reveals.

The survey showed 51 per cent of employees admitted to going into work when feeling under the weather. However, fifty-seven per cent of workers interviewed said when a colleague comes in sick, they worry most about being exposed to his or her illness; only 11 per cent are impressed by their coworker's dedication.

Colleagues aren't the only ones who wish their ailing coworkers would stay in bed. More than one-third of managers (37 per cent) encourage staff to remain at home. Just 18 per cent of respondents felt their bosses discourage them from taking time off.

The survey was developed by Accountemps, a specialized staffing service for temporary accounting, finance and bookkeeping professionals. It was conducted by an independent research firm and is based on interviews with 437 Canadian workers, 18 years of age or older and employed in an office environment.

Workers were asked what they tend to do when they are feeling quite sick during a workday. Fifty-one percent said they would go to work anyway, and only 31 per cent said they would stay home and take a sick day. Fourteen per cent said they would work from home.

While 57 per cent were worried about possible exposure to a sick co-worker, only 29 per cent expressed concern for the welfare of a co-worker, when asked how they would feel about a colleague coming to work sick.

Finally, respondents were asked, "Does your manager encourage or discourage workers to stay home when they are sick?" Their responses:

"Although many/some professionals perceive going to work sick as heroic, others rarely view it this way," said Kathryn Bolt, Canadian district president of Accountemps. "It's admirable that staff want to avoid falling behind and adding pressure on their colleagues, but they risk spreading their illness and hindering productivity by coming to work sick."

Bolt also noted that employers should encourage staff to stay home if they are under the weather and provide tips on what employees can do to prevent the spread of illness in general.