Train struck backhoe, killing 2 maintenance workers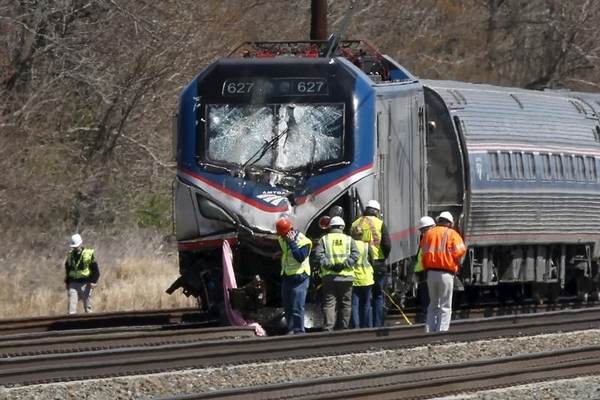 WASHINGTON (Reuters) — The head of the United States National Transportation Safety Board criticized Amtrak's safety record at a hearing on Tuesday on a fatal 2016 crash and said the railroad failed to use critical safety equipment that could have prevented the incident.
An Amtrak train travelling from New York in April 2016 struck a backhoe working on railroad tracks in Chester, Pa, killing two maintenance workers and injuring 41. The crash caused an estimated $2.5 million in damage.
NTSB Chairman Robert Sumwalt told a hearing the board's "investigation revealed more than two dozen unsafe conditions and not all of these were rule-breaking by frontline employees."
Sumwalt said that "clumsy Amtrak procedures seem to encourage workarounds by workers to get the job done," and added investigators "found a culture of fear" at Amtrak.
The NTSB found Amtrak managers allowed "multiple unsafe conditions to persist." The report also found three employees involved in the accident tested positive for potentially impairing drugs and one employee told NTSB that Amtrak emphasized on-time performance over safety.
Amtrak said in a memo to employees on Tuesday seen by Reuters that it had been "transforming our safety culture" since the incident and had made numerous reforms including improving communication, revising training, reorganizing safety efforts and creating a team that conducts safety audits. Amtrak has also expanded drug and alcohol testing.
"Our customers expect us to operate safely and our jobs and lives depend on it. We can and will do better," the memo said.
Sumwalt said critical safety equipment was not issued to the maintenance crew that could have prevented the incident.
Amtrak had authorized the maintenance crew to clean the tracks, the NTSB found, but failed to take adequate steps to ensure trains were not using those tracks including using a "shunting device" to prevent trains from entering them.
The Georgia-bound passenger train was traveling at 106 miles per hour (170 kph) when the engineer saw the equipment and braked just seconds before the crash, according to video played Tuesday.
The report also faulted the U.S. Federal Railroad Administration for failing to require the use of safety equipment to protect maintenance workers and alert trains of their presence.
The 2016 accident in Chester, about 15 miles (24 km) southwest of Philadelphia, was the latest in a series involving the U.S. passenger rail carrier. It occurred a few miles south of the site of a May 2015 derailment in which eight people were killed and more than 200 injured.
In March, a slow-moving Amtrak train derailed and sideswiped a commuter train at Penn Station in New York, causing minor injuries.
Amtrak this past summer named former Delta Air Lines Chief Executive Richard Anderson as co-CEO.