Jump to winners | Jump to methodology | View PDF
PROTECTING WORKERS CONSISTENTLY
For as long as people have worked, they have used some form of personal protective equipment (PPE).
In medieval times, for example, such equipment typically included gloves. Soldiers wore metal gauntlets or chainmail when they went to battle, while blacksmiths used protective aprons and leather gloves in their workshops, according to National Geographic (July 2020).
In 1880, inventor Powell Johnson patented the first "eye protectors," which were used by welders, construction workers and firemen to help protect their eyesight from occupational hazards (Eyes of the World, February 2015).
Although respirators are now commonly associated with the pandemic, they were used by soldiers during World War I to protect themselves from harmful gases and toxins (Smithsonian Magazine, May 2017).
All workers need to be protected on the job, but not all PPE is created equal and some are not easily accessible. This is why the COS research team conducted a survey to reveal the most reliable PPE suppliers, as chosen by COS readers themselves.
Going mainstream
Certain industries and businesses rely heavily on the use of protective equipment to ensure safe operations. Construction workers, for example, cannot function without hard hats, as well as lanyards and harnesses for those who work at high altitudes. In fishing, wearing a personal flotation device can spell the difference between life and death for a worker who may fall overboard.
As entire countries battle COVID-19, it seems that PPE has gone mainstream. When the pandemic started, PPE was in such high demand that most businesses – in Canada and around the world – faced supply shortages. Now, after almost two years of living with the coronavirus, individuals and organizations all have some form of PPE tucked away as part of a "new normal" situation that calls for caution.
Although PPE requirements and standards may vary from province to province in Canada, protective equipment such as a face mask is necessary in an office, just like safety goggles and gloves in a logging site and a high-visibility kit in an oil rig.
The issue of sustainability
Face masks and, to a certain extent, respirators, have probably been the most popular pieces of PPE over the last couple of years. A report published by Arizton Advisory & Intelligence (June 2020) showed that the face mask market is expected to grow by 4.8% during the period 2020–2026. Shipments of face masks worldwide are expected to reach 16.54 billion units by 2026.
The report also found that surgical masks dominate the market, which is not a surprise considering that people prefer to wear them not only at work but also while grocery shopping and doing other activities outside the home. The N95 mask is the most popular product in the disposable respirator market. Hospitals were the largest consumers of masks and respirators in 2020 as health care workers battled successive coronavirus outbreaks.
Other items such as face shields, goggles and gloves have also been highly sought after. However, being disposable, these types of PPE have led to worries about their environmental impact. Therefore, the sustainability of such PPE has become a serious topic of discussion among health and safety professionals and most organizations in Canada.
The environmental impact of disposable PPE has been studied since the beginning of the pandemic. A paper published in 2020 in Environmental Science & Technology, a journal of the American Chemical Society, revealed that 65 billion gloves and 129 billion face masks were used each month.
A separate study published by Heliyon (February 2021) found that 3.4 billion face masks or face shields were discarded each day. Many of these items contained some form of plastic, which were not entirely biodegradable or recyclable. Although a number of Canadian entities have launched recycling initiatives, the results remain to be seen.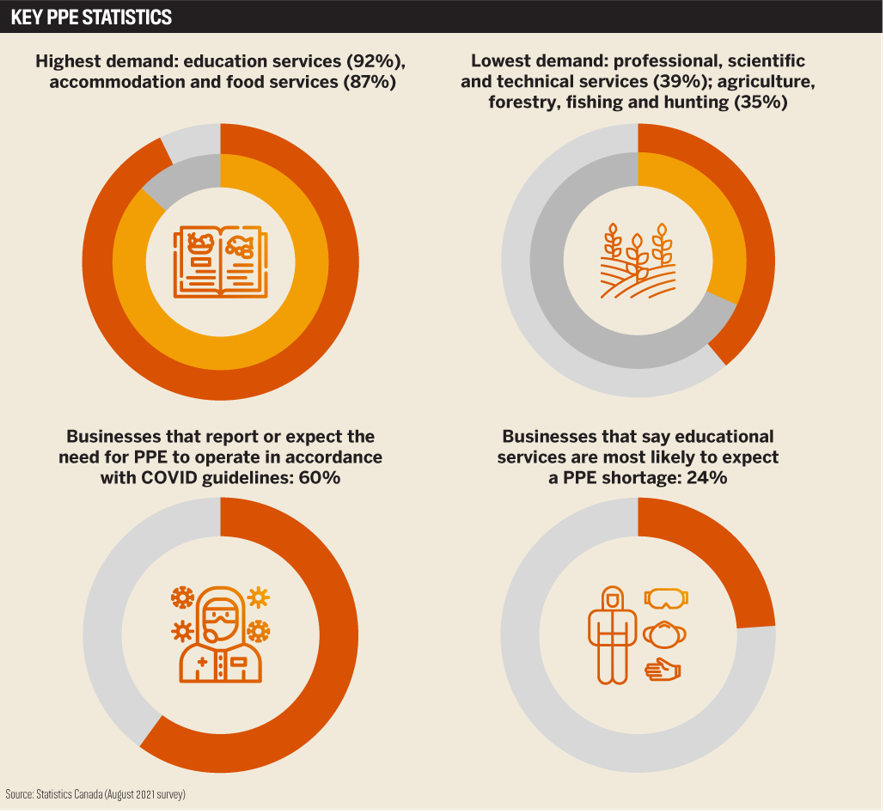 Major market trends
One thing is certain: sourcing PPE will continue to be among the key issues affecting Canadian workers.
"In the last year, we have experienced things that we have never experienced before, mainly due to the pandemic. Demand from the market has been higher than ever and the sourcing of some PPE has been challenging. Through these last 18 months, we have continued to work with our partners to make sure we have the best PPE and safety solutions available for our customers," says Kim Levesque, CEO of SPI Health and Safety.
Apart from supply chain concerns, another fundamental issue for safety professionals is ensuring that workers actually know how to use the equipment given to them. Training and education go hand in hand with having top-of-the-range gear.
"Ensuring workers have the right equipment for the job is a key component of any safety program. Equally important is ensuring that the people who use the PPE are trained on how to properly use the equipment, what to watch out for while on the job, and how to assess and react to situations in real time," says a spokesperson for Grainger Canada.
"[We offer] a wide range of services, including training and awareness programs, complemented by the right equipment to help ensure the safety of workers."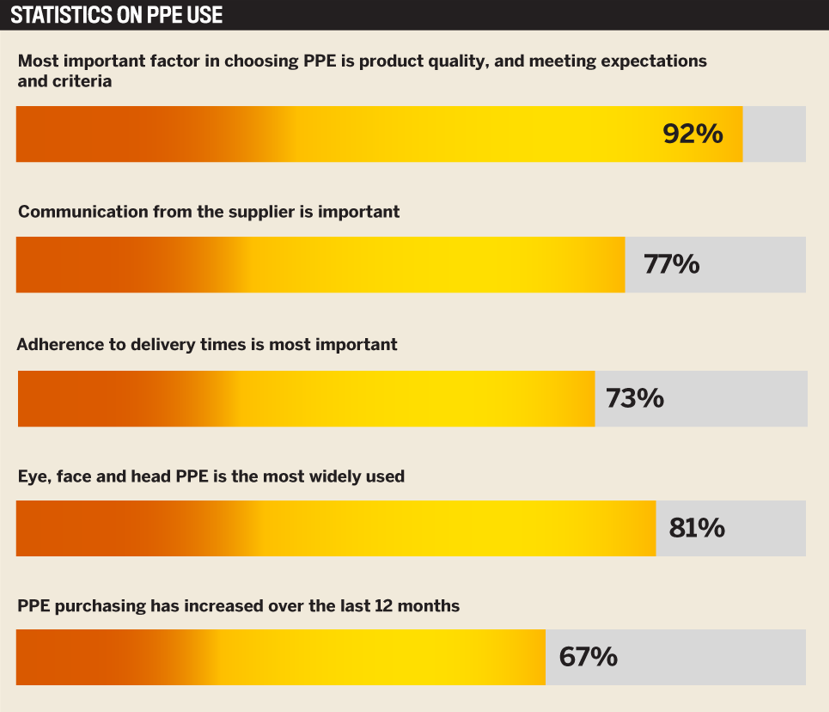 Focused on their purpose
As PPE is a major concern for most organizations today, COS recognizes the work of companies that are making a difference in the industry so that OHS professionals in general will know which suppliers deserve their trust.
Acknowledging the award's significance, Levesque says: "Winning the 5-Star PPE award means a great deal to SPI Health and Safety. We are very pleased to be recognized by the Canadian OHS community. At SPI, our purpose is the wellbeing of people and more precisely, getting workers back home safely. This award confirms that we are taking steps in that direction."
"As one of Canada's leading safety suppliers, we are honored to receive a top rating in COS's 5-star PPE supplier report," says a spokesperson for Grainger. "The company has a long history of serving customers across the country and prides itself on being a true partner, providing the right products and solutions to help our customers keep their operations running and their people safe."
Arrowhead Business Solutions
Bob Dale
Brasco Safety
Canadian Safety Equipment
CAN-med Healthcare (IMP Group)
Fastenal
First for Safety
Gerber Supply
Grainger Canada
Hinkle Holding
Latoplast
Northumberland Lamb Marketing Co-op
Origin FR
PIP Canada (Dynamic Safety)
Procut Industrial Supply
Protective Clothing Solutions
Richter (KWR)
Ronco
Tenaquip
Tractel
SPI Health & Safety
Watson Gloves
Weber Supply