Jump to winners | Jump to methodology
The elements of a safe workplace culture
As occupational health and safety solidifies into an indispensable profession, the idea of a safety culture in the workplace is fast gaining currency. How is a safety culture defined and why is it essential to organizations?
Safety is part of an organization's work culture, and promoting a strong safety culture is about holding the organization accountable. A strong safety culture is a transparent one, where the values and ethics of the organization are clear and accessible to all employees.
Companies with a strong safety culture are constantly learning and reassessing their safety programs to ensure that they are up to date. They also provide continuous support to their employees and engage with them to better understand the areas that need improvement.
A safe environment makes workers happy, and – as surveys show – happy workers are more productive. The seismic shift brought about by the pandemic in the workplace means that now, companies making a demonstrable commitment to safety will be ahead of the pack. Why should workers stay with an unsafe organization when they can choose a company that is clearly committed to employee health and safety?
"Having accurate data and clear evidence to drive proactive and responsive safety programs and decisions is critical to maintaining an effective safety culture"
Bonnie Rose, TSSA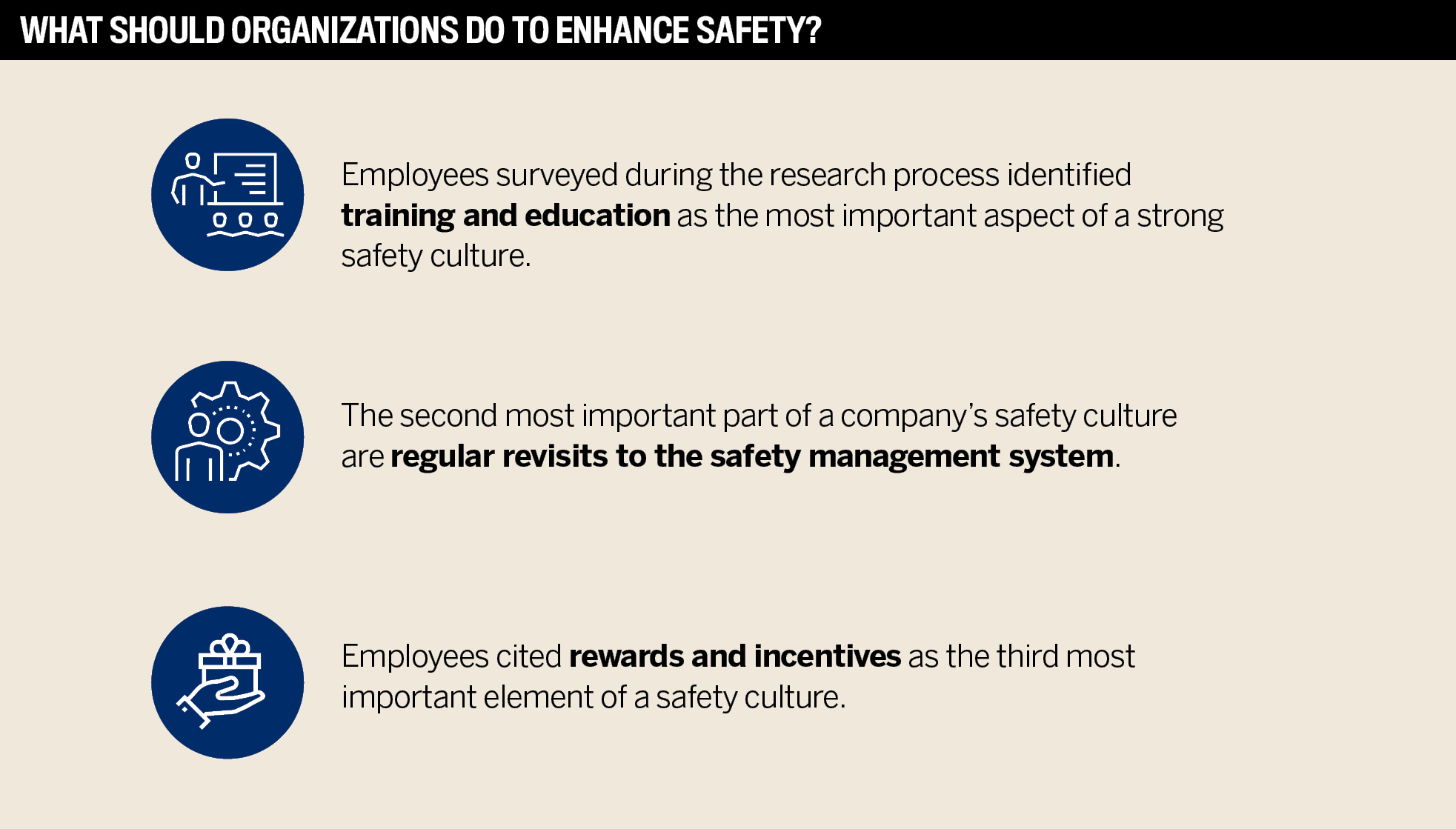 A seat at the table
The pandemic has brought the safety profession's importance to the fore. No longer toiling away in the dark, the safety professional now has a seat at the table and has the power to effect change within an organization. What a difference two years make! It's important for OHS professionals to have a voice because a strong safety culture is built from the top down. There is no safety culture without leadership involvement.
Canadian Occupational Safety has been able to gather insights from CEOs who are some of the most passionate leaders investing in the safety of their employees. The winners of the 5-Star Safety Cultures in 2022 are among the best and brightest in Canada, and their programs make a strong impact in the industry. Although awards are not everything – for these organizations, worker safety is enough of a reward – recognition can inspire other companies and the public to promote a safety culture during the most challenging times.
The Technical Standards and Safety Authority (TSSA) has been undergoing an organizational transformation to become a more modern outcome-based regulator that uses data to understand risk, drive decision making, and take an informed approach to safety oversight.
"Enhancing our internal safety culture has been essential to realizing our transformation, and being recognized as a 5-Star Safety Cultures Award winner validates the efforts we have made to establish a culture of leadership, accountability and teamwork throughout our organization," says Bonnie Rose, president and CEO of TSSA.
"TSSA's Executive Leadership Team takes great pride in the knowledge that TSSA employees view themselves and the organization as Canadian safety leaders and innovators," she says. This is a sentiment echoed by another winner.
"We're very excited to receive this award. A lot of hard work and effort goes into this – to build our culture and our program and to be recognized is really important to [our organization]," says Ryan Sloan, health and safety manager at Birchcliff Energy.
"Buy-in is one of the most critical elements of [an effective safety program] from the top to the bottom"
Birchcliff Energy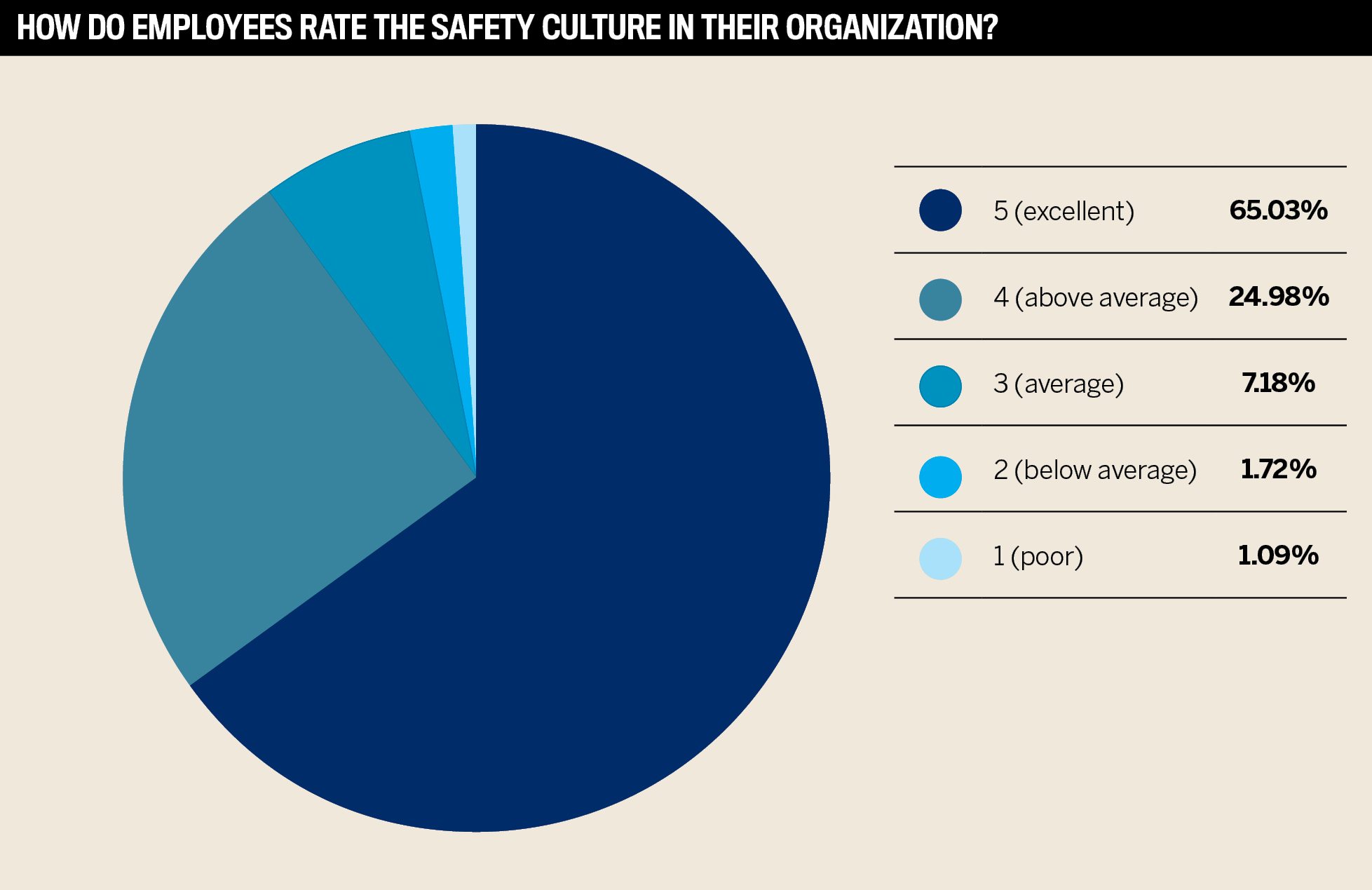 Winning strategies
Something that most safety professionals agree on is that safety is neither proprietary nor a competitive advantage for any single organization. There is value in sharing strategies among peers because the ultimate goal of the profession is the health and safety of all workers.
By featuring the 21 winning companies in this report, COS aims to shed light on their effective safety strategies. One such strategy is to measure safety by gathering and analyzing data so that organizations can raise their safety culture to a higher level.
"Having accurate data and clear evidence to drive proactive and responsive safety programs and decisions is critical to maintaining an effective safety culture. In addition to setting clear safety goals and measuring performance, providing safety education and rewarding positive safety behaviours and innovation is also essential for a healthy safety ecosystem to thrive," says Rose.
She emphasizes that rewarding safe behaviours is an excellent way to encourage a strong safety culture within an organization. The OHS person doesn't have to be a 'safety cop' all the time.
There are many different ways for safety professionals to encourage safe behaviour. It's a difficult job, but in the last few years, the profession has grown so much and industry stalwarts are always happy to share their secrets. One thing that often comes up in conversations with OHS pros is that there is almost a marketing element to their job because they have to highlight the importance of a strong safety culture.
It's not enough to formulate a good safety program – workers themselves need to adjust their attitudes and behaviours so that their environment can be as safe as possible. Safety professionals have to be strong communicators and must rely on many skills, such as having a solid understanding of how to effectively share ideas.
"Buy-in is one of the most critical elements of [an effective safety program] from the top to the bottom. This means fully supporting the program, having the knowledge and skill set within your organization to actually communicate effectively," says Sloan.
At the end of the day, he says, organizations want everybody to go home safe, but the ones that truly make a difference are those who are willing to "put the efforts behind it and fully support safety."
The pandemic has been a particularly difficult time for OHS professionals who have been hard at work over the last two years to ensure the safety and health of employees. They are the keystone of a strong safety culture. Nevertheless, such a culture is not built by only one person. It is developed at every level of an organization, from the C-suite to the front lines, and everyone is duty-bound to work towards this collective goal.
1,000+ employees
Greater Toronto Airports Authority
Linamar
Metrolinx
Modern Niagara Group
North American Construction Group
Ontario Power Generation
Pomerleau
500–999 employees
Campus Living Centres
Medtronic Canada ULC
National Tire Distributors
100–500 employees
Birchcliff Energy
Budget Environmental Disposal
Calgary West Central Primary Care Network
Deltera
Innovative Automation
Ocean Contractors Limited
QM Environmental
1–99 employees
Organizations had to meet a minimum number of responses to be eligible for the 5-Star Safety Cultures award, based on company size: 1–99 employees = minimum of 10 responses, 100–499 employees = minimum of 20, and 500+ employees = minimum of 50. The survey asked employees to rate their company across a range of metrics that constitute drivers of employee satisfaction. Companies that achieved an overall satisfaction rating of at least 75 percent were recognized as 5-star awardees.