Jump to winners | Jump to methodology | View PDF
ON THE CUTTING EDGE OF OHS TECHNOLOGY
Over the years, health and safety processes in the workplace have evolved and become increasingly complex to navigate. This is not a bad thing. Increasing regulations and protocols around worker safety means that employees are more protected now than ever before.
But safety compliance can be difficult for organizations that need to keep track of a large workforce, which is why software is becoming a crucial element of building a safer work environment. Although software itself cannot perform the work that humans usually do, it certainly makes tasks easier and faster.
It's no surprise that a growing number of companies are prioritizing the use of such software in many aspects of their business operations.
Safety software is designed to enable an organization to streamline and manage its safety protocols. This type of software can help monitor, organize, and analyze key data that can be used to optimize health and safety in the workplace. Solutions exist for various purposes, including compliance, risk management, and lone worker safety. Software aimed at tracking alcohol and drug use has also emerged in recent years. Although there is something for almost every need, finding the right software for an organization can be as tricky as applying safety protocols.
In this report, COS highlights the top safety software that companies in Canada have found useful and reliable as they coped with disruptions caused by the COVID-19 pandemic.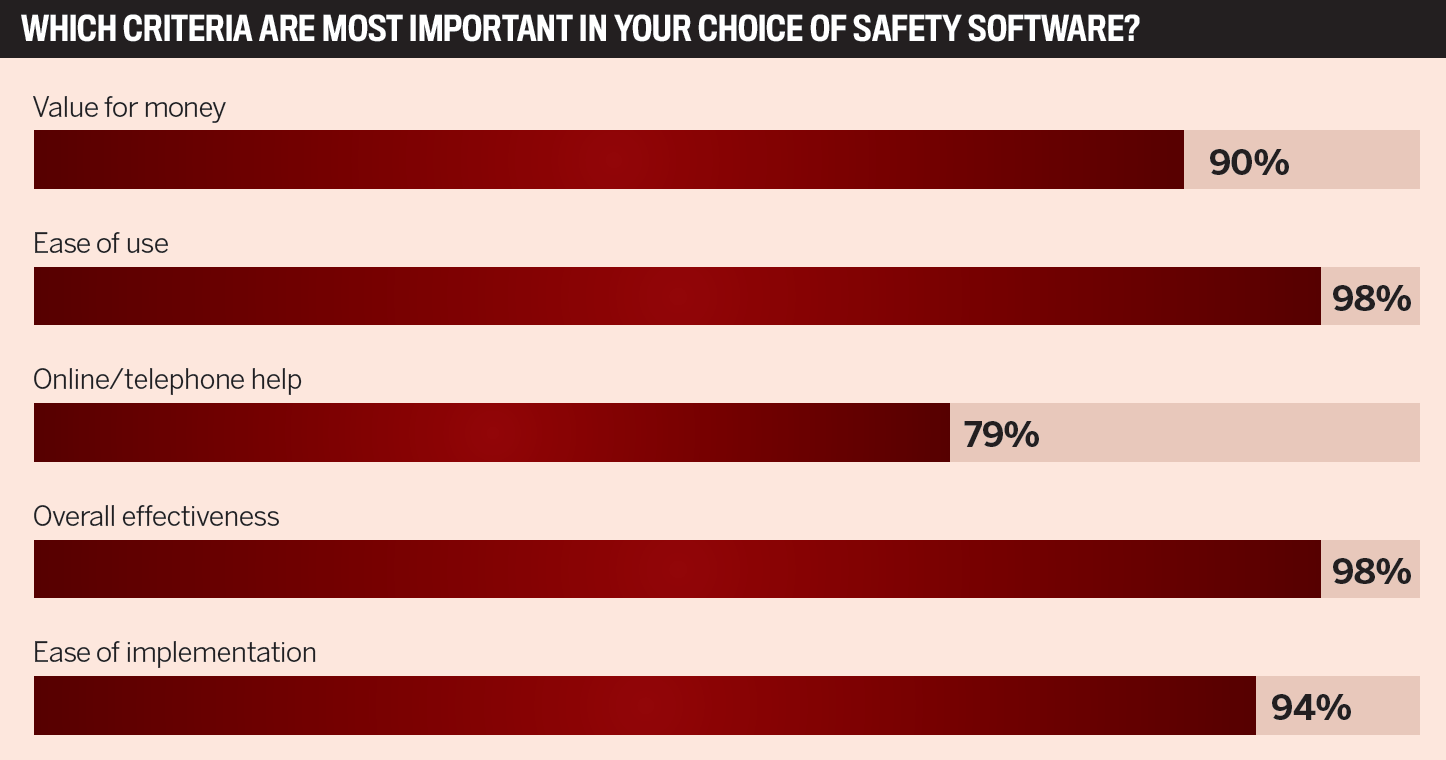 Advanced solutions
The use of cutting-edge tech is becoming prevalent in the Canadian safety milieu. Although adoption rates had been increasing even before the pandemic, the COVID-19 outbreak made certain types of software a necessity and accelerated their use among safety professionals.
As droves of Canadian workers were forced to work at home, organizations invested in solutions to ensure that their employees remained healthy and safe. Limitations in face-to-face meetings meant that a major aspect of workplace safety culture – education and training – would be affected.
Most occupational health and safety professionals believe that a good safety program is ineffective if workers aren't adequately trained. Much of safety training has shifted to online platforms where possible and appeared to be mostly successful so far. Furthermore, as the pandemic winds down, what started out as temporary solutions may continue to be applied in hybrid workplaces.
"OHS is a fundamental commitment in many organizations. While this is wonderful, a shortage of trained experts means that the urgency to respond to critical issues leaves very little time for hazard prevention and best practice mentoring," says Lisa Hallsworth,
co-founder and CEO of Rillea Technologies.
She explains that tech can help "OHS experts leverage and maximize their wealth of specialized knowledge so everyone in the organization can instantly and continually benefit from it".
Hallsworth says that Rillea's SDS management solution helps "experts go beyond sharing their knowledge with individuals on a one-off basis, to easily and continually share that knowledge with everyone in the organization, and everyone who joins it in the future. Now, their knowledge can be cross-referenced with organizational data and regulatory requirements at the click of a mouse in real time".
Through tech solutions, "employees can have easy access to [safety] knowledge through a simple phone search or virtual reality experience, which could help them prevent an OHS incident. Imagine the time and money that could be saved by preventing injuries, illnesses, fines and investigations while making training more effective".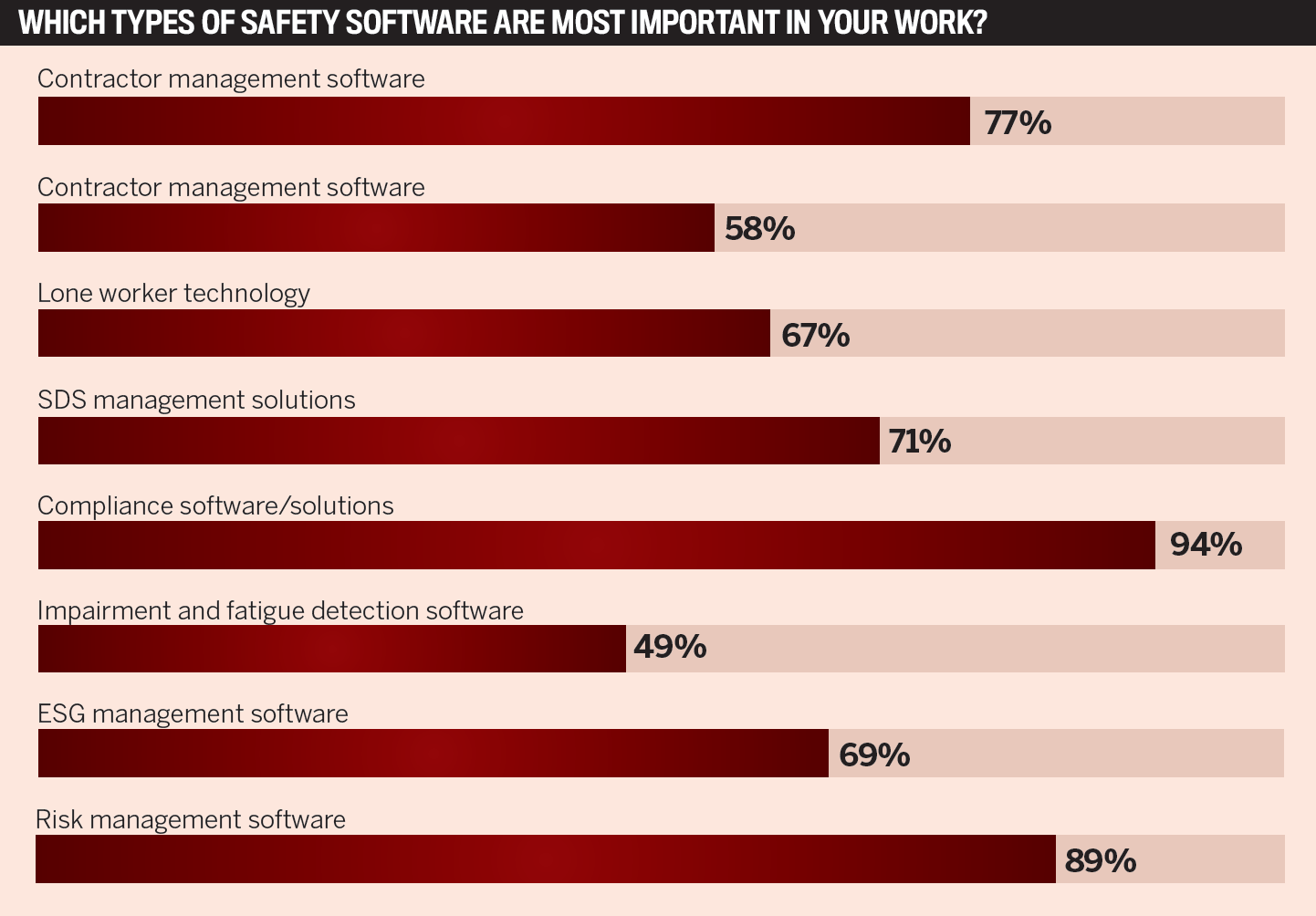 Upbeat market trends
Aside from telework and training, several other trends are coming up in the OHS tech space. COS organized a roundtable with industry leaders in 2020 to discuss the growing importance of tech solutions in safety. Many of the ideas shared by the participants are gaining traction.
"COVID-19 has certainly shifted perspectives on workplace health and safety in ways, and at rates we hadn't anticipated even a few short months ago. Interestingly, many organizations are seeing, perhaps for the first time, a real tangible connection between their ability to manage risk and their long-term viability," says Sean Baldry, product marketing manager at Cority, one of the winners of this year's 5-Star Safety Software awards.
Baldry's company has observed that the new perspectives offered by the pandemic have "shifted organizational behavior with respect to technology investment. We've seen growing interest and investment from organizations, across industry sectors, in technology to support pandemic management and business continuity.
Specifically, interest in technology to support returning furloughed employees to work has really driven the environmental, health, safety and quality (EHSQ) management software market over the past few months and likely disrupted prior product development plans of many EHSQ software vendors."
Health tech and telehealth offerings have also been growing in importance due to a growing concern for employee wellbeing, particularly mental health.
"With the increased focus on health and wellness triggered by the pandemic, it's likely that interest in wearables and Internet of Things devices will only continue to grow. Wearables are also being explored to support contact tracing, where a user would receive an alert when in proximity to someone who has tested positive for COVID-19.
Moreover, technology firms are exploring linking personal health data captured via wearables with clinical symptomology that could create early warning signs of potential infection, driving other workflows," says Baldry.
Any tool that can help improve workers' health and safety is useful for the OHS sector. For businesses and organizations that plan to invest in safety software, this list is a good place to start.
"Advances in tech mean that in seconds, our software can search for, read and record data with an accuracy that is impossible for humans. It automatically organizes that data and guides people to take preventative action. Cloud computing makes that guidance available to anyone with authority to access it – powerful and economical indeed," says Hallsworth.
Alcumus
Antris
Blackline Safety
CGA Technology
ComplianceQuest
Cority
IsoVision
Pervidi Paperless Solutions
Rillea Technologies
StaySafe Lone Worker
The nominees were judged on the basis of value for money, ease of use, customer service, overall effectiveness, and ease of implementation. Ultimately, 10 winners were selected due to their impressive performance in these categories.