Jump to winners | Jump to methodology
A lot has changed since last year's awards, but one thing that hasn't is that health and safety pros need options.
What better way to find out recommendations than from our dear readers.
So many of our readers are experts in their respective fields, so we trust that their recommendations are the cream of the crop.
We say this a lot, but it bears repeating: this has been an incredibly rough year for a number of professions, very much including the OHS sector.
The pandemic has really brought work-place health and safety to the fore, with businesses and organizations realizing how important — and essential — safety pros are.
OHS pros have been working hard over the last year to ensure optimal worker safety in their organizations amid a uniquely challenging crisis.
This also means that they may not have the time to research the best vendors and suppliers on their own — this is where our Readers' Choice comes in. Now in its sixth year, our Readers' Choice awards compile the cream of the crop in one handy list.
On behalf of COS, we would like to extend a huge congratulations to all of our 2021 stellar winners. Now more than ever, OHS pros need to know where to turn to.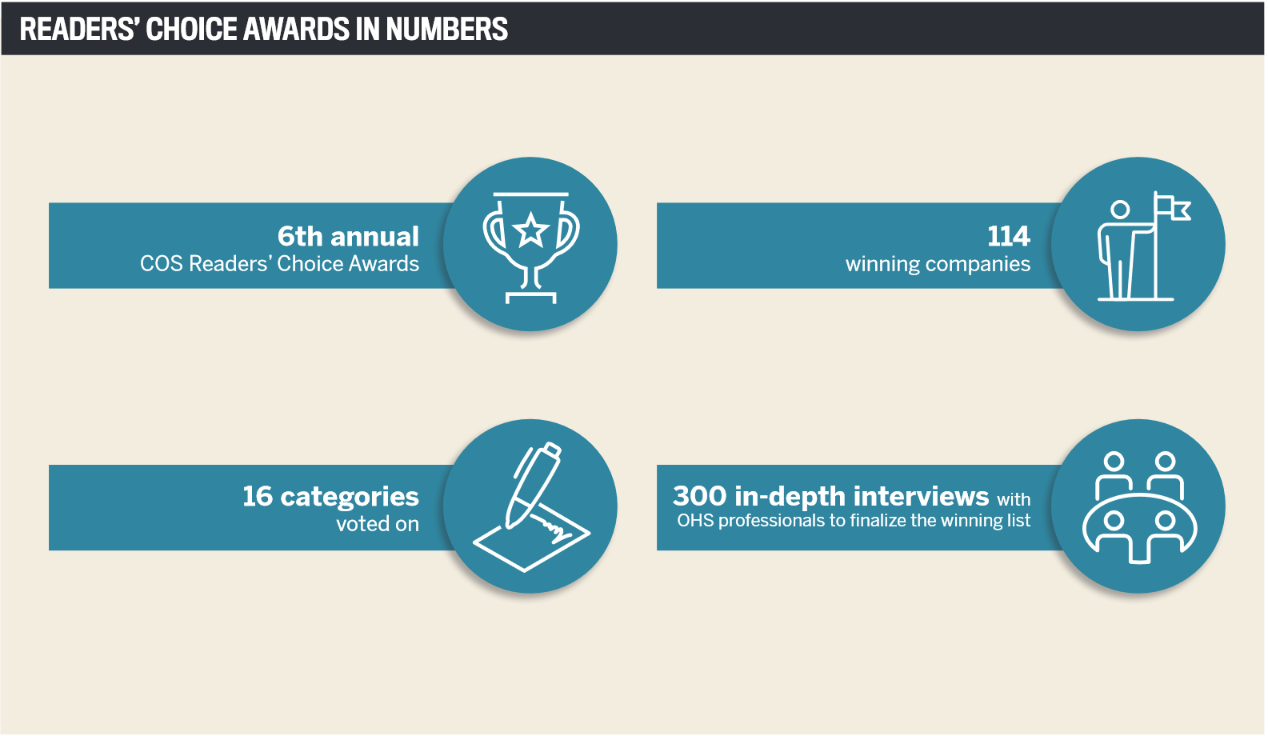 Client recognition
We also know how much these awards mean to our winners:
"Brady is continually evolving and growing to meet the needs of our markets and our customers [...] we are so pleased and encouraged to hear that we have been voted as winners for the 2021 Readers' Choice awards in three categories this year," says the team over at Brady.
Our 2021 winners truly value the expert opinion of our readers (and their clients):
"[We] take great pride in being recognized by Canadian Occupational Safety readers and appreciate the customer support," says Watson Gloves.
"This means a lot to us to be recognized [...] in HSE Management Solutions by Canadian Occupational Safety's readers. It validates the value of our investment in the product and in the area of management solutions over the last five years," says John Easton, VP of Product Management, Cority.
"The recognition across all our products as a Readers' Choice award is humbling and the greatest testament to the work our teams do to help customers deliver safety outcomes [...] having our customers award us recognition across all our products helps us continue our mission," says the Alcumus team (the group behind the winning eCompliance solution).
Pandemic innovations
The pandemic has been tough on Canadian businesses and organizations of all sizes. They have had to re-think business models and supply chains, and come up with innovative solutions to service their customers while keeping everyone, from client to employee, safe.
Our 2021 winners were able to adapt to a difficult — and ever-changing — market.
One of our winners, 3M, one of the world's biggest manufacturers of N95 respirators, had to significantly increase production to meet global demand. The company also faced off a number of fraudsters and scammers hoping to take advantage of the pandemic and the (then) limited supply.
Each of the winning companies listed in our Readers' Choice awards spread has faced some kind of difficulty — but what makes them a winning company is that they were able to bounce back and innovate. For example, Brady says that since early March 2020, they have been making, distributing and selling products used around the world to help in the fight against COVID-19 and getting their prod-ucts to the front lines of the pandemic. "Innovation at Brady has played a major role this past year. We launched a Big Ideas Challenge globally and received ideas to help in the fight of Covid-19, and also launched new products that increase safety, security and productivity for this pandemic, including floor marking tape and social distancing signs, COVID- specific labels, lockout devices, and spill control products."
"The pandemic has greatly affected our business, like most," says Watson Gloves. With gloves being such a key bit of PPE during the pandemic, the company has predictably been very busy.
"We've struggled with supply chain issues for the most sought after items, like disposable gloves, but then also had a surplus of other styles due to some business shut-downs. It hasn't been easy, but we adapted and even started making face masks in our Burnaby factory."
But this hasn't dampened enthusiasm — in spite of a fully digital workplace.
"What we are all most looking forward to post-pandemic is being able to get together again. As we have branch offices in BC, Alberta and Ontario, many have been working from home for extended periods of time.
In addition, this will be the second June in a row that we have had to have our yearly meetings virtually. Our past practice was to bring the sales staff out to BC, have a few days of business meetings then a few days of fun, with golf, a Vancouver harbour boat cruise, and lots of shenanigans that strengthened our team bonds. We all can't wait for that to happen again."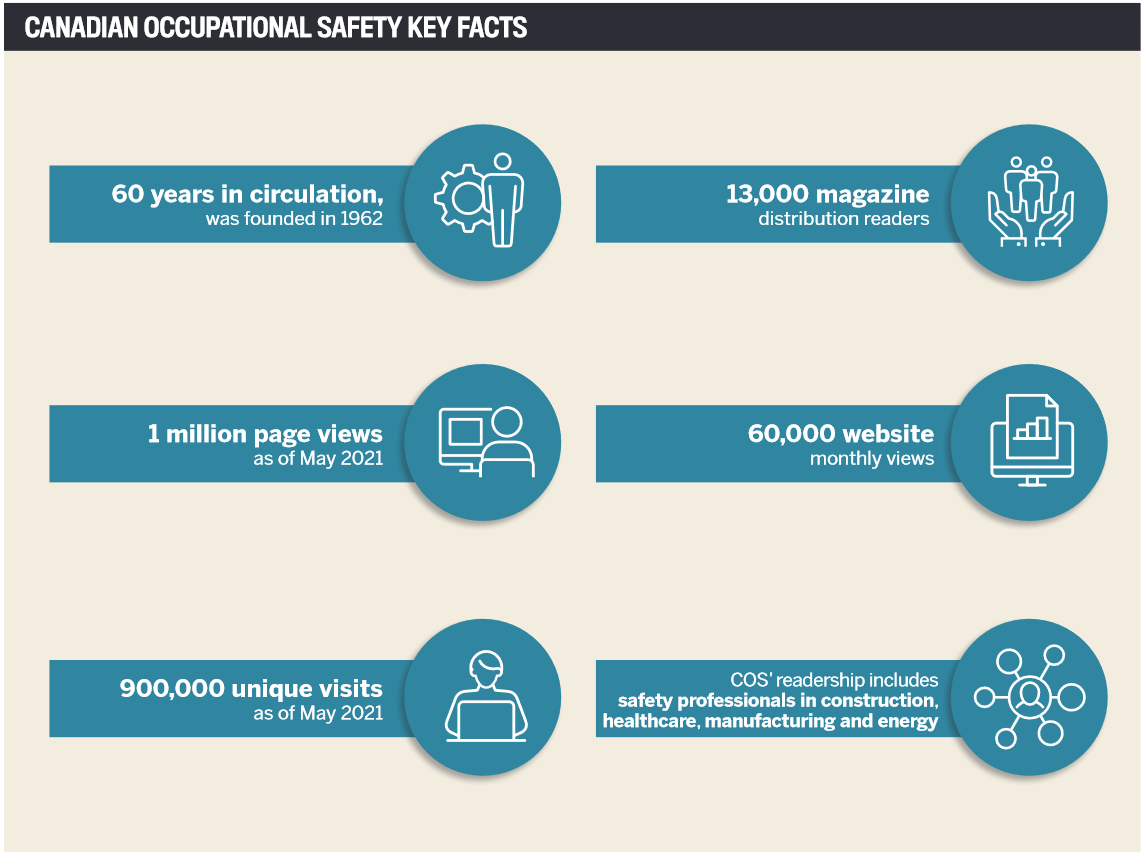 Tech solutions
Many tech companies have experienced huge growth throughout the pandemic, forged by an increasing consumer demand. For a long time, the OHS sector was reticent to adopt tech solutions, but the pandemic has forced their hand. From solutions to track and trace outbreaks, to online training, tech has been a huge help during the pandemic — and it seems that it will only grow further.
"Our business has faired very well during the pandemic because of the strength of our solutions in, and surrounding, worker health. HSE professionals have been at the forefront of the fight in this pandemic and solutions like ours have helped them protect their workforce and return to somewhat normal activities.
As we pull out of the pandemic, we are looking forward to helping our clients with post-pandemic challenges, whether that be production and hiring booms, or ongoing vaccination programs, etc. Because we are so close to the HSE community and our clients, we are confident we can keep a close pulse on helping with the next challenge we face," says Easton.
Says Alcumus: "The past 15 months of the pandemic has helped strengthen our business resolve to helping protect workers everywhere. With the onset of the pandemic, we had to find a new way of working, a new way of helping customers, and a new way of creating solutions protecting our customers."
Since 2020, the group says that they have had 141 software releases for products including their Readers' Choice winning eCompliance solution, to e-learning tools.
Alcumus says that it is "looking forward to seeing our teams come out of the pandemic with the lessons learned that allow them to help all our customers achieve their safety outcomes."
CONFINED SPACE
GAS DETECTION
Draegar Safety Canada
Honeywell
MSA
RESCUE EQUIPMENT
CONSULTANTS
AUDITING SERVICES
BSI Group
Pinchin
Stantec
ENVIRONMENTAL CONSULTANTS
OHS CONSULTANTS
Hazmasters
Levitt-Safety
Pozniak Safety Associates
CUTTING SAFETY
CUTTING SAFETY TOOLS
EDUCATIONAL INSTITUTIONS
EDUCATIONAL INSTITUTION
British Columbia Institute Of Technology
Ryerson University
University of Toronto
EMERGENCY MANAGEMENT
EMERGENCY SHOWERS AND EYEWASH
Bradley Corporation
Honeywell
Levitt-Safety
SPILL CONTROL PRODUCTS
Brady
Hazmasters
Safety-Kleen
ERGONOMICS
ANTI-FATIGUE INSOLES
Dr. Scholl's
Ergodyne
Timberland Pro
ERGONOMIC FURNITURES
ErgoCanada
ergoCentric Seating Systems
Staples Business Advantage Canada
ERGONOMIC SUPPORT PRODUCTS
Allegro Industries
Ergodyne
Pyramex Safety Products
MATERIAL HANDLING EQUIPMENT
Genie, a Terex Brand
JLG Industries
Leavitt Machinery
Wajax
FACILITY SAFETY
FIRST AID KIT PROVIDER
Canadian Red Cross
First Aid Canada
St. John Ambulance Canada
FLOOR AND SURFACE PRODUCTS
Barefoot Industrial Ergonomic
Ergomat
Safeguard Technology
Wearwell
INDUSTRIAL HYGIENE MONITORING
Concept Controls
Pichin
REED Instruments
LIGHTING AND ALARMS
Bradley Corporation
Pelican Products
Streamlight
LOCKOUT/TAGOUT AND MACHINE GUARDING
Brady
Hazmasters
Master Lock
SIGNAGE & IDENTIFICATION
Accuform Manufacturing
Brady
Seton Canada
FALL PROTECTION
FALL PROTECTION
3M DBI-SALA and 3M Protecta
Honeywell
MSA
SKIN CARE
SKIN CARE PRODUCTS
Gojo Industries
Kimberly-Clark Professional
SC Johnson Professional
INCENTIVES AND AWARDS
INCENTIVES AND AWARDS
BrandAlliance
Cotton Candy
The Safety Award Store
LEGAL SERVICES
LEGAL SERVICES
Aird & Berlis
Gowlings
Filion Wakely Thorup Angeletti
OCCUPATIONAL TESTING SERVICES
OCCUPATIONAL TESTING SERVICES
CannAmm Occupational Testing Services
LifeLabs
SureHire
PERSONAL PROTECTIVE EQUIPMENT
EYE PROTECTION
FLAME RESISTANT CLOTHING
Bulwark FR
Carhartt
DuPont Protection Solutions
FOOT PROTECTION
CAT Footwear (Caterpillar)
Dakota
Red Wing Shoe Company
Timberland Pro
HAND PROTECTION
Ansell
Honeywell
Superior Glove Works
Watson Gloves
HEAD PROTECTION
HEARING PROTECTION
PROTECTIVE APPAREL
3M Canada
Helly Hansen Workwear
MSA
PROTECTIVE FABRIC
GORE-tex
Polartec
Westex by Milliken
RESPIRATORY PROTECTION
WINTER SAFETY PRODUCTS
Baffin
Helly Hansen Workwear
Tough Duck
PURCHASING
SAFETY EQUIPMENT SUPPLIER/DISTRIBUTOR
Acklands-Grainger
Hazmasters
Levitt-Safety
RETAILER
Acklands-Grainger
Home Depot
Marks
TECHNOLOGY
CONTRACTOR MANAGEMENT SOLUTIONS
ComplyWorks
ContractorCheck
ISN
FLEET MANAGEMENT SOLUTIONS
Fleet Complete
Geotab
GEOTrac Systems
HSE MANAGEMENT SOLUTIONS
BIS Training Solutions
Cority
eCompliance
LONE WORKER MONITORING
Aware360
Blackline Safety
SPOT
MOBILE APP
eCompliance
Field iD
SiteDocs
SDS MANAGEMENT SOLUTIONS
Chemscape Safety Technologies
KHA, Online-SDS
SDS RiskAssist by Rillea Technologies
WEARABLE TECHNOLOGY
Corvex Safety
MyZone Worker Alert System
SmartCap Technologies
TRAINING
FIRST AID TRAINING
Action First Aid
Canadian Red Cross
St. John Ambulance Canada
FORKLIFT SAFETY TRAINING
Global Training Centre
Leavitt Machinery
Liftrow Limited
Safety First Training
Western Canada Fire & First Aid
IN-CLASS SAFETY TRAINING
Hazmasters
Levitt-Safety
YOW Canada
ONLINE SAFETY TRAINING
BIS Training Solutions
Danatec by Yardstick Training
St. John Ambulance Canada
YOW Canada Inc.
RESCUE TRAINING
Dynamic Rescue Systems
EHS Canada
Global Training Centre
SAFE DRIVING TRAINING
Alberta Motor Transport Association (AMTA)
AMA (Alberta Motor Association)
Thinking Driver
WHMIS TRAINING
Danatec by Yardstick Training
Global HazMat
YOW Canada Inc.
WORKING AT HEIGHTS TRAINING (ONTARIO)
Hazmasters
IHSA (Infrastructure Health & Safety Association)
YOW Canada Inc.
CERTIFICATION PROVIDER
Board of Canadian Registered Safety Professionals (BCRSP)
Canadian Society of Safety Engineering (CSSE)
CSA Group
We have perfected our research over the last few years, and are confident that our expert readers can give us valuable insights into the best products and services in the OHS sector. Over a period of around 15 weeks, our research team surveyed our readership of 12,000 occupational safety professionals and carried out in-depth phone interviews with over 300 professionals. Research participants were asked to rate products and services available to the occupational safety industry across a number of categories including ergonomics, consultants, emergency management, facility safety, and more.
Once this research period is over, our team goes through the results to see which entrants have received the best grade. We only keep the top companies, and Readers' Choice awards are presented to product and service providers rated as 'excellent' in their respective categories.