Jump to winners | Jump to methodology
Safety firsts
Chosen by frontline workers, the 2023 COS 5-Star Safety and Training winners ensure employees operate in the safest conditions possible. As expected, a top work safety training program covers several important bases.
"I look for strong customer service with a highly knowledgeable team to support customers and help them understand their compliance expectations," says Isaac Rudik of national tool and equipment hire firm Herc Rentals. "In addition, the support deeply and broadly covers the 'how and why' of safety in the workplace."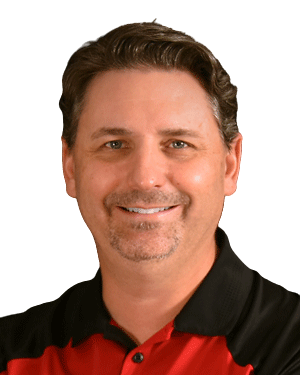 "I've got to compete with guys who are working from the kitchen tables and have no overhead, no staff. They've got 40, maybe 60, hours a week to offer. With my staff, I've got up to 800 hours"
Adrien LeBlanc
SafestWork Consulting

First principles matter
Checking all the boxes is 5-Star winner Adrien LeBlanc, a former Ministry of Labour (MOL) health and safety inspector. Described by a survey respondent as "knowledgeable" and "customer service focused," LeBlanc owns and manages SafestWork Consulting, a winning company focused on construction that's also respected within the industry.
"They always try to accommodate, even at the last minute," says another respondent.
Frequently competing against rudimentary trainers, LeBlanc prides himself on being highly skilled and accountable, and as such, he welcomes greater regulatory management of the work safety training industry, such as ISO 45001, the global standard for occupational health and safety. He also welcomes agencies like the Ministry of Labour, Immigration, Training and Skills Development, which force a higher quality of training into the marketplace.
"Health and safety training, where somebody's life is on the line, is not the place to get a participation trophy," says LeBlanc. "Just because you think you can train doesn't necessarily mean you can. I pride myself on being an approved trainer, having a good program, and getting excellent feedback. I can't wait for them to standardize other programs, so I can just stay ahead of the pack and keep up with the big boys."
The importance of feedback is also something Rudik highlights.
"Active listening to client feedback allows a training and safety firm to adapt to changing customer environments," he says.
Since SafestWork launched in 2017, LeBlanc has:
developed over 30 quality training programs for construction and manufacturing

become a CPO-approved training provider

trained over a thousand workers in working at heights

educated thousands in first aid, forklifts, mobile elevated work platforms, overhead cranes, confined spaces, lockouts, workplace hazardous materials information systems, and fit testing

maintained 100% satisfaction from trainees

grown to a staff of 12 employees

"As a former inspector and program coordinator, I help ensure that the content of the training programs is vetted for accuracy and relevance to provincial legislation," says LeBlanc. "When training supervisors, my in-depth knowledge of the enforcement process helps to ensure that supervisors have useful skills and techniques they can implement right away to help protect workers from injury and protect themselves from being prosecuted."
LeBlanc also explains how his firm is avoiding the trend of remote learning.
"Right now, we focus on face to face," he says. "When training face to face, learners are more apt to speak up and share experiences. This interaction between workers really reinforces the message that the trainer is sharing.
"The trainer can also read the body language and adjust the cadence or tempo or even call for a stretch break to ease learner fatigue if they notice the attention fading. These subtle cues are very difficult to detect on a webcam and impossible to manage with pre-recorded sessions."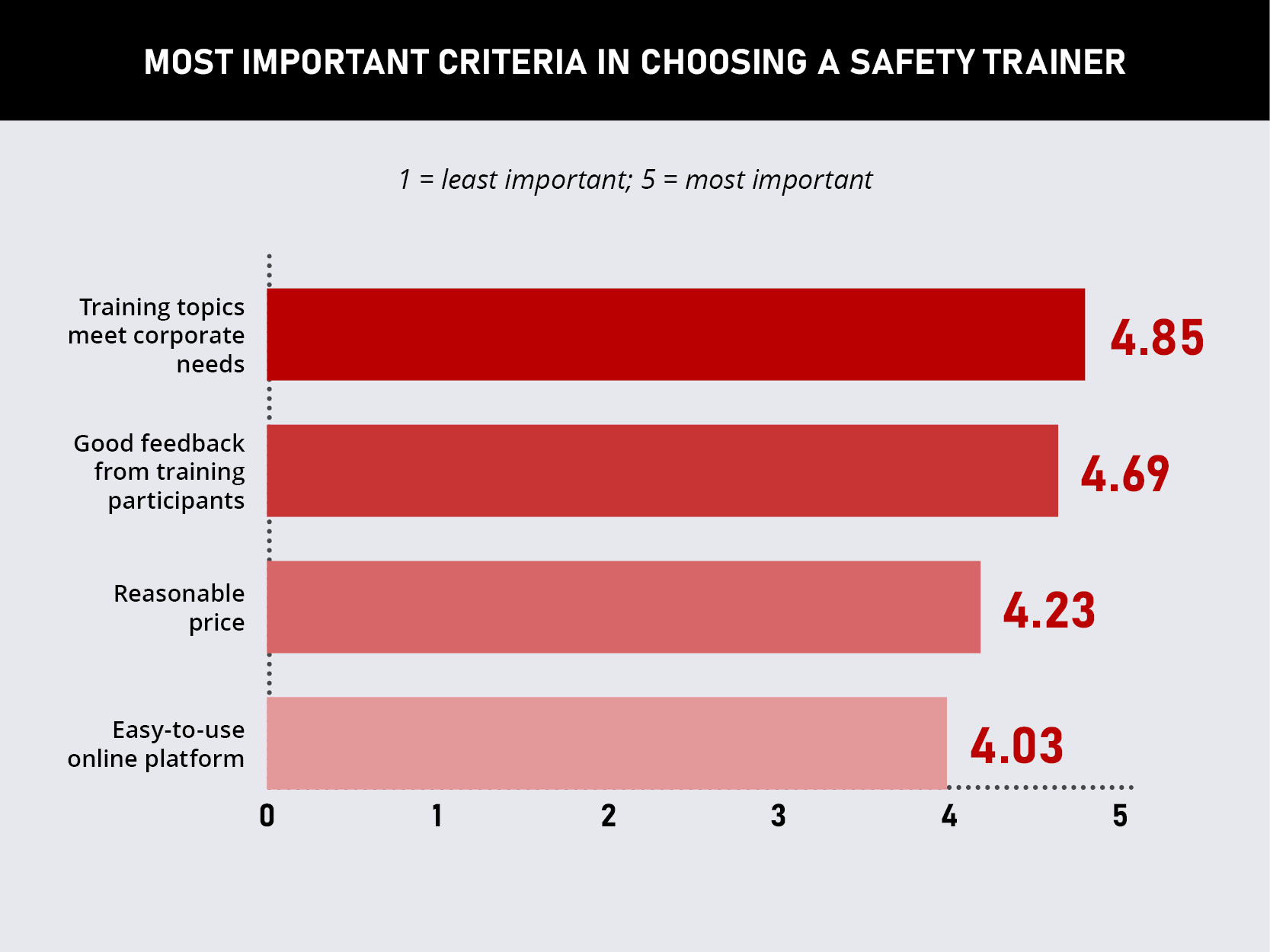 Protecting the public sector
The Public Services Health and Safety Association (PSHSA), a partially government-funded organization that serves healthcare, education, and government agencies, as well as fire and police departments and emergency medical services, was also named a 5-Star winner.
Its clients include the City of Toronto, the University Health Network, and York University. A survey respondent also highlighted the organization's "digital training options" as impressive.
Post-COVID-19, vice president of health, safety, and well-being Henrietta Van hulle sees greater opportunity.
"There's great potential for integrating psychological health and safety with physical health and safety," says Van Hulle. "It's not just healthcare workers, police, or firefighters who are feeling stressed, 27% of workers are feeling burnt out and having workload issues."
In addition, she says the one thing needed in the safety and training sectors is leadership training.
"Do you understand the legislation and the hazards that impact your workers?" says Van Hulle. "It gives them overall knowledge and shows them how they can apply that in their day-to-day work."
In 2021–22, the PSHSA:
logged 187,772 participant hours of training

completed 2,095 unique workplace consultations

achieved a 4.6/5 on its average net promoter score
Home to two award-winners
A culture of leadership is abundant at Worksite Safety, which employs two of the 46 award-winning trainers: Rick McClure and Randy Suffern.
The former teaches one joint health and safety committee (JHSC) per week, helping attendees understand the "green book" (Occupational Health and Safety Act and Regulations for Construction Projects).
The firm's director of client services, Kate Lashbrook, says, "I think it says something when people who aren't health and safety people are excited about being in a three-day health and safety course – that's Rick in a nutshell."
Meanwhile, Lashbrook praises Suffern for marrying theoretical and practical knowledge.
"Workers need to hear it from the horse's mouth, not just some instructor with no real hands-on experience," she says.
Lashbrook adds, "Randy is another of our phenomenal instructors. He's had some life experiences that guide his passion for health and safety – he knows what it looks like when people don't get to go home from work safely. What he brings to his equipment, training, and working at heights training is such an enthusiasm for the worker and how they can really make a difference."
A survey respondent praised Suffern by commenting, "Great instructor, Randy teaches life lessons."
Overall, Worksite distinguishes itself with vertically integrated programs and trainers, a team providing truly national coverage, and complementary advisory services.
Worksite's achievements include:
training over one million Canadians

being featured in McClean's and the Globe and Mail's Top 500 list of Fastest-Growing Companies in Canada four times

having team lead and senior health and safety advisor Claudia Heathfield win a COS Top Women in Safety award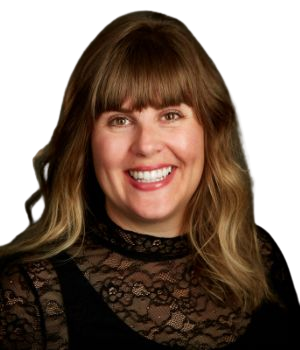 "Our strength is to help clients identify the training that their team needs"
Kate Lashbrook
Worksite Safety

Embracing 21st century work safety training
As part of the survey, safety professionals ranked an easy-to-use online platform as one of the most important conditions for choosing a work safety training company.
"A training and safety firm today requires an online presence," says Rudik. "More workers today are accessing safety information from their phones. Training and safety firms need to build safety solutions that are mobile-friendly and connect to the end user through social media channels."
This is a strategy some of the 5-Star winners have embraced.
The PSHSA has a learning management system (LMS) that supports two channels of learning.
In a JHSC certification course, for example,
one channel allows a trainee to take the course over Zoom in real time

the other channel option would be an asynchronous, self-paced e-learning format where a trainee logs in at their convenience and works through the course at their own speed
The organization can also integrate asynchronous e-learning programs from the PSHSA with a client's LMS system.
In addition, a new learning technology platform supports microlearning and learner retention over time. The solution delivers small amounts of information and reinforces the learning process through repetition. It's tied to key performance indicators and learning goals.
Meanwhile, Worksite Safety developed its LMS in-house with the sole intent of serving Canadian workers and employers. Among other things, the LMS:
has the ability to capture electronic signatures for digital certificates and plastic wallet cards

provides reports on training progress to managers

supports certification issuance and expiration alerts

enables bulk management of user records

has automated enrollment tools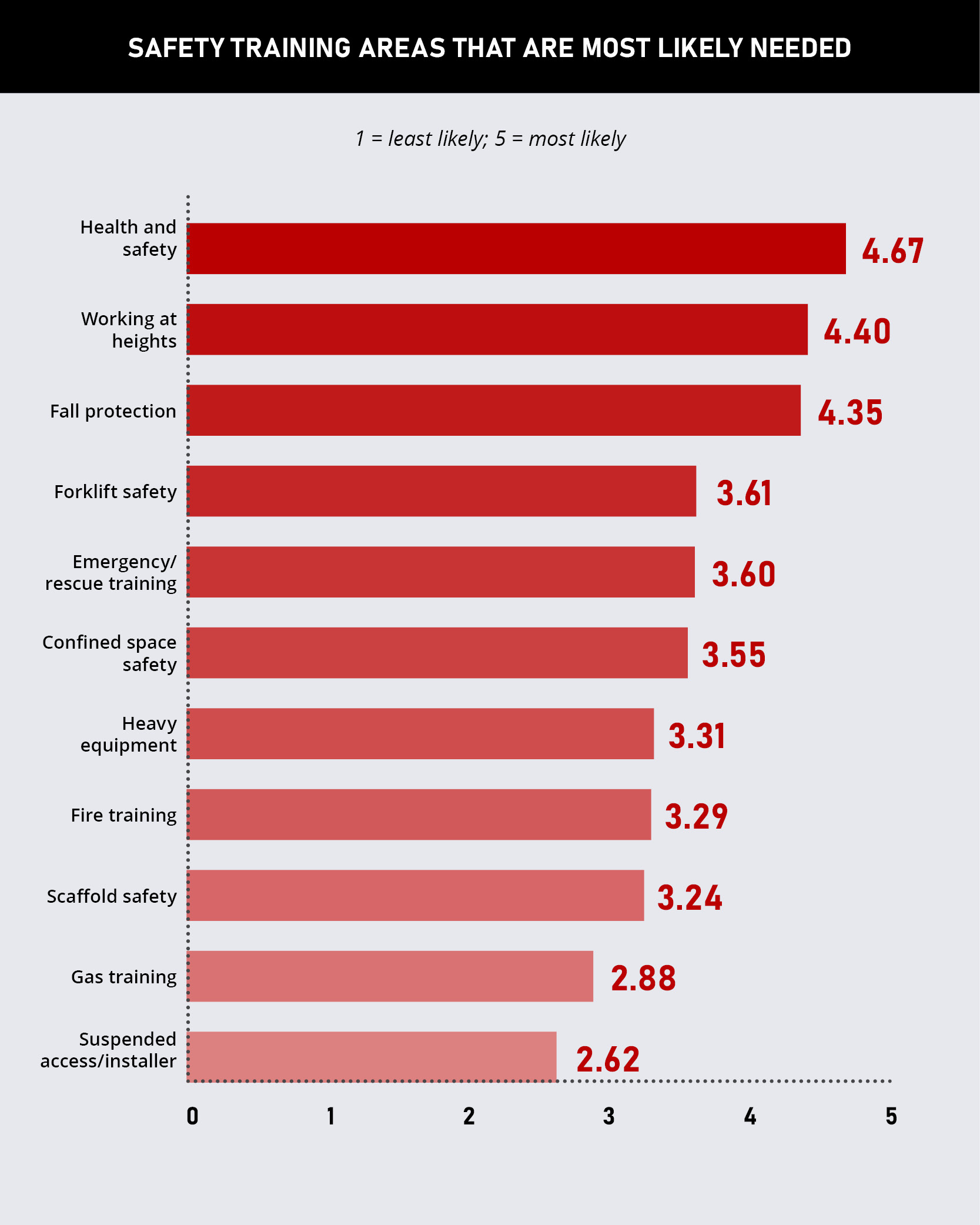 The company also has the ability to integrate its LMS with other large organizations.
"Another benefit to developing our own software is that when an organization already has their own in-house applications, we can integrate our systems in a seamless manner," says Lashbrook. "In some cases, this might mean that our training is offered on another LMS while still reporting back to the appropriate regulatory bodies, or that the results of their worker's training are passed to an HR system. Our team is able to adapt to whatever the needs of our clients may be, without any of the restrictions that normally accompany third-party software."
They also use QR codes on certificates of completion to quickly verify the status of a person's training. Scanning the QR code allows a user to view the current status of any record of training along with any related information that the student or organization wants to display.
Along with the QR codes, a record of training can also be manually checked by using a student's last name and certificate number using the certificate validation tool.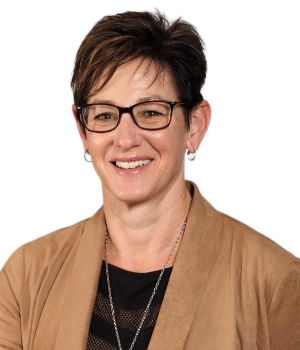 "Our people have healthcare experience or they're retired police officers. They have that knowledge plus they have the health and safety piece"
Henrietta Van hulle
Public Services Health and Safety Association

TRAINING COMPANIES
ACUTE Environmental & Safety Services
Alberta Construction Safety Association
All the Best Consulting
Arges Training & Consulting
BEST Safety Training
Brandt
Canadian Safety Group
ConTech Safety and Training
GEMC
Hazmasters
HSE Elements
Industrial Safety Trainers
Infrastructure Health & Safety Association
Intuitive SHE Safety Consulting
JBL First Aid
Langlois Safety
Leavitt Machinery
Mentor Safety Consultants
Rubicon Safety
Safest Work
Safety Buzz
Safety Coordination Services
SAT Consulting & Construction
Total Safety Management
Valley WorkSafe
Workers Health & Safety Centre
Workplace Safety & Prevention Services
Worksite Safety Compliance Centre
TRAINERS
Barry Gruhlke


Leavitt Machinery

Ben Barteski


Brandt

Beverly Drobot


Westco

Carl Bonello


Workplace Safety & Prevention Services

Colleen White


RCW Safety

Daniel Duquette


Essential Safety Services

Dave Bachan


Workplace Safety & Prevention Services

Dave Prange


Valley WorkSafe

Dennis Richardson


Industrial Safety Trainers

Douglas Legg


Rubicon Safety

Douglas McCormick


Canadian Safety Group

Ed Wallan


Leavitt Machinery

Gary Bath


Leavitt Machinery

Geoff Rowatt


Industrial Safety Trainers

Graham Hallenbeck


Leavitt Machinery

James Donato


Workplace Law Consulting

Janice Campbell


Spencer Safety Solutions

Jason Swan


Black Gold Emergency Planners

Jeff Stoklosa


Leavitt Machinery

Jeniffer Kotylak


SAT Consulting & Construction

John McInnes


Leavitt Machinery

Jon Wright


ACUTE Environmental & Safety Services

Kevin Brown


Cobalt Safety

Kristen Galley Johnson


BuildSafe

Art Wilderman


Brandt

Michael Bodnerask


Alberta Construction Safety Association

Michael Miller


Industrial Safety Trainers

Mike Metcalf


Industrial Safety Trainers

Nick Gudmundson


Leavitt Machinery

Nico Santana


HSE Elements

Nigel Kingston


Kingston Safety Consultants

Patrick Wallwork


GEMC

Paul Mctamanemy


Safety First

Pete Claussen


CCS Transportation Safety & Compliance Training

Rachelle Hill-Wilkens


Intuitive SHE Safety Consulting

Randal Perks


RI-GO Lift Truck

Randy Suffern


Worksite Safety

Richard Conrad


Contech Safety and Training

Rick McClure


Worksite Safety

Sheena Baker


Huron & Bruce Safe T Training

Steve Tizzard


All the Best Consulting

Tanya Steele


TR Steele

Tim Dunford


Touchback Safety

Tracy Morin


Province Wide Safety Training

Trevor Harness


TOTAL Safety Management

Wesley Sim


Hazmasters
Insights
As part of our editorial process, Key Media's researchers interviewed the subject matter expert below for an independent analysis of this report and its findings.
In May, Canadian Occupational Safety researchers interviewed and surveyed safety professionals across the country to find out who they recognized as the top safety trainers for the third annual 5-Star Safety and Training.
The participants were first quizzed on what features they thought were most important in choosing a safety trainer and then asked to recommend trainers and training companies. Participants rated the trainers and companies across a range of criteria, including the quality of training topics, feedback, pricing, and online platforms.
Companies and individuals who received a score of at least 80 percent were named 5-Star award winners in recognition of their excellent services and programs.
This special report is proudly supported by the Canada Safety Council and the Women in Occupational Health & Safety Society.
About the supporting associations
Canada Safety Council

The Canada Safety Council (CSC) is an independent, knowledge-based, charitable organization dedicated to the cause of safety. It provides national leadership in safety through information, education, and collaboration.
Its mission is to lead the national effort to reduce preventable deaths, injuries, and economic loss in public and private places throughout Canada. The CSC serves as a credible, reliable resource for safety information, education, and awareness in all aspects of Canadian life – in traffic, at home, at work, and at leisure.
Focusing on safety education as the key to a long-range reduction in avoidable deaths and injuries, the Council serves as a national resource for safety programs, working with and through partner organizations that deliver and/or fund these programs.
Women in Occupational Health & Safety Society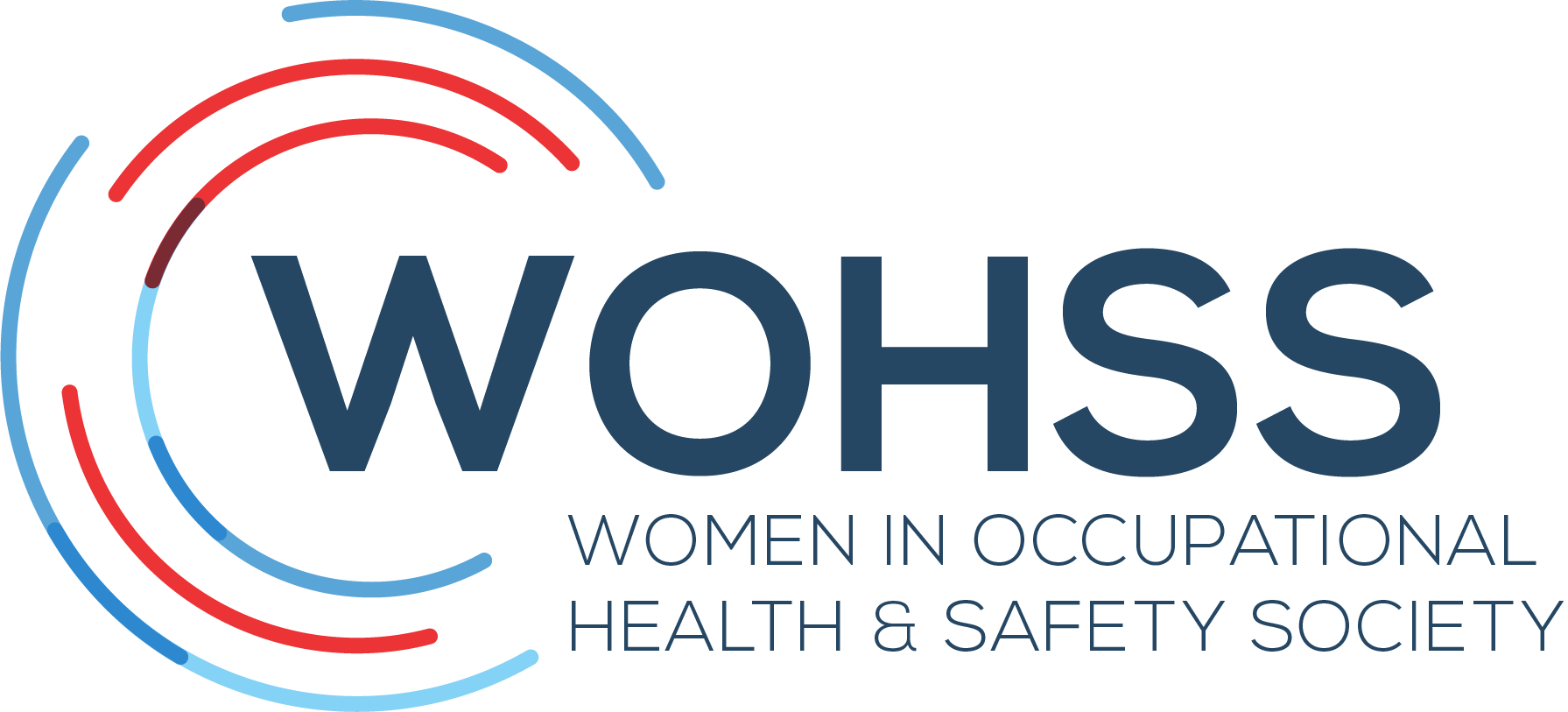 Incorporated as a not-for-profit society in 2017, the Women in Occupational Health & Safety Society (WOHSS) is a grass-roots organization that is dedicated to supporting women working in occupational health and safety (OH&S). WOHSS is committed to building a better future for women in occupational health and safety.
The board of directors is comprised of professionals from across the country, representing a diverse cross-section of the occupational health and safety profession. The board represents leaders of different backgrounds, experiences, and career paths, all dedicated to one common goal: to build a better future for women working in OH&S.