Jump to winners | Jump to methodology | View PDF
ENSURING HEALTH AND SAFETY FOR ALL
Traditionally a male-dominated field, occupational safety has become more open and inclusive over the years – a welcome development for many women who wanted to get involved in the profession.
To highlight the achievements of women who have contributed their talent and energy to this field, American Occupational Safety presents this special edition of Top Women in Safety. The professionals on this list are among the best and brightest in their field, bringing decades of experience, innovative ideas and enviable leadership skills to the table.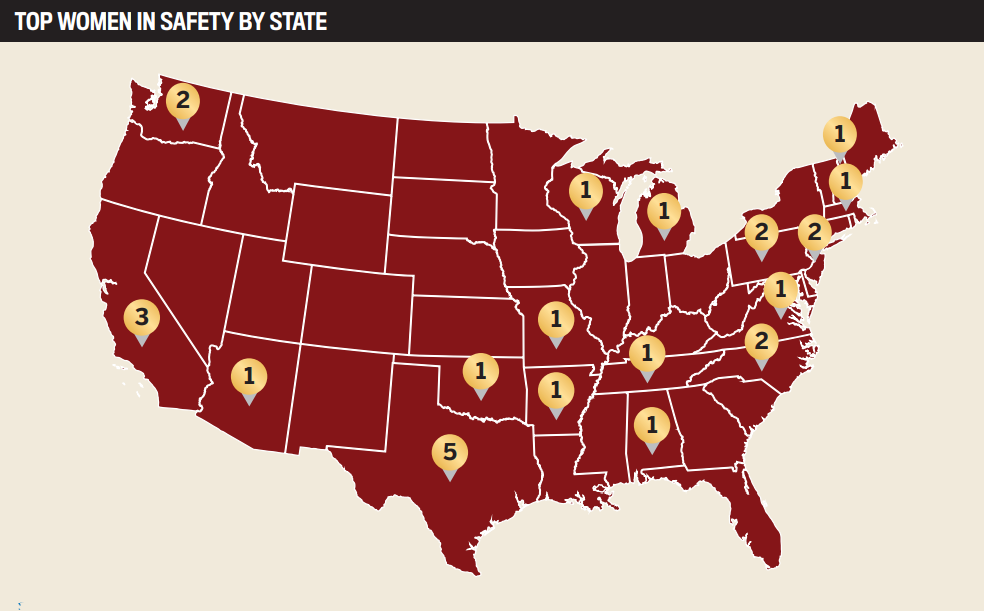 Empathetic leadership
In conversations with women in occupational safety, one of the most common themes is the importance of effective leadership and mentorship. Leadership is a key concern amid the pandemic as organizations prioritize the health and safety of employees.
Ensuring health and safety in the workplace calls for strong leadership skills, as shown by the Top Women in Safety. There are many ways to be a good leader, although most safety pros will agree that passion and empathy are essential when it comes to building a strong safety culture.
"I have always had the ability to step into the shoes of others, aiming to understand their feelings and perspectives. I am able to use that to guide my actions. Empathy is an attitude and part of my daily life and I use that to impact and improve the lives of everyone around me.
"A self-help and therapy culture encouraged me to look deep within myself. I discovered so many things, which guided me to [become interested] in the lives of others. I became passionate about the wellbeing and safety of employees and their families," says Sonja Flanigan, corporate safety director at Structural Technologies and one of the awardees.
Leadership is also about understanding the value and importance of teamwork.
"The best part of being on the safety team is connecting people with the tools they need to stay safe whether it is technology, design, process, education, behavior modifications, and others. My favorite part of my current role is [working with an] incredibly talented and dedicated team focused on delivering a safe and sustainable energy source for the world," says Morgan Hager, vice president for health, environment and regulatory at Chesapeake Energy.
Continuous learning
The best safety leaders are never afraid to admit that there are things they don't know, and continuous learning is a key part of their professional growth.
"The biggest challenge I have faced and will continue to embrace is being able to provide the best technical guidance to my teams. I have had to spend extra time learning how to become a knowledgeable technical resource for my teams. Although I have been able to accomplish being a good technical resource throughout my career, it's an evergreen process and constantly evolving," says Flanigan.
Despite the willingness of many safety professionals to upgrade their knowledge and skills, the COVID-19 pandemic has been something of a wild card and has changed the game for many of them. Faced with a crisis that no one was taught to manage, even those with years of experience had been prompted to learn on the fly.
"I think for all health and safety professionals, it has been the same way. We were never trained to manage a virus outbreak, and also to deal with the mental fatigue and mental health of [workers].
It has been quite a big challenge to try to balance our day-to-day safety job with trying to manage and understand the COVID outbreak," says Prithy Madhoo, risk and safety director at Evergreen Goodwill of Northwest Washington.
However, variety is something that most safety pros typically enjoy, with no two days looking the same – especially at the moment.
"Health and safety is not just a job. It's not just one field. It's more about encompassing a lot of fields in one job. At one time you are an investigator, at another time you are a psychologist, a counselor, an inspector, and then you might be a trainer or a manager or a leader. It's really very interesting because you get to play many roles in one job. That's why I love health and safety," says Madhoo.
The pandemic has had a huge impact on working women as they have to deal with a range of issues, from ill-fitting respirators and PPE to financial constraints. The Canadian Women's Foundation says that women – particularly those from racial and ethnic minority communities – have been more affected by economic stress during the pandemic. The reason for this, says the Foundation, is that women tend to work in industries that were hardest hit by restrictive measures. These findings have also been echoed by the United Nations, which released a report saying that "across every sphere, from health to the economy, security to social protection, the impacts of COVID-19 are exacerbated for women and girls".
This report aims not only to celebrate women's accomplishments but also to draw attention to their experiences during an unprecedented period.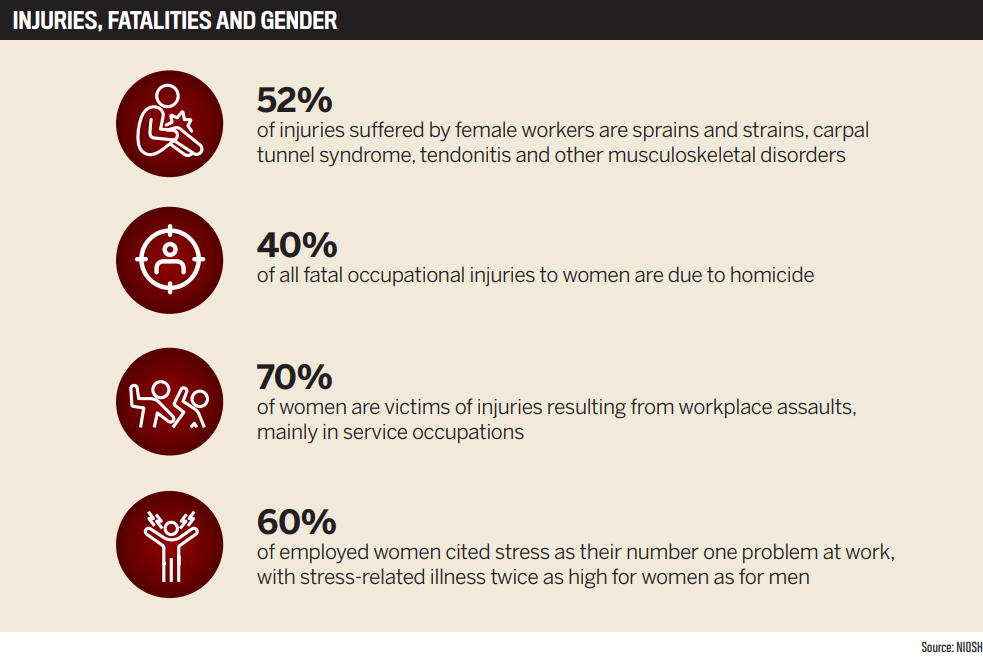 Women in Safety Summit
For two years now, Canadian Occupational Safety has hosted its highly successful Women in Safety event. The summit brings together safety professionals from around Canada to discuss the major issues affecting women in this profession. From solving problems in PPE use to addressing questions around mentorship and leadership, there's still much to be done.
That's why in December, COS will be hosting its first ever Women in Safety North America summit, where safety professionals from all corners of the US will come together to highlight the importance of health and safety for all. The summit will showcase top-tier talent – including some of the women on this report – who will be sharing their insights and expertise on hot-button topics.
Expressing her enthusiasm for the event, Flanigan says, "I have a genuine eagerness to learn and I have a strong sense of curiosity. I'm super excited to hear and learn technical updates, new skills, new experiences with safety leaders, gaining knowledge, and the ability to boost my creativity."
This is a sentiment echoed by Hager: "I'm looking forward to learning from women across diverse backgrounds and industries. As safety professionals, we have a unique opportunity to glean inspiration from all aspects of our global community and turn that into improvements for our own direct sphere of influence. I'm looking forward to the packed agenda of top talent sharing their best practices for making our workplaces safer."
"I would like to hear from the [other] women in safety about what their struggles have been and how they have gotten their seat at the table, how they have made their voice heard and gone through all of the things that come with being a woman," says Madhoo.
Adrianne Anglin


Regional safety manager, Michigan Paving and Materials

Adrianne Pearson


Owner, Evolving EHS

Angela Cloud


Senior safety engineer, McCownGordon Construction

Cecelia Gilligan Leto


Project director, New Jersey Work Environment Council

Frieda E. Sanders


Manager, EHS and biological safety, Pfizer

Jennifer Kopsie


Construction safety and health specialist, CD & Associates

Jerica Etoch


Complex health and safety manager, Butterball

Judith Green McKenzie


Professor and division chief, Perelman School of Medicine, University of Pennsylvania

Laurie Knape


Health and safety commission, professional, regulatory and industry relations, Avetta

Linda F. Martin


Professor of the practice, Embry Riddle Aeronautical University

Lindsay Fountaine


Director, safety and human resources, Choice Transportation

Lolita Pearson


Safety officer, San Joaquin County, California

Nicole Thunich


Senior vice president, safety and quality, Centuri Group

Maude McGraw


North America HSE ROT leader, Cummins

Monique Parker


Vice president for environmental, health and safety, Piedmont Lithium

Morgan Hager


Vice president for health, safety, environment and regulatory, Chesapeake Energy

Noelle Newton


Director, campus safety communications, The University of Texas at Austin

Phyllis Felsinger


Senior vice president, safety, environmental and DOT, Wells Concrete

Prithy Madhoo


Risk and safety director, Goodwill

Qi Hommes


Director, system safety engineering and analysis, Zoox

Sharon Tolson


Manager, education and information resources, International Safety Equipment Association

Sonja Flanigan


Corporate safety director, Structural Technologies

Stephanie O'Melia


HR/safety/risk management director, Dunn Building Company

Valerie Stone


Safety director, Thomas G Gallagher Company

Wanda Minnick


Associate professor, Indiana University of Pennsylvania
Nominators were asked to highlight the nominees' professional accomplishments and initiatives as well as provide evidence of contributions to diversity and inclusion in the workplace and the entire health and safety sector. They were also asked to provide additional details on why the nominee should be considered for the distinction.
Each nomination was thoroughly vetted to ensure that it met the rigorous criteria. Thanks to the expert insights of AOS readers – many of whom are stalwarts of the OHS industry – and the dedication of the research team, this special report presents a list of America's Top Women in Safety.