Jump to winners | Jump to methodology
Leading the change in OHS
The past two years have been immensely challenging for industries across the board, and notably for the health and safety profession. The role of the safety professional often tends to be dismissed or misunderstood. But occupational health and safety is about so much more than just preventing injuries in the line of duty, says Sheri Benson, founder of Thrive Safety Consulting.
"It is about creating workplaces where we are not only protected from harm but supported and encouraged to thrive," says Benson. "I believe that our work provides opportunities to positively impact every aspect of the lives of our people, not just their physical safety on the job."
Perhaps this outlook is why Benson was nominated as one of the Top Women in Safety. In an industry which is still male-dominated, COS believes that it is of utmost importance to recognize the professional women who are truly making a difference and pushing for change.
We hope that these awards can shine the spotlight on some of the best and brightest in the field, and empower those who want to enter the profession.
"Safety is full of opportunities and possibilities for women. I see organizations where trust in female leaders is standard. The question is, do the women believe in themselves?"
Natalia Pashutina, NP Educator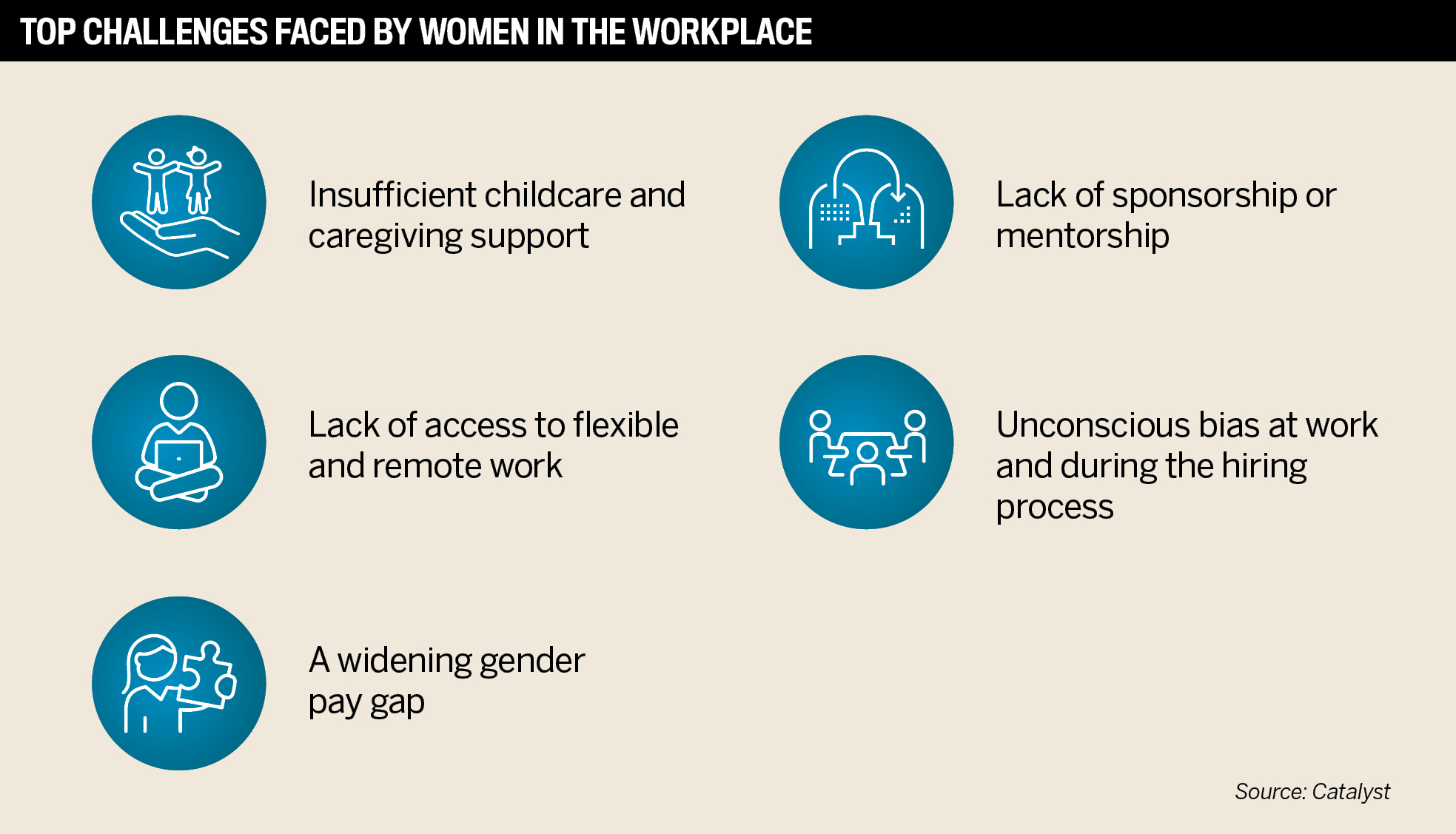 Leading with passion
"I am honoured and grateful to be recognized as one of the Top Women in Safety and to have been selected for this prestigious award by Canadian Occupational Safety," says Nada Vuckovic, head of environment, health and safety at Siemens Canada.
"This important award recognizes women who are doing great things in the industry to support health, safety and well-being and create work environments where all employees are safe," says Vuckovic. "I have faced several challenges on my way here, but determination end resilience made me the person I am today; a professional who leads with passion, keeps raising the bar and is not deterred by a challenge."
Indeed, for the winners, this award is a testament to the hard work and hustle that have led them to the top of their profession. It is a great opportunity to look back at the challenges they have faced.
"When I first started my journey and founded Thrive Safety Consulting, my goal was to take what I had learned from my personal experiences in the workplace, and to make an impact on a larger scale. Stepping outside of my comfort zone opened up new opportunities which have brought on exciting challenges and growth," says Benson.
She says that being recognized as a Top Woman in Safety is an honour and she looks forward to "continued growth, speaking and finding new ways to engage with fellow and upcoming leaders and impacting the safety industry."
Benson, like many safety professionals, says that sharing accolades can be challenging, but awards such as these are a great reminder of the reason to celebrate their success.
Being distinguished as a Top Woman in Safety is also a great way to inspire others wishing to have a career in OHS. This recognition "sets an example," says Natalia Pashutina, health and safety specialist at NP Educator and chairwoman of the Canadian Society of Safety Engineering, BC Lower Mainland Chapter.
"As an OHS instructor, I got to see so many brilliant female students. I am confident they will do great in their OHS career and be recognized by colleagues, leaders and peers," she says.
"Gender equality, diversity and elevating women to leadership roles is a real struggle. We must commit to increasing the number of women in the leadership positions in the occupational safety and health field"
Nada Vuckovic, Siemens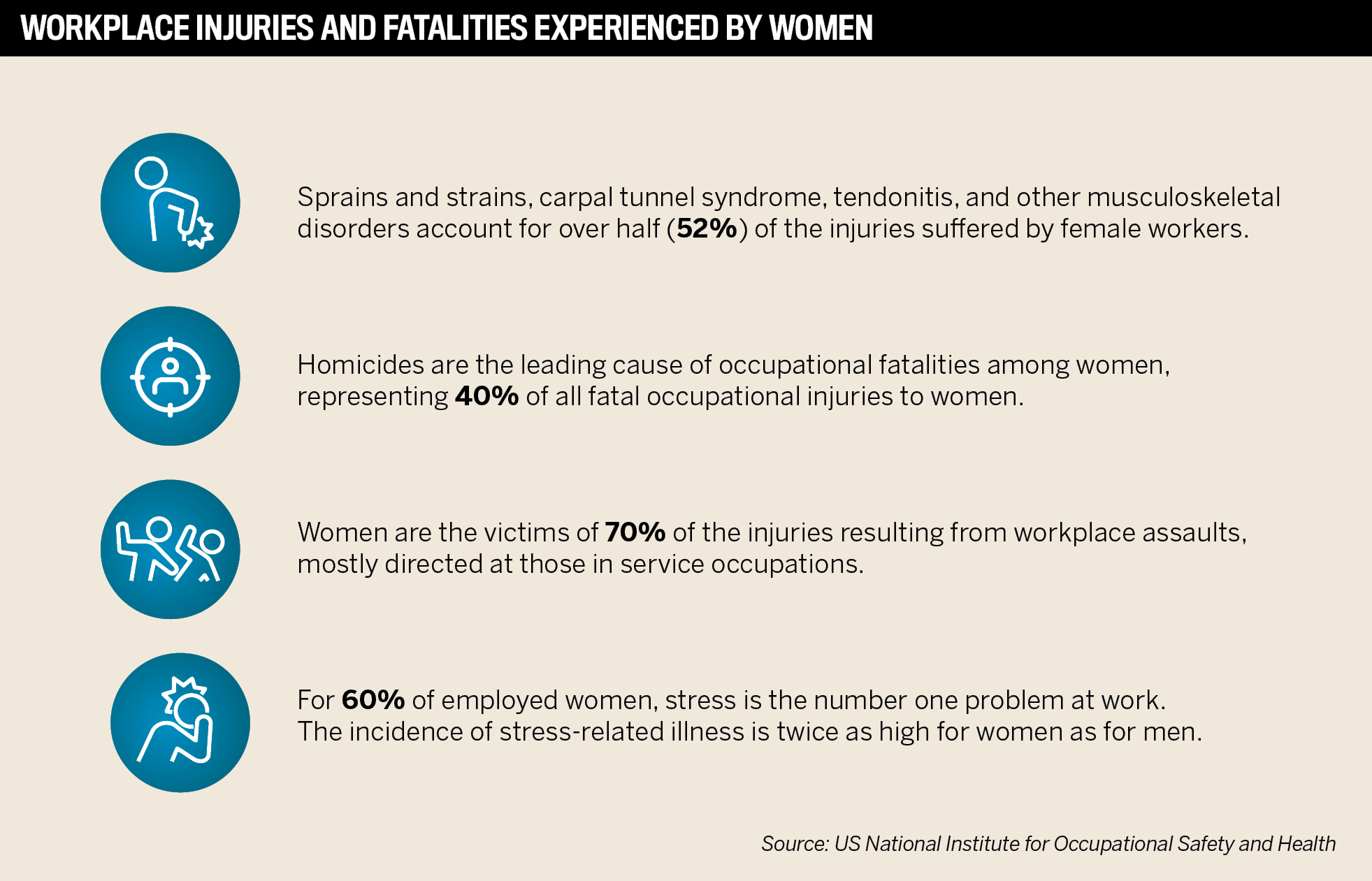 The importance of mentorship
In March 2022, Canadian Occupational Safety held its third annual Women in Safety summit. Many of those on the Top Women in Safety list were in attendance – either in the audience or on a panel of speakers. This inspiring event raised various important topics that women in OHS are keen to discuss.
As Pashutina said, mentorship is a key aspect of being not only a Top Woman in Safety but being a leader in the OHS space. As the safety professional's role continues to expand, a growing number of young women are choosing it as an exciting career path. Having a mentor in the field can be an enriching experience for the mentor and the mentee alike.
During the COS summit, a significant point raised was the progress in recent years concerning the fair treatment of women in OHS. Most of the event participants concurred that there are still a number of issues facing women in the sector today.
"Our work provides opportunities to positively impact every aspect of the lives of our people, not just their physical safety on the job"
Sheri Benson, Thrive Safety Consulting
Self-doubt and other challenges
What exactly are the challenges that women have to deal with in the OHS sector? According to Pashutina, these come from within.
"Safety is full of opportunities and possibilities for women. I see organizations where trust in female leaders is standard. The question is, do the women believe in themselves?"
Indeed, the notion of self-belief is crucial because many women are often plagued with self-doubt and a lack of confidence in their hard-earned abilities and skills. This is a sentiment echoed by Benson: "Although we continue to make progress in our industry, women still face many challenges in the field. Some external factors still exist such as bias in a male-dominated industry. However, I believe some of our biggest challenges are often internal. I think a lot of women can relate to creating their own limitations with self-limiting beliefs. The feeling of 'imposter syndrome' often sets in."
Benson says that learning to embrace differences and seeing what women bring to the table as an asset instead of a weakness is "one of the most powerful realizations we can make, which can impact us profoundly both personally and professionally. Not sharing your gifts and talents is a disservice not only to yourself but to others."
Stepping into their full potential requires women to move past the barriers they create for themselves first, she says, and then the ones that come next seem a little easier to overcome.
Taking a slightly different view, Vuckovic says that "gender equality, diversity and elevating women to leadership roles is a real struggle. We must commit to increasing the number of women in the leadership positions in the OHS field."
Diversity and inclusion across the safety industry "makes diverse and inclusive workplace safer and more profitable. Having diverse safety professionals balances the strengths brought to the table, which serves the organizations and employees better," she says.
These are all valid opinions – there is no one singular female experience but a multitude of experiences. One thing the sector must do, as Vuckovic says, is bring these different voices together to create an environment where people of any gender feel welcome. Each person, regardless of gender identity, brings a fresh and interesting perspective that can lead to long-term change in the OHS profession.
Adeeta Marie Bandoo


Director, EHS, Stanley Black & Decker

Alison La Rue


Safety, Risk, and Compliance Manager, Searcy Trucking

Amandeep Beesla


Director of Safety Insight and Innovation, Salus

Amber-Lee Jenkins


Associate Director, Safety and Security Quality Assurance, Greater Toronto Airports Authority

Ana Ivanic


Chief Operating Officer, Occupational Safety Group

Carol Molloy, BA, NCSO, P.GSC


President, Molloy's Premium Consulting Services & Solutions

Connie Bradburn


Manager, Education and Safety, Saskatchewan Public Safety Agency

Diane Campbell


Safety Supervisor, City of Moose Jaw

Erin Oliver


Vice President of Health, Safety and Sustainability, Modern Niagara Group

Janine Williams-Ward


On-Road Safety Manager, Amazon Logistics

Jessica McCaughey


Senior Manager, HSE Shared Services, Bird Construction

Jill Vrolson, CRSP


Team Lead, Health and Safety, Operations Terminals and Pipelines, Keyera

Julianne Da Re


Director of Health, Safety and Environment (Canada), AECOM

Leigh-Ann Stewart


Director Safety, Kaltire

Lisa Beech-Hawley


Section Manager, Corporate Environment, Health and Safety, Ontario Power Generation

Lisa Wells


HSE Coordinator, Contractor Management, IOC Rio Tinto

Lori Kennedy


Directory, Regulatory Affairs, Canadian Pacific Railway

Melissa Gould


Director of EHS, North America and Corporate, Linamar

Michelle Richer


Health and Safety Manager, Marathon Construction

Monica Szabo


President, Szabo Safety & Operations Services

Natalia Pashutina


Health and Safety Instructor and Consultant, NP Educator, BCIT, Langara college

Natalie Edery


Corporate Manager, Safety Health and Environment, ATS Automation

Nicole Kaskamin


Director of HSE, Mikisew Group of Companies

Paula M A Campkin


Vice President, Operations and Safety Centre of Excellence, Energy Safety Canada

Reshma Sukdhoe


Territory Director of Safety Health and Disability Management, Salvation Army, Canada and Bermuda Territory

Robin Angel


Chair, Board of Canadian Registered Safety Professionals

Sarah McCurdy, BS, ROHT, CRSP, EP


Senior Occupational Hygienist, SunCor

Serese Selanders


Founder and CEO, SolusGuard

Shayna Helal


Chief Safety Officer, Mott Electric GP

Sheri Benson


Founder/Consultant, Thrive Safety Consulting

Sobi Ragunathan


Vice President, Operations, Strategy and Partnerships, 4S Consulting Services

Sonya Wickens


Health and Safety Group Leader, Honda of Canada

Stephanie Benay


Director, Safety, BC Hydro

Susan Harahap


Manager, Corporate Occupational Health and Safety, Pro Administration Services

Tracy Buck


Assistant Deputy Chief Member Services, Regional Municipality Wood Buffalo

Trina Hayden


Director, Advisory Services, NORCAT
Nominators were asked to highlight the nominees' professional accomplishments and initiatives as well as provide evidence of contributions to diversity and inclusion in the workplace and the entire health and safety sector. They were also asked to provide additional details on why the nominee should be considered for the distinction.
Each nomination was thoroughly vetted to ensure that it met the rigorous criteria. Thanks to the expert insights of COS readers – many of whom are stalwarts of the OHS industry – and the dedication of the research team, this special report presents a list of Canada's Top Women in Safety. From 40 women in its inaugural 2021 edition, this year's list has expanded to 61 winners.