Just 12% turn to boss, with majority leaning on friends and family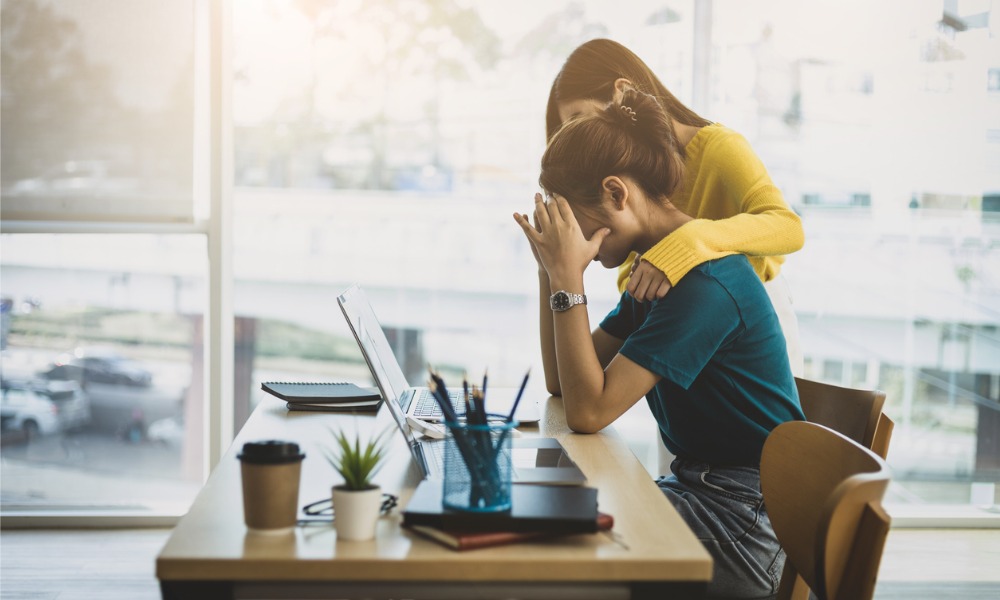 During COVID, there was plenty of emphasis placed on worker's mental health and the role the employer can play in helping workers feel supported. But a new global survey shows that more work needs to be done by organizations.
Nearly half (48 per cent) of employees say they have experienced at least one work-related mental health risk factor, although the stigma around mental health appears to have been lifted, with 43 per cent of employers stating that they've witnessed people talking more about their mental health in the last 12 months, finds a survey by Peninsula.
"It's encouraging to see that so many employers are comfortable and willing to have conversations about both their own and their employee's mental health," says Darren Chadwick, CEO.
But it seems the supports available to workers do not meet their needs, according to Peninsula's survey of 79,000 businesses across four countries – Australia, Canada, Ireland, and the U.K.
While 94 per cent of employers say they're available to help staff who are struggling with mental health concerns, just 12 per cent of employees have confided in their bosses.
"Although people are comfortable speaking more openly about their mental health and prioritizing work-life balance, it's surprising to see less than 10 per cent of employers who have used EAP (Employee Assistance Program) services from those who have experienced mental health issues over the last 12 months. Rather than utilizing company services, employees turned to family and friends for support," says Chadwick.
Generational divide
While some employees and employers are not quite on the same page, there's also a generational divide that exists when it comes to how workers perceive these kinds of supports.
Overall, 62 per cent of workers have used at least one mental health benefit that their employers offer, reports Securian Financial, a provider of group life and supplemental health insurance benefits.
However, the use of these benefits is far more common among younger millennials (76 per cent), generation Z workers (73 per cent) and older millennials (72 per cent) than among gen X (58 per cent) employees and baby boomers (49 per cent).
Most gen Z (65 per cent), younger millennials (60 per cent) and older millennials (59 per cent) also say that it's very important that their employer provides mental wellness resources and benefits. These numbers are comparably lower among gen X (49 per cent) and boomers (45 per cent).
"Mental wellness benefits are crucial for every generation. But because these benefits are expected from gen Z and millennials, employers should recognize that to attract and retain young talent, they must provide easily accessible mental wellness resources," says Darin Reeser, a Securian Financial regional director for supplemental health benefits.
Psychological safety
In the safety industry, the importance of good mental health was recently highlighted in a conference.
As safety leaders gathered for three days of presentations, group discussions, and a general sharing of knowledge and services, one theme seems to have emerged as the dominant takeaway. The role of mental health in a workplace safety culture needs to be prioritized from the top down.
"Mental health was a huge topic," says Kent Blackmon, manager of organizational safety services with the City of Winnipeg. The annual Safety Services Manitoba Occupational Health and Safety Conference was held in-person last month for the first time since the on-set of the global COVID-19 pandemic.
Blackmon says prioritization of mental health was a thread that ran through the entire event, which may not be surprising given a recent study which shows rising demand for mental health treatments has created weeks-long backlogs to access those services.
Instilling a culture of support for workers struggling with anxiety, depression, stress, and a whole host of other mental health issues might not be easy for a lot of organizations, which is why Hall says that kind of leadership needs to come from the top. "The most successful companies are the ones that look after their people."
More work to be done
And yet research from CloudMD found that only 37 per cent of employees are utilizing their mental health benefits.
Why? Well, the data points to three main reasons: confusion around costs and services available, a lack of time to participate with the programs offered and wait time to access the services.
Melissa Alvares, SVP marketing and growth at CloudMD, says that in order to entice employees into using their benefits employers need to be flexible.
"Employees want to have choice in their benefits programs," she says. "Both in terms of what resources are on offer and how they access them. Are you using technology to help your people access their plans? If so, is it easy to use? How are the plans delivered? How is the support delivered – is it asynchronous? These are all questions that employers need to start asking themselves."