Arrangement may be 'here to stay' but productivity issues remain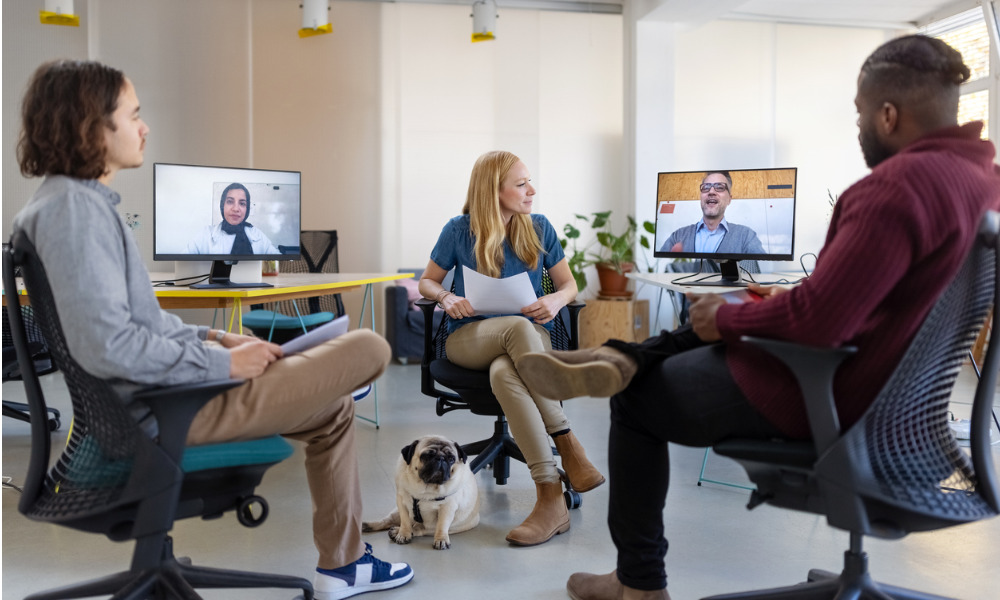 As the world of work settles into a new reality and many workplaces are fully hybrid, are one set of employees getting better treatment versus their counterparts?
According to a survey, remote workers may be enjoying some benefits in their setup, but they may also be missing out too. Fifty-sex per cent of U.S. adults believe employees who work exclusively in-office have a competitive advantage over their fully remote counterparts when it comes to getting raises, bonuses, and promotions, reports the American Staffing Association.
Despite this sentiment, less than half (48 per cent) of workers report they are working completely in-person, 28 per cent are working on a hybrid schedule, and 24 per cent are fully remote.
"How, when, and where work will get done in the future is still an open question," says Richard Wahlquist, president and CEO, American Staffing Association.
"Employers are trying to determine how hybrid and remote work affects productivity. And employees are trying to determine how the rise of hybrid and remote work is going to affect their careers, especially now that they're contending with economic uncertainty."
Forty-four per cent of workers say they would be willing to take a pay cut if it meant they had greater freedom to work remotely, found the survey of 2,019 U.S. adults aged 18 or older – of whom 1,140 were employed – conducted Oct. 27 to 31.
"One thing that is certain is that hybrid and remote work [is] here to stay for significant numbers of employees whose work could be done from home," says Wahlquist.
Old guard fights back
That said, many employers are pushing back against this new model.
Unproductive employees of investment bank Citi are being told to return to offices, according to its CEO Jane Fraser.
"You can see how productive someone is or isn't. If they're not being productive, we bring them back to the office or back to the site and we give them the coaching they need," says Fraser during the recent World Economic Forum in Switzerland.
The remarks came after Fraser was asked what they learned since implementing a remote setup in 2021. "We learned that we do want people collaborating and they do collaborate better together. Apprenticeship is really important," says Fraser during the forum.
According to the CEO, apprenticeship and getting feedback is critical, and they tend to be handed out regularly when employees are together.
"But at the same time, we don't have to go back to the 80s model that sort of epitomized Wall Street either," said Fraser. "We'll try and send more of our juniors home at the end of the day so they can work from there, but I do believe that there's an important balance here."
Productivity worries
Being productive at home is one of the biggest concerns of employers as the pandemic prompted remote work arrangements.
Citi first introduced the policy in 2021, where select employees can be permitted to work from home three times a week. It also implemented Zoom-free Fridays and a Citi Reset Day to take care of employees' wellbeing.
"I think the positions that we've taken, where we're recognizing we're going through a very human crisis during the pandemic, was one that was an advantage for us in the end to attract and retain and get the most out of our talent," says Fraser.
What about downtowns?
Productivity and collaboration are not the only things being affected by the shift to more remote, according to an expert.
Downtown businesses might be doomed to despair after the pandemic if people continue to work from home, says James Bailey, professor and Hochberg fellow of leadership development, George Washington University.
"Not returning to the office is going to have a profound impact on the quality and the liveliness and the culture of the downtown areas in major metropolitan cities," he says.
Even if 75 per cent of people go back to working the office permanently, the 25-per-cent reduction in foot traffic will be enough to kill businesses and leave people without work, he says.
"Let's think about the clothing shops and the jewelry shops and the bodegas in the corner, those little restaurants. They're going to close. There's going to be boards and gates all over those places.
"Now, all those people that did go downtown are not going to stay downtown to have lunch — they're going to bring their own lunch. They're not going to stay downtown to have a couple of drinks with friends afterwards, because the bars are shut."
New norm
But hybrid working is now viewed as an expected norm rather than a "benefit," with employees wanting to choose their in-office and remote days.
"A heavy-handed approach can do a lot of damage to your employer brand and retention efforts," says Tim James, managing director at Hays.