'We believe this improved work-life balance will mean more energy and productivity'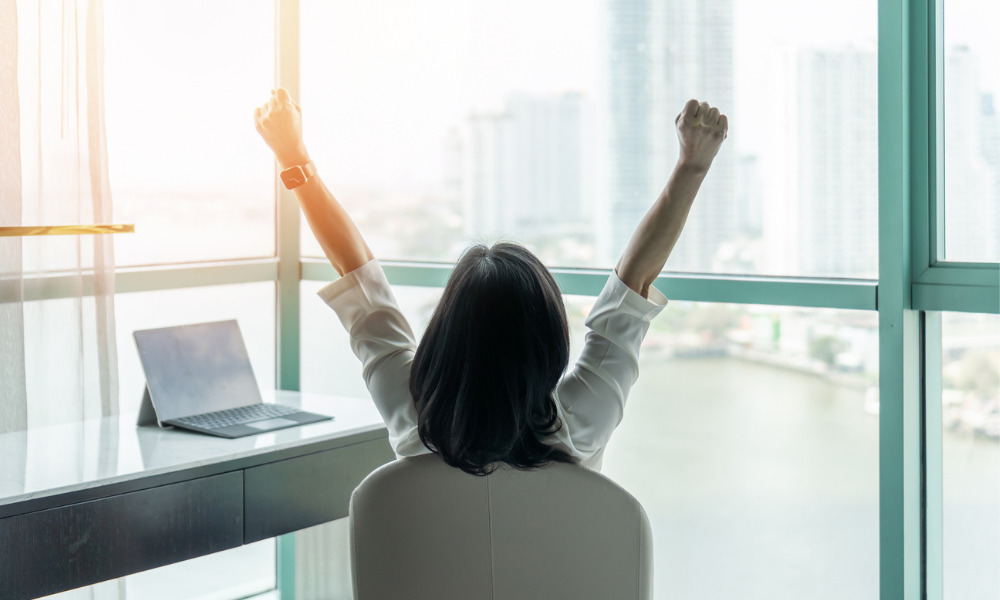 But it's not as simple as just changing the scheduling frequency as many workers would be reluctant to change if it meant less pay: 71 per cent of workers say they would not opt for the shortened workweek if it meant they had to take a pay cut.
This follows a big trial in the U.K. where 3,300 workers at 70 companies started working for four days while retaining their salary in full. The trial is based around a 100:80:100 model, meaning they receive 100 per cent of their pay for 80 per cent of the time while maintaining 100 per cent productivity.
100:80:100 model
This model seems to be something that companies are trying, and for one marketing agency, this is what it is aiming for in exploring such a change.
Toronto-based PRAXIS is participating in the six-month 4 Day Week Global program, held in partnership with researchers at Cambridge University, Boston College, Oxford University and regional researchers.
"Work-life balance has always been a big part of our PRAXIS culture and we've chosen to participate in the pilot as an investment in the wellbeing and happiness of our employees," says Matt Juniper, associate partner and general manager at PRAXIS PR.
"We believe this improved work-life balance will result in a more energized and productive team, with heightened creativity and sharpened problem-solving skills, ready to bring the best of themselves to their work," he says.
"This evolution in the way we work will also contribute to the positive culture we're known for, helping us to continue to recruit and retain the top talent in the industry to deliver best in class work for our clients."
In Australia, the move is also picking up steam as many companies are hopping on the four-day bandwagon.
Back in June, HRD reported about the plans and preparations leading up to the trial run, then described as "a brave step towards ultimate work-life balance."
The said pilot study was recently launched in early August and would run for six months with 20 participating companies from Australia and New Zealand, a spokesperson for not-for-profit 4 Day Week Global told 7NEWS.com.au.
In some quarters, this radical shift to a new work paradigm is not needed, and it should be avoided.
As chief people officer at Master Control, provider of quality management software, Alicia Garcia believes there's a better way to entice and retain top talent — especially when we're seeing high turnover rates and low unemployment.
"If you want to keep them, [you're] going to have to start thinking differently about what they need. And I would be willing to bet that if you talk to most... flexibility is going to be valued higher than a four-day workweek."
Negative effects possible
By switching to 10-hour days, could do more harm than good, according to one expert.
On average, the number of hours worked has a relationship to wellbeing, which could be a challenge for 10-hour days, says Jim Harter, chief scientist of workplace management and wellbeing at Gallup in Omaha, Neb.
"If you have an engaging job, that effect is lessened. So the quality of the workplace is really the big factor…. whether it's people having flex time, or whether they work remote or not, the quality of the workplace and how well people are managed is the major factor that affects engagement and wellbeing."
'Ham-fisted way'
Despite its seeming popularity, more thought will have to be put into the mechanics of this change, according to another expert.
"The four-day work workweek is a ham-fisted way to prevent something that is really important [to] prevent, which is burnout, because those lines between work and play or work and life are becoming blurred," says Greg Gunn, CEO of Commit, a professional network for software engineers, in Vancouver.
"It's a good Band-Aid but the best way to do this is actually communicate the importance of employees establishing and maintaining barriers for themselves by giving them more agency in terms of when they want to allocate those hours per week."