'We believe this is an example of what the future of work looks like'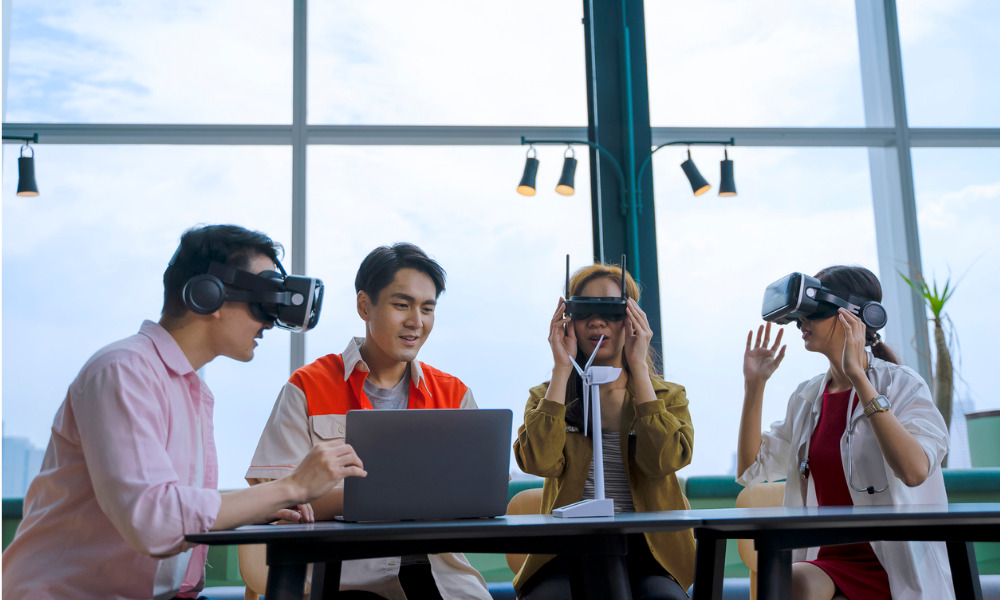 As businesses transition into a post-COVID world, one thing that seems to be sticking around for many is a switch to more work being done remotely and to take advantage of this reality, plenty of big-name businesses are using virtual reality to conduct business.
They are calling it the metaverse — which is defined as a 3-D environment in which users are represented by an identity known as an avatar — and it allows for a rich, immersive experience ideal for virtual, face-to-face interactions.
One of the most recent converts to this concept, is consulting giant KPMG, that recently unveiled its version recently, that was aimed at the U.S. and Canadian arms of the company.
"Frankly, we believe that this is an example of what the future of work looks like," says Katie Bolla, partner in management consulting for the GTA and consumer and retail industry lead at KPMG in Toronto.
The metaverse looks like a typical office space and it includes whiteboards, conference tables, and can include video and chat capabilities.
Because the tool is modelled after a real-world scenario, "it can create a more organic and immersive coaching and mentorship environment that supports high-performing teams and the management of teams in a hybrid work environment and also it injects some fun; a sense of exploration and some of those unique experiences that employees and teams have been eager for and asking for over the last 18 months to two years," she says.
It was designed to allow any authorized user to access it, regardless of the platform, and is relatively easy to pick up, according to Bolla.
"The metaverse offers that new opportunity and platform for KPMG employees, our partners, our clients to collaborate, learn, share ideas at work together, without those limitations or boundaries or physical borders," she says.
Metaverse of fun
This new way of interacting is not only good for the day-to-day business operations, its also an excellent tool for building culture and injecting some real fun into an organization, as Hyundai Card — the credit card arm of Hyundai Motor Group — decided to hold its year-end celebrations in the metaverse at the end of last year.
The company held a virtual karaoke contest which saw 71 employees belt out their favourite tunes for appreciate colleagues.
"I love to sing but get stage fright so the metaverse singing contest was perfect for me," says Minhyuk Choi, who took first place. "At first, I wasn't sure what to expect in a virtual reality competition; however, when it was my turn and my avatar walked on stage, it felt as if I was live on stage with all my colleagues watching. I could see and hear them cheering me on, I knew I had to perform my best."
Training is also another area that is being explored by metaverse converts as the Institute of Governance in Ottawa is also using it to educate workers.
It instituted a week-long program of around 90 minutes of activities using Oculus Quest VR headsets. This included a collaborative design-thinking activity, a 3-D data visualization exercise, self-directed exploration of various VR experiences, and an end-of-program workshop and graduation ceremony.
The reaction to this new way of learning was encouraging, according to Ryan Androsoff, associate of digital governance.
"It has been almost universally positive in terms of the feedback we've gotten from it… once people get on board to it and get comfortable with using it," he says.
Unlike with the restrictions imposed by the video call, metaverse users can get a real sense of being with the other person, which is ideal for serendipitous conversations, says an expert.
"The metaverse allows you to recreate those spontaneous interactions. So people walk of out an auditorium together, and they start to interact with people that they may know and haven't seen or they may not know at all. And there's a layer to the metaverse that makes it more comfortable for a lot of people that may otherwise have social anxieties, or other inhibitions about going up and talking to someone. The metaverse allows you a safe space with an avatar… you have these different levels of engagement, that allow people to ease into their comfort zone," says Carrie Purcell, co-founder and CEO of Tech-Adaptika.