Why unlimited time off is a 'giant pain in the neck'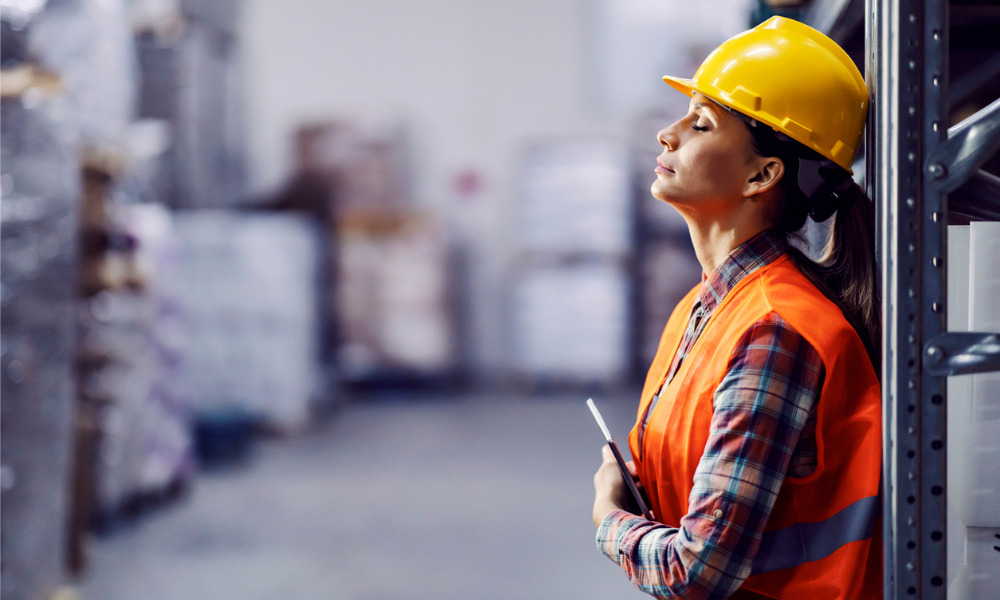 There is a definite epidemic of workplace burnout, according to reports.
Nearly four in five workers (79%) admitted that they felt burnt out in their careers. That includes 35% who said they are suffering from mental and physical exhaustion, finds a survey released by Express Employment Professionals.
Express franchise owners attributed the surging cases of burnout to high turnover rates in the U.S.
"There has been massive turnover, causing stress on the existing workers as they are left to carry the load for their job, along with the need to train and develop new employees," said Greg Sulentic, an Express franchise owner in Nebraska.
Assigning more work to fewer people raises the possibility of burnout, said Express franchise owner Chris Cary.
"It is a vicious cycle. Burnout increases employee absences, results in lower productivity, and causes higher turnover, all of which will affect a company's bottom line."
Take all the time off you need!
Encouraging workers to take time off might be one of the easiest ways to combat burnout.
For some, unlimited paid time off (PTO) is being piloted. Big names such as Microsoft, Netflix and Salesforce have recently decided to promise the benefits to employees, for example.
But a new report suggests this seemingly generous perk is not all that it seems – and one employment lawyer has her reservations.
"It's a giant pain in the neck, actually, for all kinds of reasons," says Lisa Stam, lawyer and managing partner at Spring Law.
"Probably the idealistic intention in the first place is that you go on this really cool vacation somewhere off the grid for a month or two — but that's not a thing, that's not how people are using PTO at all."
In their report, PTO Exchange, a benefits platform that allows employees to convert the value of their unused paid time off, and Lighthouse Research & Advisory said the decision to adopt unlimited leave plans is more for the convenience of employers than employees.
Many workers end up taking less time off overall because they don't have a protected set of days that they can claim each year, and others say that favouritism and other factors make unlimited PTO untenable. On many public forums like Glassdoor, Blind, and Fishbowl, workers use terms like "scam" to describe this program, says the report.
"As we looked into the hype of 'unlimited PTO', we found that this benefit created a biased system and culture from the executive and managers to the front-line workers," says Rob Whalen, co-founder and CEO of PTO Exchange.
Step away from the home office
Another way to help employees escape the drudgery of daily work-life is by offering work-from-away programs.
Thomson Reuters is expanding the flexibility aspect of employment with its new offerings.
Employees of the multinational conglomerate will soon be able to travel outside of their place of employment for an extended period of time, and even take a six-month long vacation.
"Stepping back and thinking about this Great Reflection period, there is no one lever to pull to help employees thrive both personally and professionally," says Mary Alice Vuicic, chief people officer, Thomson Reuters.
"Employees know this and are looking beyond compensation to seek employers providing flexibility, prioritizing wellbeing and mental health, delivering growth and development opportunities, embracing diversity and inclusion, and creating an opportunity to work towards a higher purpose.
Starting July 1, Thomson Reuters workers will be allowed to work up to four weeks of their eight-week annual allowance outside of their country of employment.
This expands the company's Flex My Way offering. Offered in February, the policy allowed workers to travel anywhere within their country of employment.
Also, Thomson Reuters is opening a new sabbatical program later this year. Starting Sept. 15, employees can take up to six months of unpaid leave every five years.
What are the best cities to head to?
But where should these employees head to? Brisbane and Lisbon were the top two destinations, in a new list released by Preply, a language learning app and e-learning platform.
Brisbane, Australia (100)
Lisbon, Portugal (89)
Nicosia, Cyprus (82)
Taipei, Taiwan (81)
Ljubljana, Slovenia (81)
Helsinki, Finland (79)
Vienna, Austria (78)
Auckland, New Zealand (75)
Ottawa, Canada (75)
Reykjavik, Iceland (75)
The Preply index was analyzed using 10 factors under three categories, including Quality of Life, Climate and Environment, as well as Costs and Safety.