Employers hit with fines after regulators discover violations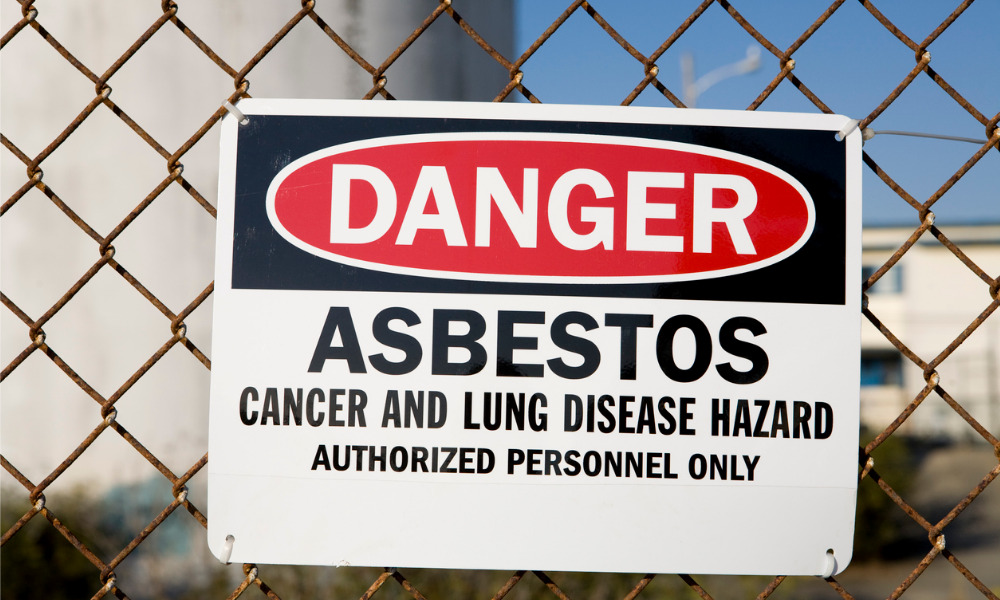 WorkSafeBC has fined four employers in British Columbia over violations related to asbestos in the workplace.
1027850 B.C. Ltd./Sutton-Max Realty & Property Management was fined $5,250.00 for violations it committed at its Langley workplace, a pre-1990 house undergoing restoration work after flooding.
WorkSafeBC inspected the site and observed that flooring and sections of drywall had been removed, both potential asbestos-containing materials (ACMs). WorkSafeBC determined that a hazardous materials survey had not been completed prior to work beginning.
A subsequent hazardous material survey identified the linoleum backing of the flooring to be an ACM.
Subscribe to our free newsletter to stay up-to-date with the world of safety.
"The firm failed to ensure that, before work began, a qualified person inspected the building to identify hazardous materials. This was a high-risk violation," according to WorkSafeBC.
Craig's Bakery Ltd., in Chase, was also fined $5,157.03.
The firm operates a bakery and deli in a pre-1990 building. WorkSafeBC inspected the site and issued an order for the firm to have an inventory conducted of ACMs.
After multiple communications, the firm had not complied with the order. The firm failed to ensure a qualified person prepared an inventory of all ACMs and their locations, according to WorkSafeBC.
BC Safe Enviro Demolition Ltd./Got Asbestos? must also $2,500.
While the company was conducting asbestos abatement at a house in Burnaby slated for demolition, WorkSafeBC inspected the site.
The agency found that the shower used for decontamination was not operational. Also, workers inside the containment were wearing their street clothes under their protective suits.
"The firm failed to ensure all necessary precautions had been taken to protect workers before disturbing asbestos-containing material (ACM), a repeated violation. The firm also failed to provide its workers with the information, instruction, training, and supervision necessary to ensure their health and safety. These were both high-risk violations," according to WorkSafeBC.
Lastly, ABI Hazmat Corp. was fined $2,500.
The company had prepared a hazardous materials inspection report for a house in Kamloops undergoing demolition. However, WorkSafeBC inspected the site and determined there were deficiencies with the report.
The report did not include representative samples of texture coat, a suspected ACM, and contained conflicting information regarding identified ACMs, according to the agency.
Also, the report did not provide approximate quantities for identified lead-containing materials.
"The firm failed to ensure a qualified person fulfilled the requirements relating to identifying hazardous materials. The firm also failed to ensure the health and safety of all workers present at a workplace. These were both repeated violations," said WorkSafeBC.