'We're seeing oppression of media that is unheard of in a democratic society'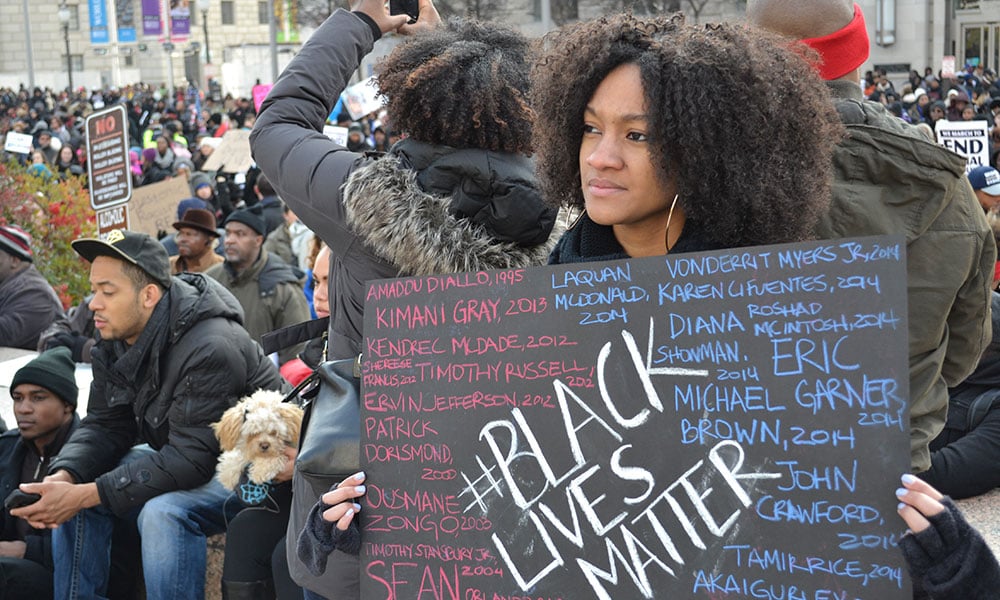 Groups of Canadian news workers expressed their anger over how the police the U.S. have treated Canadian journalists, and journalists in general, who are covering the protests which have followed the death of African American man George Floyd.
"Journalists never want to make ourselves the centre of a story, but we're seeing oppression of media that is unheard of in a democratic society. Every citizen is relying on media to be their eyes and ears during this crisis. Let us do our job," said Karyn Pugliese, president of the Canadian Association of Journalists (CAJ).
The News Photographers Association of Canada (NPAC) shared the same sentiment.
"Photo and visual journalists, as well as their colleagues across news media, are fulfilling their mandate of documenting this horrifically difficult time in the United States history. Unfortunately, in doing so, we have seen many instances over the past several days where visual journalists have been the target of violence and unjust imprisonment," said Ryan McLeod, vice president of NPAC.
CAJ highlighted CBC journalist Susan Ormiston's report that U.S. police shot at her with rubber bullets and Radio-Canada journalist Philippe LeBlanc's report that police slashed his tires while they were doing their jobs.
Barbara Davidson, a Pulitzer-prize winning photojournalist, also said she was pushed from behind by police after she identified herself as a journalist.
"I was hit so hard that I went flying before crashing to the ground and hitting the back of my head on a fire hydrant. Protesters picked me up, preventing me from being crushed," tweeted Davidson.
There have been further reports of journalists arrested whilst doing their job, with some reports claiming that black journalists have been disproportionately targeted.
"Some officers are purposely injuring reporters. It's positively nightmarish; they are out of control," said Pugliese. "We're not armed and we're not dangerous, unless you believe the truth is dangerous. So, I'm begging police, please stop."
"This is unacceptable, and we join our voice to calls from many human rights as well as professional organizations from across the United States and around the world in calling for an immediate end to the targeting of members of the press corps by members of law enforcement." said McLeod.
George Floyd
Floyd – a 46-year-old man who lost his job when the COVID-19 pandemic hit – died on May 25 in Minneapolis, Minnesota. Floyd was the subject of a report the police received, alleging that he used a counterfeit $20 bill to purchase cigarettes from a convenience store.
Upon the arrest, the police put handcuffs on Floyd, with hands behind his back. Police Officer Derek Chauvin arrived later on the scene and knelt on Lloyd's neck while the suspect was lying on face-first on the ground. He continued to do so even after Floyd pleaded that he could not breathe, and even when Floyd appeared not to be moving, and with a couple of bystanders pointing it out to the officers, asking Chauvin to get off of him. The videos of the incident have gone viral.
Many see Floyd's death as another attack by the police on African Americans, and it has sparked protests and rage in several parts of the U.S. and throughout the world.
Chauvin has since been charged with third-degree murder and manslaughter. Three other police officers involved in the arrest have been fired.