Company pleads guilty to failing to provide information and supervision to victim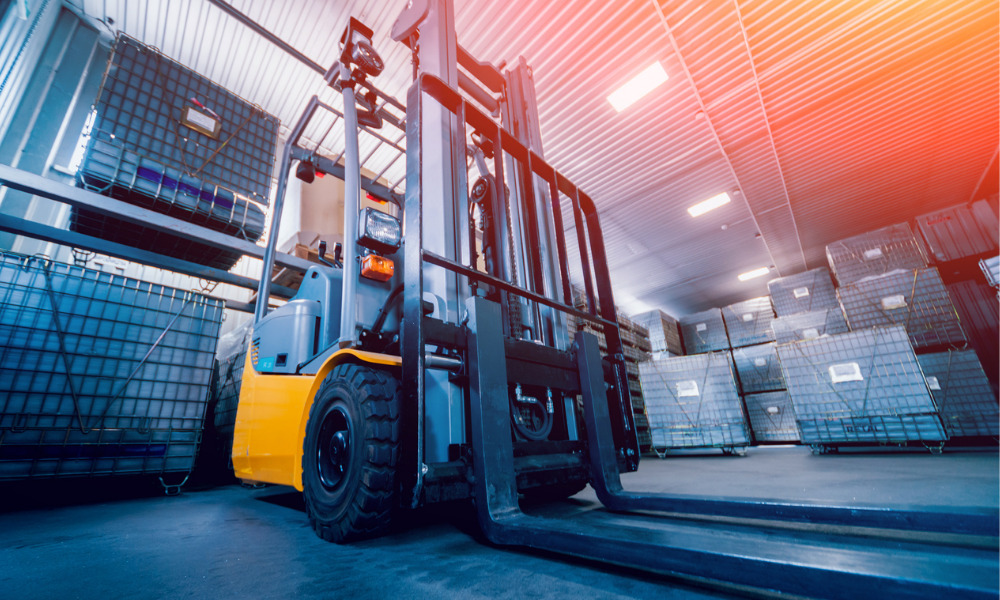 Ontario-based Manoaka Developments, Inc. – operating as Dolphin Fiberglass Pools Canada – has been fined $75,000 after one of its workers suffered a fatal injury in the workplace.
After pleading guilty to a violation against the Occupational Health and Safety Act at the Provincial Offenses Act Court, the company was also ordered to pay a 25% surcharge, to be credited to a special provincial government fund to assist victims of crime.
The incident took place on Sept. 29, 2020, when an employee was working in the outside storage yard of the main building of the company in Trenton, operating a motorized forklift. The worker drove the forklift around a sharp 90-degree corner at a high rate of speed, causing the forklift to tip on its side, resulting in a fatal injury to the worker.
In its investigation, the Ministry of Labour, Training and Skills Development found that the worker was not wearing a seat belt when the incident occurred.
"Manoaka Developments, Inc. plead guilty to committing the offence of failing to provide information and/or instruction and/or supervision to the worker regarding the safe operation of a forklift, including the use of restraining equipment such as a seat belt, in contravention of section 25(2)(a) of the Occupational Health and Safety Act, R.S.O., 1990, c.O.1, as amended," according to the Ontario government.
Anyone using a forklift truck must operate at a safe speed, taking into consideration all conditions, according to the Canadian Centre for Occupational Health and Safety (CCOHS). Forklift operators must also always inspect and wear any seat belt or operator restraint device/system when these devices are available on the forklift truck.
The conviction came just days after another Ontario employer, Accuristix, Inc., was fined $70,000 for a violation that led to a critical injury to one worker. The incident also involved the use of a forklift in the workplace.
Forklift safety
"Forklift trucks should be operated only by experienced workers who are trained, certified or licensed to perform this task," CCOHS noted.
Other things that an operator should do include:
Do a visual and operational check of the forklift at the start of the shift.
Know how to properly enter and leave the vehicle.
Be familiar with the route for travel.
Look ahead for any obstructions or restrictions that might be in the path.
Check for adequate overhead clearance before raising the load.
Operate a forklift smoothly when stopping, starting, lifting and tilting.
Know the blind spots of the lift truck with and without a load.
Use corner mirrors, back-up alarms, buzzers and warning lights to help prevent collisions.
Communicate with workers who are nearby so they understand where you plan to travel.
Previously, Ontario employer St. Marys Cement Inc. (Canada) was also fined $165,000 after one of its workers suffered a critical injury while conducting testing on equipment in the Finish Mill at 400 Bowmanville Avenue, Bowmanville, where a fine cement powder is produced.
Another Ontario employer, Northern Transformer Corporation, was fined $50,000 after one of its workers was caught between two transformers, causing critical injury.