Employers need to boost communication, enlighten employees: Experts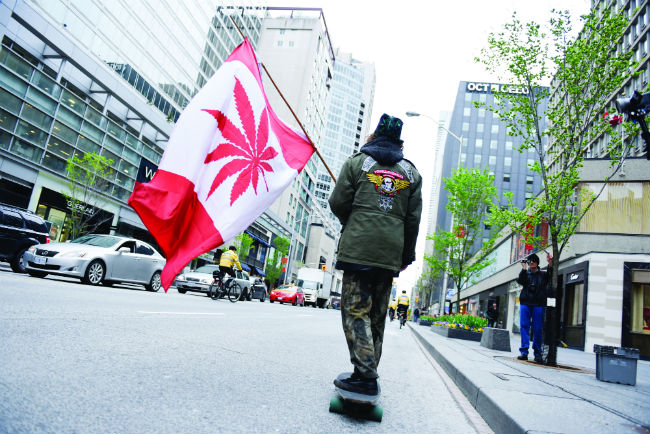 The legalization of cannabis in Canada is now mere weeks away, but are employers ready?
Not entirely, according to a survey of 366 HR professionals and 1,008 Canadians.
One-third of employers feel prepared for legal cannabis, while another third feel somewhat prepared. But only one in four Canadians (26 per cent) feel their employers are ready — and many simply don't know.
"There's an awareness that they need to get on top of it, but there's still a large subset of employers that are remaining in the wait-and-see mode," said Alex Boucher, principal and total health management leader for Canada at Mercer.
"A lot of it is no one knows what to anticipate, and it's still such an evolving legislative framework that some of them are probably worried to do something and then, as the rules change, having to do it again."
But that gap will be filled by media and noise if an employer isn't prepared, he said.
"It's one thing to have your policy updated but it's another thing to be able to answer questions from a bunch of employees who now may perceive they have rights that they didn't have yesterday, or from those employees who are fundamentally against this legalization, and are going to start to point out everyone's behaviour and accuse their workers of being stoned. How are (employers) going to deal with those?"
Changing policies
The majority of employers surveyed (90 per cent) plan to update their drug and alcohol or substance-use policy, but few are planning to update other relevant policies, such as code of conduct (38 per cent) and disability accommodation (37 per cent), said Mercer.
It's potentially short-sighted to simply add cannabis to a drug and alcohol policy, said Boucher.
"If (employers are) going to take the step and review the policy anyway, they're much better to become agnostic to the cause of the impairment, so change from a drug and alcohol policy to an impairment policy where (it's): 'We don't want you at work impaired but we encourage you to identify impairment. If your impairment is a result of a medical condition, a treatment or a social situation, we'll do our best to accommodate, and here's how we're going to do that. But if it's not — if it's due to behaviour we prohibit under the code of conduct like use of drugs and alcohol — we will address it on a disciplinary route.'"
Employers should use the legalization of cannabis as a catalyst for a broader discussion on impairment, said Boucher.
"When you look at impairment from cannabis, which is cognitive and psychomotor impairment, it also is the same kind of impairment that is present in many significant workplace issues, like opioid use, like mental health issues, like someone who may be sleep-deprived," he said.
"If you can create an effective impairment policy that can identify and address impairment, and then the actions you take from it, you're well-positioned to deal with many, many significant workplace issues that have been complex for a long time."
Cannabis is just one of many substances that cause impairment, said Jason Fleming, vice-president of HR at MedReleaf in Markham, Ont.
"Rather than trying to focus on individual substances, it gives us this opportunity to speak more broadly about impairment and addiction, and try to characterize it in more meaningful groups of substances rather than trying to target one specific substance over another."
Grouping substances together and managing the categories — such as recreational cannabis and alcohol, and medical cannabis and opioids — to create somewhat defined categories, and then applying strategies to the categories rather than individual substances is one way to manage this issue, he said.
"And when we think of the decision-making in terms of roles — C-suite roles, for example — it's still important but also relevant to note that people can be impaired from stress and lack of sleep and cough medicine as well, so it's important to look more broadly at impairment and supporting employees through health and wellness initiatives."
While it makes sense to focus on safety-sensitive roles, employers should also be concerned about impairment when it comes to decision-critical roles, such as a CEO involved in a merger and acquisition, or an HR leader advising employees on termination issues, said Boucher.
"It's not necessarily about defining what impairment looks like as much as it is defining what you require for that job."
HR professionals should look at the requirements for roles where there are critical decision-makers, because that will help with accommodation requests, said Daniel Boucher, director of regulatory affairs and research, and registrar at CPHR Alberta in Calgary.
"It's still going to be acceptable for an employer to outline in their policy that… employees have a requirement to be fit for duty, and not to be impaired at the workplace."
Employers don't have to allow for recreational marijuana at their workplace, but it's important to look at how the accommodation process is set up, said CPHR's Boucher.
Communications key
Despite all the changes, only 22 per cent of employee respondents to the Mercer survey said their workplace has clearly communicated medical cannabis policies.
Employers have been doing the work behind the scenes, and there have been a lot of unknowns, said Daniel Boucher.
"As we get closer to the date for recreational marijuana being legal, employers are going to be rolling out communication plans."
But it's important for them to explain the rationale behind their policy to ensure there's understanding and buy-in from employees, he said.
"It's important for employees to be trained on what the consequences are for not complying with these policies, and why these policies were put in place."
An employer does not have to accept a person who is not fit for duty or not able to perform his job, said CPHR's Boucher, "so an employer should rely on their performance management processes as well in this."
The absence of internal communications is still very much apparent, and it's important to ensure the policy is very clearly communicated and expectations of conduct are clearly communicated, said Fleming.
"What's missing is a global announcement in many organizations saying, 'Here's our policy, here are the expectations for employees, and here's how we will support you. Here's where you can direct further questions.'"
Medical cannabis grows
The Mercer survey also found 42 per cent of respondents expect to see their health and drug plans provide at least some coverage of medical cannabis.
"Employers are going to need to be proactive with their communication around… what your approach will be or what your benefits provider's approach is, because that is a limitation for employers: What is the health insurance and benefits industry willing to provide?" said Daniel Boucher.
With large insurers such as Manulife and Greenshield releasing products to cover cannabis, that has really sparked the discussion among employees who are currently medical cannabis patients, said Fleming.
"This is not an inexpensive medication, so… that allowed many patients to say, 'These products are now available, it's no longer an anomaly to see an employer cover cannabis, so when are we going to have this discussion? When can we expect coverage?'"
But employers are still waiting to assess how this will impact overall premiums, he said.
"It's difficult to rush into covering something with very little historical data to help make projections in terms of cost implications. So I still think employers' motivations are, one, 'Let's deal with legalization in terms of policy' and, two, 'Let's talk about cannabis when we have more clarity about how this will impact us from a financial perspective.'"