Suspect allegedly stabbed officer who was performing task in line of work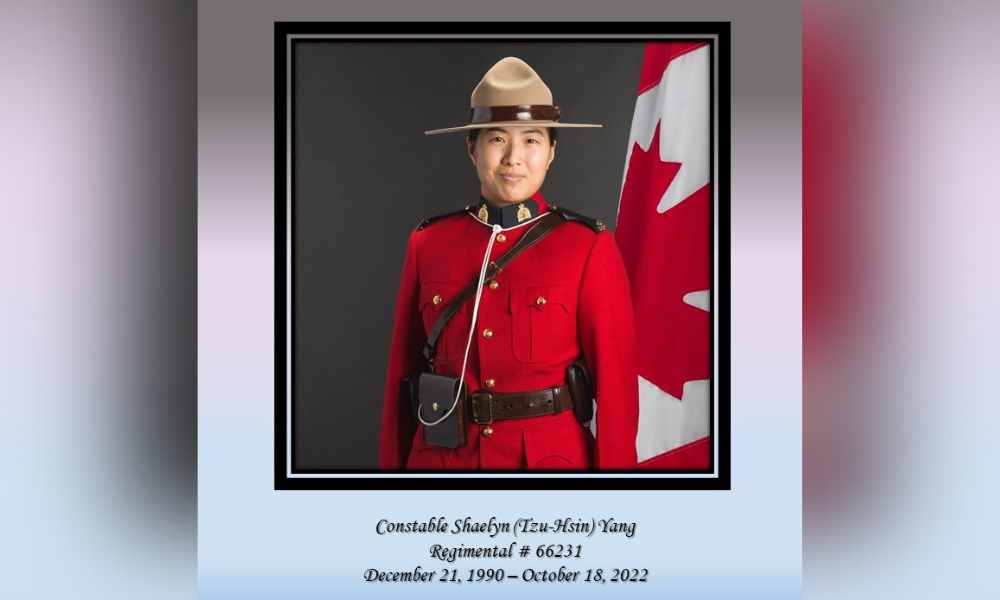 A Birtish Columbia man charged with first-degree murder in the death of an RCMP officer was already wanted on assault charges when he allegedly attacked the officer on Tuesday.
Jongwon Ham, 37, is accused of stabbing 31-year-old Const. Shaelyn Yang around 11am while she was assisting a Burnaby city parks employee.
"My understanding is that Const. Yang was asked to assist in notification to him that he was not permitted to be in the park," said Sgt. Timothy Pierotti of the Integrated Homicide Investigation Team at a press conference. "They were not there to remove him at that time, they were just there to notify him of that."
Read more: Officer hospitalized after pickup truck strikes police cruiser
Police say an altercation ensued and Ham stabbed Yang. The RCMP officer shot Ham, who was injured and taken to hospital. Emergency responders treated Yang, but "despite their best efforts Const. Yang succumbed to her injuries," said B.C. RCMP Deputy Commissioner Dwayne McDonald.
"Const. Yang died bravely. She answered the call for duty…and she paid the ultimate price," McDonald added.
Yang started her career working as a part-time volunteer with Richmond RCMP's Victim Services before becoming a police officer in 2019. Several government officials expressed remorse over her death.
Prime Minister Justin Trudeau tweeted "I'm incredibly saddened to hear about the killing of a Burnaby RCMP officer. My thoughts are with the family, friends, and colleagues of the fallen officer – I am keeping you in my thoughts during this terrible time."
Burnaby mayor Mike Hurley issued a statement saying the community is devastated.
"Our thoughts are with her family, friends, fellow RCMP members and civilian staff during this terrible time. I know our city staff and the community will also feel this deeply – please seek support if needed. We will continue to work closely with the RCMP to provide all the support we can."
Read more: Man who assaulted nurse walks out of court
Ham is in police custody and the province's Independent Investigations Office is looking into the incident.
A British Columbia judge issued a warrant for Ham's arrest a month before the incident.
He was charged with assaulting a man and resisting a Vancouver police officer in February 2021. Ham was released on bail in March 2022 and then allegedly assaulted someone else just days later.