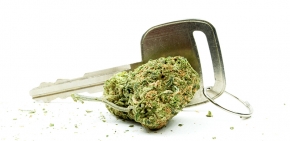 Ontario is aiming to improve road safety by bringing in penalties for drug-impaired driving that match those already in place for drunk drivers.
"Whether it's drugs or alcohol, impaired driving is never okay. Not only do you face tough penalties, but you risk your life and endanger everyone around you. It's not worth the risk. If you're not sober, don't get behind the wheel," said Minister of Transportation Steven Del Duca.

As of Oct. 2, drivers under the influence of drugs will face a $180 fine and immediate licence suspension of three days for the first occurrence, seven days for the second occurrence and 30 days for the third and subsequent occurrences upon failure of a roadside sobriety test. Drivers may also face a possible 90-day licence suspension and a seven-day vehicle impoundment following further testing by a drug recognition expert at a police station.

The law requires mandatory education or treatment programs, and installation of an ignition interlock device in their vehicle, for drivers with two or more licence suspensions involving alcohol or drugs within a 10-year period.

"The OPP's Drug Recognition Evaluator (DRE) officers are highly trained to detect drivers who are impaired by drugs, as are front-line officers trained to conduct Standardized Field Sobriety Testing (SFST). Through our DRE and SFST Programs, the OPP is as committed as ever to reducing the risk these drivers pose on Ontario roads," said OPP Chief Superintendent Chuck Cox.

According to the Office of the Chief Coroner, 39 per cent of drivers killed on Ontario's roads in 2013 had either drugs or a combination of drugs and alcohol in their system.

Drug-impaired driving collisions in Ontario had an estimated social cost of $612 million in 2013.

These new measures were introduced as part of the Making Ontario's Roads Safer Act last year. In addition to these penalties, impaired driving can lead to criminal charges which could ultimately result in a loss of licence, additional fines and jail time.