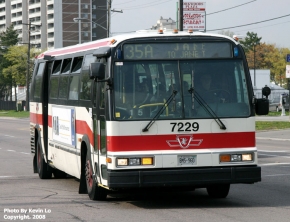 The recent move by the Toronto Transit Commission to approve a recommendation by its staff to implement random drug and alcohol testing for certain types of employees may soon be facing legal battle from its unionized workers.
At least one legal observer noted the Toronto Transit Commission may soon be facing legal challenge from the Amalgamated Transit Union (ATU) Local 113 — one of three unions representing TTC employees.

"I think it could result in a grievance by the ATU and there may be privacy aspects to the way the grievance is filed," said Jeremy Warning, a partner with the Labour and Employment Law Group at Toronto-based law firm Heenan Blaikie.

"The union may argue that random drug and alcohol testing is an unwanted invasion of the privacy of its members and the TTC would be called upon to respond to that kind argument," said Warning.

Already, the president of ATU Local 113, Bob Kinnear, is commenting on the workers' union's next move telling broadcast network CBC that a legal challenge is guaranteed.

In an article posted on the CBC website, Kinnear said that while the union supports drug and alcohol testing, the method of mouth swabbing is intrusive and says the new policy is "a violation of our Charter rights."

The ATU Local 113 is not immediately available for comment.

TTC GM Gary Webster earlier said the plan to introduce random drug and alcohol testing may take a year or longer to be put in place, and the cost of the plan won't be determined until it's decided how many employees will be tested and how often.

TTC chair Karen Stintz said testing 25 per cent of employees at about $60 a swab would cost $300,000-$400,000 a year.

However long it takes to put this plan into action, Warning said all eyes — particularly those of other public transport operators in Canada — will be glued to developments in the TTC.

"I think public transit operators in Canada would probably be watching the events as they unfold with the Toronto Transit Commission. I don't believe that in Canada there is another transportation system that has a policy with respect to random drug and alcohol testing," Warning said.

It is believed there is no existing legislation in Canada that authorizes or requires any organization — particularly in the public transportation sector — to conduct random alcohol and drug tests on employees.

In the U.S., however, random alcohol and drug testing in the transportation sector is the law. Public transit agencies in Canada that cross into the U.S. border — such as Greyhound and Coach Canada — is required to implement random testing on employees or drivers that cross over to the border. Windsor, Ontario is the only Canadian public transit operator with random testing in place, and only for those employees who operate routes that cross into the U.S.