Only 4 employers have been prosecuted under Westray Law in past 13 years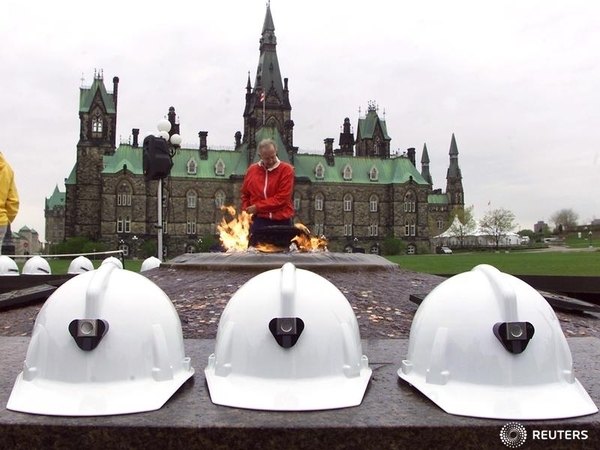 Unions and families of workers killed on the job are asking the federal government to do more to enforce laws holding employers criminally accountable for workplace death and injury. The call will be the focus of cross-Canada events marking this Friday's National Day of Mourning for workers killed or injured on the job. The Canadian Labour Congress is also launching an online petition at RememberWestray.ca.
This year's Day of Mourning falls just days before the 25th anniversary of the May 9, 1992 Westray Mine explosion that claimed the lives of 26 miners working underground. Years of determined lobbying by the miners' families and their union, the United Steelworkers (USW), won new Criminal Code provisions in 2004 making it possible to prosecute employers for negligence leading to workplace death and injury. However, in the past 13 years, only four employers have been convicted under the Westray Law.
"Lack of enforcement is costing lives. Too many workplace fatalities are never properly investigated and only a handful have resulted in criminal charges," said CLC President Hassan Yussuff. "We need the federal government to take the lead by bringing the provinces and territories together as soon as possible to build an urgent action plan on enforcement."
While not every workplace fatality is caused by employer negligence, health and safety advocates say every fatality must be treated as a potential crime.
"When criminal negligence results in a worker's death, it is a crime and should be treated that way," said USW national director for Canada Ken Neumann.
Christian Bruneau's son Olivier was killed by falling ice at an Ottawa construction site in 2016. Bruneau says better enforcement would have prevented his son's death.
"There is no doubt in my mind that if the Westray Law was being effectively enforced, no worker would have been allowed into the pit where my son was killed," said Bruneau. "The fear of going to jail would have outweighed the quest for profits."
Allen Martin's brother, Glenn David Martin, was one of the 26 coal miners who lost their lives in the Westray Mine explosion. He says the federal government has an opportunity to ensure that his brother — and the 25 other miners lost that day — did not die in vain.
"The Westray families don't want to see anyone else suffering the way we have," Martin said. "We need the federal government to honour the memory of the men we lost by acting now to finally, and decisively, ensure enforcement of the law that is their legacy."