Individual's sleeve was caught in rotating drive shaft without guard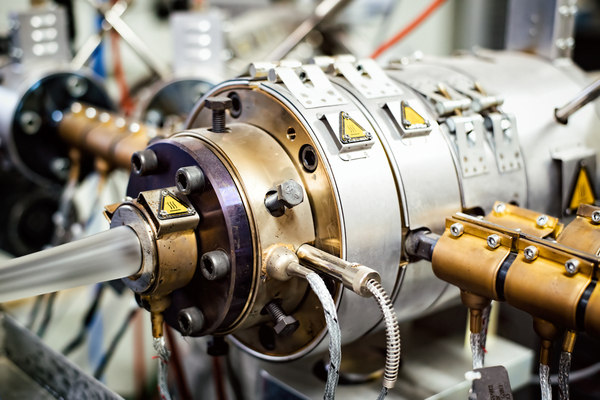 Uponor Infra, a company that manufactures plastic piping, has been fined $80,000 plus a 25-per-cent victim fine surcharge. On March 25, 2017, a worker suffered critical injuries after being pulled into a machine while it was still in operation at the company's industrial facility in Huntsville, Ont.
The company's manufacturing process includes feeding plastic pipes into large machines called extruders. The extruders have internal tracks that guide the pipes through the machinery while they are being formed into the required sizes.
On the day of the incident, a worker was assigned to operate one of the extruders. The worker did not normally perform this task.
While working on the extruder, the worker told the supervisor that the pipes inside the machine were slipping off their tracks. The supervisor instructed the worker to get under the machine while it was still in operation and clean the tracks in order to stop the pipes from slipping so the production line could continue working.
The worker complied and climbed under the machine. While cleaning one of the tracks, a sleeve got caught by a rotating drive shaft and the worker was pulled into the extruder. A nearby worker pushed an emergency stop button and called for help.
The worker was extricated by emergency responders and remained hospitalized for several months.
The investigation by the Ministry of Labour revealed that there was no guard in place to prevent access to exposed moving parts inside the extruder.
Although Uponor had policies and procedures about shutting down or locking out machinery before performing any cleaning or maintenance, it was common practice in the workplace to clean the tracks while the machinery was in operation. The supervisor confirmed that workers cleaned the extruder in the same manner three to four times during a normal shift; the supervisor had done so twice already during the same shift.
Section 75 of Ontario Regulation 851 (the Industrial Establishments Regulation) requires that a part of a machine shall only be cleaned or have maintenance work performed on it when a) motion that may endanger a worker has stopped, and b) any part that has been stopped and that may subsequently move and endanger a worker has been blocked to prevent its movement.
On March 25, 2017, Uponor Infra committed the offence of failing, as an employer, to ensure that the measures and procedures prescribed by section 75 of Ontario Regulation 851/90 were carried out at the workplace, contrary to section 25(1)(c) of the Occupational Health and Safety Act.
Source: Ontario Ministry of Labour