And all I got was this not-so-lousy jab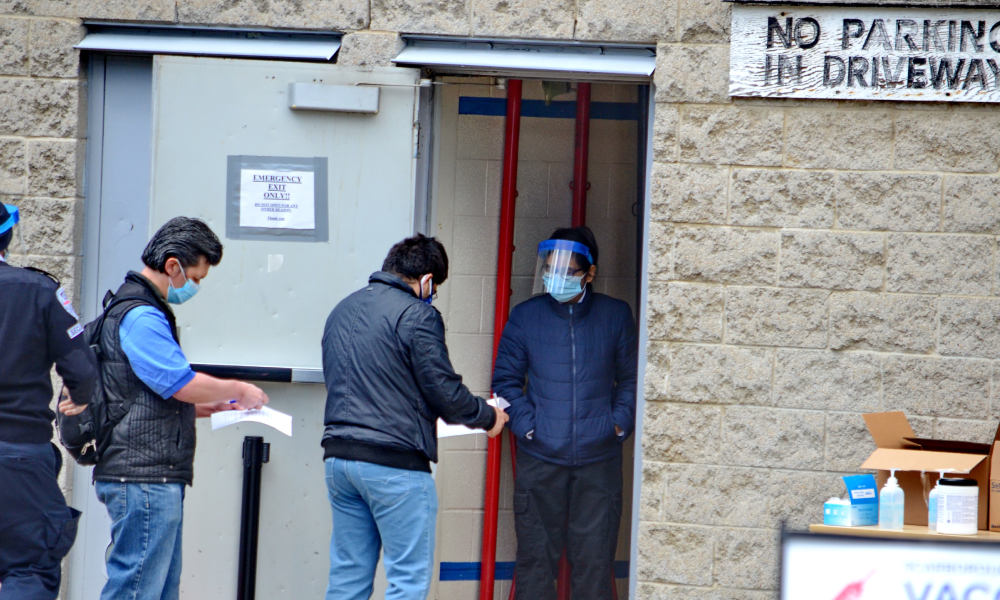 After my adventures in hotel quarantine a couple of months ago, I finally got my vaccine.
A few weeks ago, there was a pop up for everyone 18+ in my postcode (a COVID-19 hotspot) at the Centre for Addiction and Mental Health (CAMH).
As is the case for many other Torontonians, I heard about it through a friend.
The lack of clarity around the vaccine – and access to booking systems – has created a separate system, one of tech savvy good Samaritans who have devoted their time to helping Canadians find a vaccine. Discord threads, Twitter threads, Reddit forums, Google spreadsheets, etc. Thank goodness for the internet.
When the province announced that it would be opening up bookings to people 18+ in COVID-19 hotspots I was delighted. And then weeks went by and no one seemed to know anything about how these vaccinations were going to be rolled out.
I'm not sure about other provinces, but here in Ontario the system is – in my opinion – still relatively fragmented and difficult to navigate.
Early bird
Luckily, one of my friends told me about the pop up at the CAMH. It was going on for three days, and upon doing more research we found out that they had about 100 doses of (Pfizer) vaccine to hand out on a first-come, first-served basis (they had around 400 doses in total per day, with the remaining doses going to people who had booked an appointment).
One thing to know is that to be in with a shot (pun intended) of getting a vaccine at a walk-in clinic, you have to wake up pretty early.
It reminded me of when I was younger, and I'd wait in line to get great seats at a concert. This time, I was up at the crack of dawn to hopefully get a needle in my arm. Times have definitely changed.
I have heard stories from friends about walking into pop-ups at the end of the day and being lucky enough to get leftover doses, that's a risky play! On my end, I figured the early bird strategy was the best way forward.
So my household and I woke up early (for us) and arrived at the clinic around 5.30am. There were already around 30 people ahead of us in the (socially distanced) queue.
Later, when I spoke to one of the nurses at the pop up, she said that the earliest people had arrived around 4am (!).
It was pretty quiet for a while, but the queue picked up steam around 6.30/7am. It ended up – from what I saw – going around the block and down the street.
First in line
We waited until around 9am, which is when the clinic actually opened.
The waiting experience was actually pretty pleasant! People (including us) had brought camping chairs and were quietly chatting or listening to music. It was a bit chilly but we had brought blankets.
And this is Canada, so no one tried to sneak ahead in the queue (a novelty for me – I grew up in France where queue skipping is an art form).
At 9am, pop-up staff were walking down the line to check to see if everyone waiting was actually eligible for the vaccine. As this was a pop-up for a specific post code, proof of address was required (but an OHIP card was not required).
As a non-Canadian, I was a bit confused about which docs I could use as proof, but I used my tax assessment which seemed to work just fine. I saw people using various IDs, bank statements, tenancy agreements, etc. I guess anything vaguely official with an address on it.
Something to note: for pieces of paper like that, a separate photo ID is required so they can match face to name. I used my passport.
After this, staff then handed a little numbered ticket to queue dwellers. I assume that this was more for them than for us (no one asked us about the tickets after) so that they could count how many people were in the queue. Again, there were only around 100 doses.
Luckily, I was number 34 in line!
I found the process after that super efficient. This was the second day of the pop-up so I suppose any issues had been ironed out. But I spoke with a nurse just before getting my vaccine and she said that the whole thing thus far had been running very smoothly* (we also spoke at length about the comfort of Crocs, but that's a whole different story).
Golden ticket
Once we had our golden tickets, we were ushered forward in the queue – small groups were invited to move forward every few minutes or so to control the flow as well as keep us safely distanced.
In the queue (still outside), just before getting into the building, one member of staff took my personal details and I was then allowed to go inside the building.
There was a desk at the entrance where you have to sanitize your hands, are asked questions about your health and whether you have travelled recently (do you have COVID-19 symptoms? Have you travelled in the last 15 days? Have you been in contact with some who is COVID-19 positive?).
I was then given a surgical mask, which I wore on top of the one I was already wearing.
We then finally got into the last queue for the vaccine.
The pop-up was being run in a large gymnasium-style room, with around six desks where staff were administering vaccines on one half of the room, and then spaced out chairs on the other side of the room where you went to wait for 15 minutes post-vaccine.
We queued for maybe 10 minutes and then I finally got my vaccine.
My nurse invited me to ask any questions I wanted pre-vaccine, asked me if I was allergic to certain things and walked me through some vaccine info (we also got given all the info on a takeaway sheet) before finally administering the shot.
It was super quick and the nurse who gave me my shot was a magician because I felt almost nothing (though I will say that I have never been squeamish about needles).
The last stretch
I was then directed to sit in the "waiting room" for 15 mins. This is to make sure that you won't have an adverse reaction to the vaccine.
After my time was up, I then went to the checkout desk where I was given a little paper with proof that I'd been vaccinated (it was also sent to me via email) and I scheduled the appointment for my second shot (in August, currently Canada is spacing out first and second doses for Pfizer by four months – though it has just been announced that Ontario would reduce waiting times).
And that was it!
It's been a few weeks so my vaccine is now fully in effect. I can't say that much has changed, I'm still following all COVID-19 prevention measures (socially distancing, wearing a mask, etc.) until I'm told otherwise – but I do feel slightly safer.
Canada's vaccine campaign has been picking up steam and, as far as I can tell, getting more efficient. I'm not sure how long pop-up clinics are going to be around* but if you just so happen to be going to one, the advice I would give is get there early, check to make sure you have the right paperwork and wear comfortable shoes because you're probably going to have to queue!
*A recent – shocking – CBC report indicates that rollouts have not been so peaceful everywhere, with staff volunteers at some clinics being harassed by (ineligible) people seeking out a second dose.
**Though they might be the only viable option for people who may not be able to book through more "official" channels, such as temporary foreign workers for example.