Whether for emergency roof repairs, snow removal or regular roof-maintenance, there will be times this winter when an employee has to go up on the roof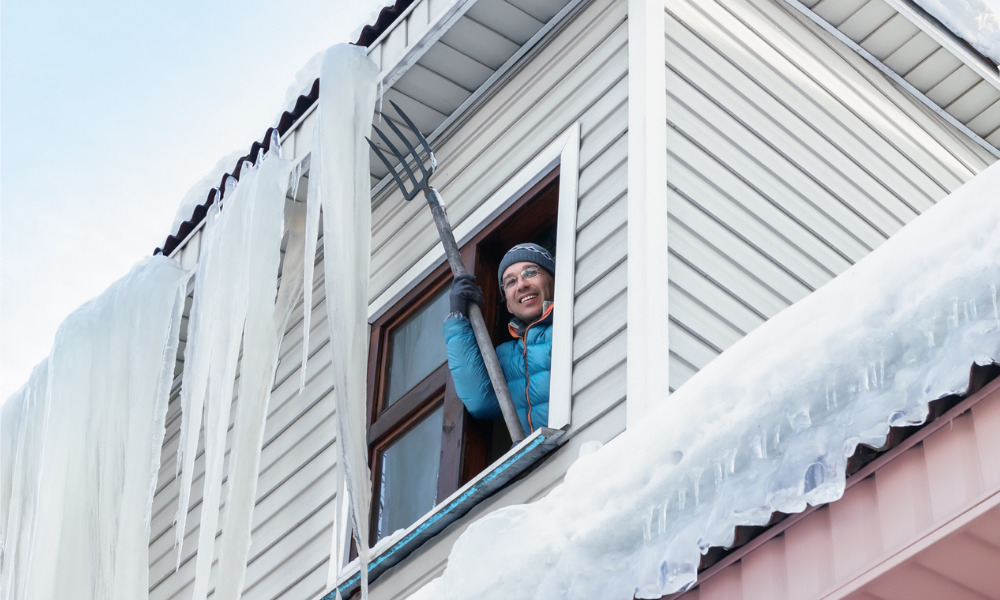 Construction projects, from residential to commercial, will likely require at some point roofing solutions from a specialist contractor. In winter weathers, the likelihood of an accident on a building site increases, where winds are fiercer and surfaces slipperier with snow, rainfall or ice.
Working on the likes of a snow-covered roof, or simply a wet one, poses significant dangers to employees, including serious falls and exposure to extreme cold. Safety measures should always be a top priority no matter the weather. But when conditions are worsened, rooftop safety is imperative in avoiding unnecessary injury and risk.
So, what safety measures should your company be taking to protect employees as we head into these harsher winter weathers?
Survey the setting: Doing due diligence
There isn't necessarily a definitive industry rule or regulation regarding cold weather and when it becomes appropriate to halt a project. Yet, there is a duty of care, or responsibility, when it comes to both construction site etiquette and the role of an employer. This duty of protection, known for safeguarding is captured in the following:
There are, however, roof laws and safety protocol that requires strict compliance not merely to reduce the likeliness of an accident on site, but to control all the risks. This precautionary planning step is essential and the surveying of a site's safety, when working at a height, should be reported and documented in a "method statement". This is a simply an evaluation of risks prior to any construction work. These risks, varying from low to high, are often concerns that involve either safe access to rooftops, or lack thereof, and roof edges, and, lastly, fragile surfaces.
When you're identifying the risks in an early audit of the site, monitor weather conditions and, albeit at times inaccurate, observe the forecasted weather for the area. Not all weathers are visible, such as thin ice, and so audits need to closely inspect the integrity of every surface. Start with a close inspection of high-volume areas, especially if there's public access nearby, and work mindfully of any edges or openings that could pose a risk to rooftop construction.
Safety Tip: From the ground, certain weathers are unnoticeable. When you're working up high, the likes of tougher wind currents become more noticeable. Plan for the unseen and unexpected when you're evaluating risk, carefully observing clues in the weather around you.
Working with wind
Unlike other conditions – snow, sleet, ice – the role of wind is more common and likely to affect the everyday functioning of a construction site. It's also quite possibly the most deceiving of all weathers. Always assess the actual location and detect for wind speed, direction and any forecasted changes. Working from a perception of a rooftop, not the actual place, will deceive the conditions on any rooftop and can it become a hazard.
Work with the weather, rather than against it. Deadlines can be demanding and the urgency to finish a project on-time (and in budget) is often our highest priority. Yet, hazards will cause more harm to your project if not properly mitigated.
Safety tip: Hazardous weathers aren't just those in freezing, or low temperatures. Risks will be present even in mild temperatures – accidents are more likely to occur when thorough due diligence is overlooked, and the obvious clues are ignored.
Daylight dips
When you're being watchful of the weather, the daylight visibility might change – quickly, suddenly and with little notice. This is another cause of hazard in the winter months and, without the proper resources, can make your project and your employees vulnerable. Wearing protective and reflective PPE in anticipation of change, for example, can limit slowdowns in how you handle changes in the natural daylight.
Safety tip: be proactive about gear by wearing it in anticipation of changing weather and conditions, rather than halting construction to react in the moment. Precautionary planning should be a proactive stage – encourage employees to keep the proper resources nearby at all times.
Learn the symptoms of cold exposure
Having the proper resources doesn't only mean reflective gear and other safety attire such as hard hats and gloves. It can mean waterproofed layers and thermal ones to ensure that, at height when wind chill is worse, the cold doesn't break the barrier of your clothing. Warmth (and hydration) are essential to avoid risking bad or ill health when working in unfavourable winter conditions. The cold can increase certain types of injuries like hand-arm vibration syndrome, which can leave your workforce unable to work from long term stress, too.
By proactively teaching the signs of cold exposure, your workers can tackle risky symptoms and be watchful of their own wellbeing. Shivering, paleness, poor judgement – these can all be symptomatic of strained working conditions, which can put others at risk too. Site managers should learn these clues in their team's health and avoid any cold exposure by rotating teams regularly, hydration breaks ideally with warm drinks, and teamwork.
Safety tip: Create a working culture where everyone knows the risks and they can look out for one another. The best defence against rooftop risks and other construction hazards is an informed, cooperative team.
Beating the weather shouldn't be the goal, but learning about its tells can be helpful when managing an active site – see changing weather patterns, learn likely hazardous areas, and keep an eye on your team's health. Avoiding risk is a discipline and a compliance matter, which makes it a high priority for any manager.
The article was written by Barry Eagle, MD at GripClad, a supplier of anti-slip flooring for industrial, commercial and public access areas.