Mental health and pandemic (again) amid this year's challenges, says COS columnist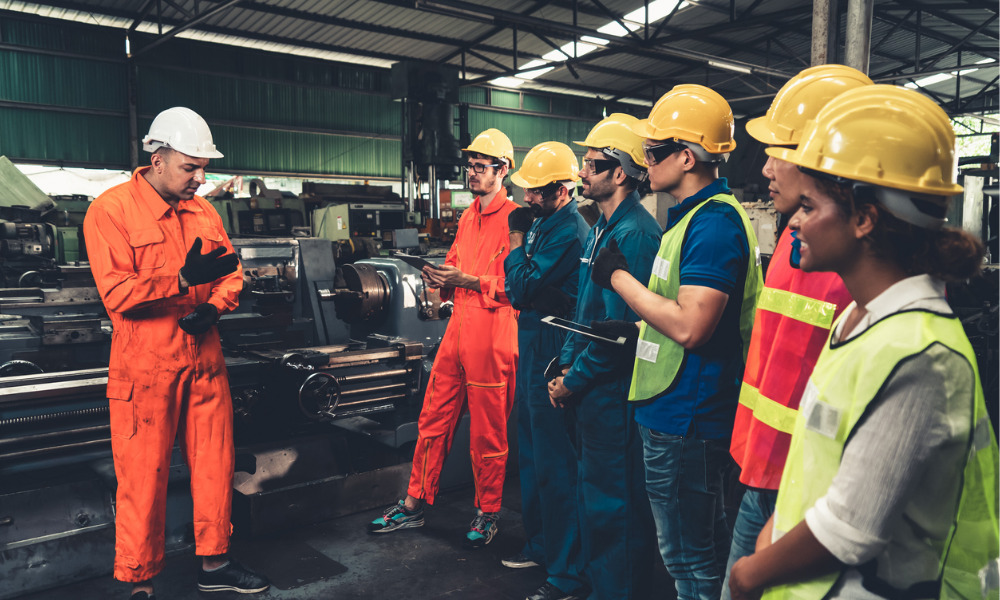 Dave Rebbitt is the CEO of Rarebit Consulting providing services across Western Canada. With more than 30 years in health and safety, he continues to be involved in the development of the profession and is the most published author of health and safety in the country. Here, Rebbitt examines the top OHS trends for 2022.
In 2022 the big story for health and safety practitioners continues to be the pandemic and its challenges to employers and workplaces. There is a shifting workplace and workforce in the current labour shortage.
Vaccination required?
Employers will continue to struggle with mandating vaccinations, which remains a little uncertain in the legal realm. Health and safety professionals must remember that they are generalists and engage with medical and legal experts to help guide their efforts.
Employers have had health and safety departments run voluntary clinics for the flu shot or other vaccinations in the past. While employers may need to monitor employees' vaccination status, health and safety practitioners must be part of a team that provides solutions unique to the workplace.
Mental health
There can be no doubt that the general population's mental health has been negatively affected by the pandemic.
Engaging with the workforce to understand the challenges and need for mental health supports will assist health and safety practitioners in helping to identify solutions and services for the employer to help support employees who are suffering from mental health challenges.
Profession – or not?
Many say that health and safety is not a profession. There is little legal recognition of health and safety practitioners. This has been a topic of debate and activity over the last decade, but little has changed.
Groups are springing up across the country, born out of frustration to find some way to move forward in a purposeful way towards a regulated profession.
The same urgency is not felt by the organizations that ought to be leading the charge. In watching the fading of the CSSE, it becomes apparent that poor governance cannot be solved by more of the same.
The CSSE and BCRSP should be leading the charge for a profession, but their boards are elected by current board members and not by their paying members or certificants. The resulting disconnect impacts credibility and leads to a lack of accountability at the board level. This can mean that the boards pursue priorities and projects that may not accurately reflect the priorities of the people they claim to represent. Both organizations seem headed for irrelevance without more transparency and/or open elections.
Working remotely
The workplace is changing, perhaps permanently. Many employees will have a blended workweek splitting time between the office and home. As the definition of the workplace becomes more fluid, so may the definition of being in the course of work for worker's compensation purposes.
Health and safety practitioners can help employers ensure that the home workspace is safe from an ergonomic perspective. Blurred lines between home and workplace can lead to tensions between supervisors and workers.
Workplace transitions
Transitioning back into the office will not only be about vaccination status, but what the new workplace actually looks like. It is unclear if the traditional cubical farm would provide enough distancing and protection for workers. There are also other issues, such as employees riding together in a vehicle as a work team or traveling for work purposes.
Transitioning back to attending a workplace can be stressful for some employees. Employers will be looking for solutions to provide reasonable accommodations and be sensitive to employee needs while stewarding to company requirements.
Growing public expectations
One of the dimensions of remote work is that employees are less likely to accept poor behavior from their leaders. The news seems full of societal backlash against public institutions where leaders are not meeting employee expectations.
Members of Parliament and senior military officers are being investigated for inappropriate behavior. Class-action lawsuits have been filed against the Department of National Defense and the Royal Canadian Mounted Police. The public is demanding that these public institutions provide a psychologically safe workplace.
This is all on the heels of a very public resignation by Canada's Governor General early in 2021. The public has made it clear they will no longer accept such behavior in public institutions. The private sector is not immune, as we saw when the CEO of Better.com fired 800 people on a zoom call.
More harassment news
With the growing awareness of the damage that harassment and workplace violence are doing to workplaces and the people in them, we see more and more stories in the news of insensitive senior managers and public figures.
Along with the class-action lawsuits in the federal arena, there is the case of the Ottawa Police Force. CBC's The Fifth Estate broke a story in February 2021 that was almost beyond belief. The allegations revealed in the story resulted in eight officers being suspended. The deputy chief and other officers are being accused of misconduct. Some officers were charged criminally.
The story did not get better over the year. The police force was forced to launch a criminal investigation in June 2021 over allegations of a fraudulent psychological assessment report regarding a member of the police department that had complained about sexual harassment.
This all came after the police service had hired a legal firm to conduct investigations into sexual violence and harassment claims in its ranks.
It would be an error to assume that only public institutions have these issues on this scale, or that the Ottawa force is somehow unique. Major unions have yet to meaningfully engage in holding employers accountable for workplace violence and harassment training or investigations.
Health and safety practitioners can help their employers understand the risk associated with these hazards and the potential risks when the employer does not have appropriate procedures to deal with these hazards.
Environment, Social, and Governance (ESG)
Years ago, there was corporate social responsibility. That briefly captured the attention of health and safety professionals but never made its way into the zeitgeist.
ESG is really about standards that are used by socially conscious investors. Environmental stewardship has been with us for a long time. Social license is how a company integrates with the community where it operates and manages its relationships with employees. Governance is about the company's leadership, internal controls, and shareholder rights.
What is that got to do with health and safety? It could have a lot to do with it. Like anything else, ESG is looking for a way to measure or grade companies on ESG. Some think that the most critical part of ESG is corporate governance.
Governance is about the internal checks and balances within the company. Where someone has responsibility, they must also have accountability. This is intrinsic in the internal responsibility system model familiar to all health and safety practitioners.
Without these internal accountability mechanisms to keep the company operating efficiently and in a socially responsible manner, the company could be open to significant losses, either financial or in reputation.
The health and safety management system is all about the company's relationship with its employees and how it values its employees. It focuses on the interaction of responsibility and accountability. A socially responsible company that is also stewarding to the environment would prioritize a safe workplace for employees, including a psychologically safe workplace. It is rather an easy matter to determine if that is the case or not.
While a defensible audit protocol for ESG does not yet exist, investors are paying attention and looking for reliable ESG metrics.
Supply chain
We are all aware of the supply chain disruptions caused by the pandemic. However, the effect on health and safety will be as marked as any other industry. Most people perceive this to be a shortage of supply. Shortages and personal protective equipment at work sites. That will undoubtedly be the case.
However, the supply shortage will likely also lead to fake or cheap reproductions of personal protective equipment. This has always been a problem, but it is likely to become more of an issue where there are shortages, and companies turn to different suppliers to fulfill their needs.
Health and safety practitioners need to be wary of equipment coming from new or different suppliers since it may not actually meet the standards stamped or stenciled upon it.
Legal landscape
2022 may be an interesting year for legal precedents. We already see cases in court over mandatory vaccinations.
Worker's compensation boards are accepting claims for deaths related to COVID 19 that is assumed to have been contracted in the workplace.
The RCMP opened a criminal investigation into workplace COVID 19 fatalities in Alberta.
Employers have a responsibility to address known workplace hazards. Health and safety practitioners can assist their employers by helping them understand the risks associated with failing to properly consider the hazards things like COVID 19 and harassment.
Conclusion
Health and Safety practitioners have more challenges to overcome in the shifting workplace.
Pandemic precautions, procedures, and plans. Vaccination incentives and strategies along with needs analysis. Add in harassment investigations, and things look busy.
Health and safety practitioners will need to learn the skill of self-care.
I am sure some things were missed. 2022 will be full of challenges, opportunities, and accomplishments.