WSIB CEO looks back on his tenure, talks about the organization's increasing focus on mental health and digital services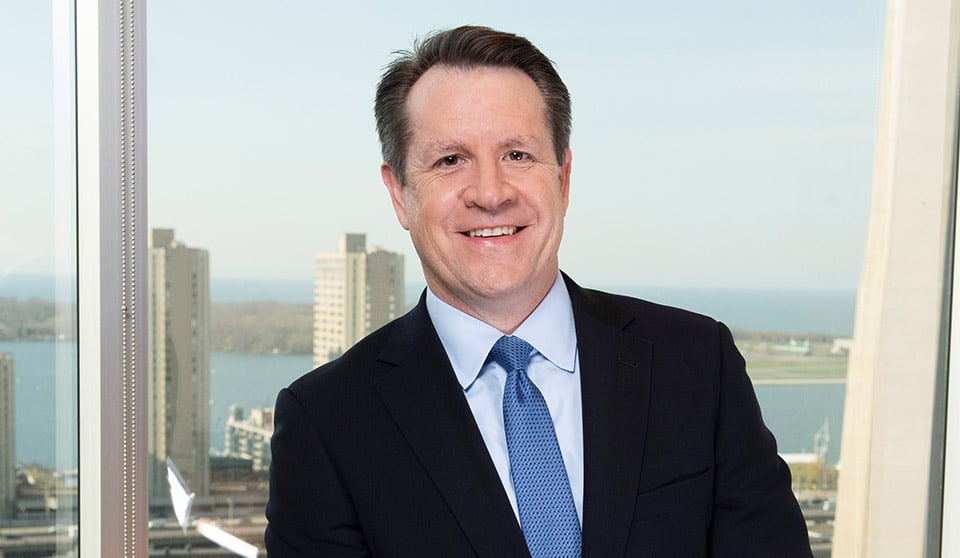 When Thomas Teahen, president and CEO of Ontario's Workplace Safety and Insurance Board (WSIB), started his tenure in February 2016, he identified a series of different key priorities to tackle. COS spoke with Teahen at the start of his mandate about his goals for the future. At the time, he stated that his number one priority was for the public to view the workers' compensation agency as operating with integrity — something with which it has previously struggled. Four years and a few months on, and in a drastically different environment, has anything changed?
"First and foremost, [my goal] was to ensure that the WSIB was always seen to be acting with integrity, being transparent and fair. I think we've accomplished that goal, but we still have more to do every day," says Teahen. "Some of the questions people had about us back in 2016 aren't being asked today, and we're being more consistent about communicating with our stakeholders."
He says that another goal was to continue the path to eliminate the WSIB's unfunded liability. Since 2018, for the first time ever, the WSIB has been fully funded to cover future obligations for monies owed.
This is one thing that Teahen is keen to outline as he says that there was a lot of debate around whether that should be a priority for the WSIB. He says that, at the end of 2019, the WSIB's level of funding was 114%. Looking to the future and the current pandemic, Teahen is confident that the WSIB can face the crisis precisely because of the WSIB's level of funding.
"Until you face a crisis and you actually have to deal with it, you don't understand how important [being fully funded] is," he says. "Never before had the WSIB had that kind of financial stability. We now have a workers' compensation system that is financially sustainable for Ontarians. People who are hurt or become ill as the result of their work can have full confidence that we will be here to help them now and in the future. And we've been able to reduce premium rates for employers for each of the last three years," says Teahen.
Teahen says that, because the health and safety of workers is always a top priority, the WSIB has renewed and strengthened its focus on health and safety. "We've introduced a new health and safety excellence program, which complements a new program implemented by the Ministry of Labour, Training and Skills Development. Our new program helps show businesses what health and safety excellence looks like and how they can take steps to achieve it."
The WSIB is a provincial agency with an independent board of directors and is independent from government in terms of managing claims. It provides benefits for people who are injured or become ill at work as well as services to assist people to return to work safely. Teahen estimates that the WSIB covers about 75 to 78 per cent of employers in Ontario.
Two years ago, Teahen and the WSIB implemented a new strategic plan for 2019-2021 with the aim of making sure that Ontario is the safest place to work in Canada and the world.
As an independent trust agency, WSIB has given itself the mandate of making Ontario a safer place to work by strengthening the accountability and effectiveness of the province's health and safety system through the development of training programs, for example. A large part of its strategic plan is continuing to promote transparency at all levels.
What else can be improved? "We're a service provider, and at times our service isn't meeting the standard it needs to meet – especially when it comes to providing digital services for workers and employers," says Teahen.
He asks how will the WSIB continue to meet expectations of customers, especially as those may have changed given the novel coronavirus pandemic? Although a huge issue, there are other issues facing Ontario workers today.
"I think the biggest issue continues to be [ensuring] that workplaces are healthy and safe," says Teahen. He says that, in the last couple of years, there has been a reversal in the number of claims coming into WSIB. From 2010 to 2015, there was a reduction in injury rates. However, that trend started to reverse in 2016.
"That's a challenge for us. It also signals that we have to redouble our efforts to make sure that there is a strong health and safety response," says Teahen.
He says there are growing challenges in the workplace, not just in Ontario but in workplaces around the world.
"One of the growing issues in workplace health and safety, which I think mirrors society more broadly, is how we're dealing with mental health stress and mental health injuries," says Teahen. "We want anyone dealing with work-related mental stress to get the help and support they need. We began a new chronic mental stress program in January 2018, which added to our existing traumatic mental stress and post-traumatic stress disorder services."
Teahen says these claims very much reflect a trend in Canada, which is a growing awareness of mental health issues in society, which are critical issues that need to be addressed.
Although there are certainly other issues facing workers and employers, talking about COVID-19 is unavoidable in this current climate.
How COVID-19 has impacted workplaces, has the potential to impact people and how it will impact the WSIB's mission is very much a concern. "We are experiencing a significant number of claims related to COVID-19," says Teahen. "We have two types of claims: those suffering from COVID-19 and then people giving us notice that they've possibly been exposed to COVID-19."
For those active claims, the WSIB has put a dedicated team into place. Linking to the rise in mental health claims, Teahen says a potential new element of those COVID-19 claims may also relate to mental health issues stemming from the pandemic.
He says there are two kinds of contrasting experiences during the novel coronavirus pandemic: On one hand, there are workers in certain sectors that have been deemed essential that are potentially facing exposure to COVID-19. On the other hand, there are different issues for workplaces that have shut down, where workers have faced the impact of potentially losing their jobs in a short-term or permanent capacity.
The WSIB has created a $1.9-billion financial relief package, in conjunction with the Government of Ontario, to help employers reduce the financial burden of COVID-19.
This new landscape has greatly impacted the WSIB's business. "We know that employers may not be able to pay premiums to us," says Teahen. The WSIB has put into place a number of relief measures. "Back in March, we announced a deferral of premium payments for six months to provide some stress relief." All businesses are eligible for this deferral, and the WSIB is waiving interest and penalties during this period.
Nevertheless, Teahen says he doesn't think that COVID-19 will necessarily have an impact on the WSIB's future, precisely because the organization's mission is to reduce or eliminate the "often devastating impact that occurs from a workplace injury or illness" in a normal context or in the context of COVID-19. He also stresses that, as mentioned before, due to the WSIB's current level of funding, it should be able to guarantee payments and services to people with work-related injuries or illness.
However, how the WSIB delivers its services does have the potential to change.
One of the ways the WSIB could up its game is by looking toward the tech sector and moving toward more digital services, which has been a temporary (and now maybe permanent) solution for many businesses and service providers around the world — including the WSIB itself, which has continued to provide many of its services through online means.
"One thing we're looking at is how to do virtual health care. We're not sitting back and waiting, we're trying to think of new and innovative models to provide the best outcomes for the people we serve," says Teahen.
As we move away from traditional workplace models, tech and virtual care certainly seem to be on a lot of peoples' minds and a way for many Canadian businesses and organizations to look toward the future.
Ultimately, for the WSIB to continue to serve its customers, it has to set itself up for the future. Although right now may be a tough time, and the WSIB is focusing part of its energies on helping workers and employers survive the current crisis, the WSIB is continually looking at ways to improve its services whether those are COVID-19 related or not. Teahen has an upbeat attitude. "You have to be thinking ahead, and thankfully we'll be able to withstand [COVID-19] in a reasonable way. We'll get through this."