Canada's "Safety Diva" on her trailblazing career and passion for science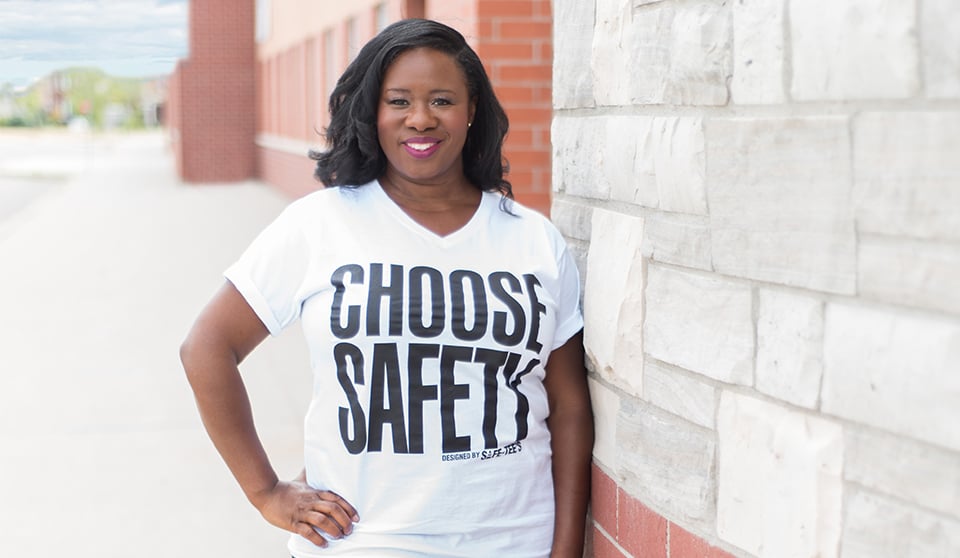 Q - Could you tell me about your background and how you got into health and safety?
A - I studied public health at the school of occupational and public health at Ryerson University taking the public health stream, whichever stream you take you have to take courses on the other side so as I was learning more about occupational health and safety I liked the learning; it resonated with me after being involved in an incident where an employee almost cut off his finger cleaning a slicer and I was the person in charge the night it happened.
I recognized that employers might want people with understanding of both occupational and public health. As I was leaving Ryerson University I was accepted to Durham Region Public Health Department to complete my public health practicum to become a public health inspector. I was also offered a job as a health and safety analyst working for Loblaw companies, I had been working at the store level for Loblaws Supermarkets since the age of 17 so I was familiar with the organization and the opportunity to work at head office was intriguing, so I chose the private sector job figuring I could always go back to the public health inspector route at some point in the future that never happened.
While working for Loblaw companies at head office I was allowed to work at the store level for Loblaws supermarkets And I never forgot the experience and connection of what happens at head office and what happens at the floor level and just seeing how some programs and initiatives that come out of head office don't always translate to the floor level. After leaving Loblaw I went on to a food safety auditing job that allowed me to provide auditing support to many large food service employers across the country. I got to travel quite a bit and get exposed to different employers and different ways of managing food safety, but also health and safety.
I now work for Dexterra and Horizon North, but over the years I have been going between food safety and occupational health and safety roles and sometimes those responsibilities are combined where I have to provide health, safety, food safety, infection prevention and control and environment support to the business.
Q - What do you like most about being a health & safety professional?
A - As cliché as it might sound, I like the fact that I get to help people, make a difference in the organization. I'm a bit of a science geek too so I like the fact that health safety, food safety, infection prevention and control and environment all include science! I always say as a health and safety professional if you don't understand the science behind a lot of what we do then you're missing a bit of a trick.
To me, occupational hygiene or industrial hygiene should be a mandatory course for all health and safety professionals to have to take because in that course you actually get to begin to understand the science of safety. I was teaching occupational hygiene in Fort McMurray at the local college and I never forgot the definition of occupational hygiene: it Included the words science and art and I think that's a perfect combination for the work that we do as health and safety professionals.
One of my biggest joys is just seeing others improve and succeed at health and safety. When I see "Don't Walk By, Take Action Now" submissions from our workforce of interventions they have conducted at work, with subcontractor employees and in their communities when the workday is done, absolutely makes my week!
Q - How to you promote health and safety outside of work?
A - First and foremost, I try to lead by example and live health and safety at home around my family and friends. I remember once I bought several of my family and friends a thermometer as part of their Christmas gift so that they could cook to the right safe internal temperatures, and provided them with the information on what those safe internal temperatures would be. Or you'll see me doing a quick circle check of my personal vehicle after it's been parked for a few hours before driving off.
I've started using grocery pick up service and I noticed that as store clerks are transferring the groceries from their cart to your trunk, that they must bend over and twist their bodies quite a bit. I asked the clerk, "how often do you transfer groceries in one day?" She said about 15-20 times. I started to have a conversation with her about what she can do to help minimize the stress and strain she is putting on her body, that she could suggest to her employer about how they could improve how they're doing the job to make it safer. Chatted with the clerk about exercises and stretching that she can do to protect her own health. This would be an example of the "Don't Walk By, Taken Action Now" approach that we promote and live at our organization, it can and should extend beyond the workplace.
I really enjoyed being a regular guest on CBC's 'Steven and Chris show' and being able to share simple food safety tips at home with a national audience. I volunteer on one of WSPS' advisory committees, I'm part of the commercial industrial services advisory committee and have done that since 2014.
One of the things that I've been doing in the last few years, and it was actually thanks to my employer providing employees with a set of volunteer hours every year, is that I took an opportunity to seek out what would be the right organization that would benefit me but also benefit the organization (since the company is providing these volunteer hours I figured might as well try to find something that's relevant to the work that I do). That's where I came across My Safe Work and I reached out to Rob Ellis and Jessica Disabatino on LinkedIn and just asked if there is an opportunity to volunteer with them and from there I began volunteering with My Safe Work from time to time at high schools and colleges. I also had them come to our organization and just spread their message to our leaders.
For years I've always wanted to join Threads of Life's 'Steps For Life Walk' but for one reason or another the timing never worked out. Last year in 2019 I finally was able to participate and join the walk here in Toronto. I was so impressed with how well organized and executed the event was that I reached out and asked if they needed any help and since then have become a part of the Toronto walk planning committee providing media support. I hope to continue volunteering with them next year.
On top of this I have spoken with high school students; I used to spend a day per semester with the hospitality students at St. Francis Xavier in Mississauga just teaching them about food safety and health and safety. I use whatever opportunity I can really to promote. I also taught accident theory at Humber college from 2011 to 2019 and I'm currently teaching a few hours on health and safety for Seneca college as part of their building operator bridging program.
Q - How did you get involved in WOHSS? What is your role within the organization?
A - I saw a call out for directors at large and I remember sharing it with a few other fantastic safety professionals saying that they should apply. As the deadline date came closer I kept thinking 'oh you know should I apply, I'm not sure' and then At the 11th hour just before the deadline I decided to submit an application for their director at large position – which they were looking for outside of Alberta. I sent it in an lo and behold they contacted me for an interview, had the interview, and then I was one of the two that they chose here in Ontario to join the organization as a director at large.
Q - Could you tell me about your new role and its importance in the broader health & safety community?
A - I'm currently the Executive Vice President of Health, Safety, Environment and Quality for Horizon North Logistics. Just going back a few years I was appointed to Vice President of Health and Safety at Carillion. It was shortly after that that a few colleagues had pointed out to me that I might be the first black female health and safety professional to hold such title in Canada – although it's hard to validate, but could be true. It didn't really dawn on me but I've had many people, and other health and safety professionals, just thank me for being an example of what is possible. Fast forward and I'm now executive vice president and I could very well be the first ever, or first black safety professional working for a large employer, male or female in Canada to hold such title.
To me it shouldn't really make a difference but I recognize that it does matter to people who look like me, and that they want to see themselves in these senior leader roles and just see the possibility that if one can do it so can they. I didn't really grasp what that might meant for others until I'd had a few conversations with people who have told me what it means to them so I'm thankful to be the change they need to see. I look back at all the leadership and management roles that I've held over the years and I'm often the only one or one of very few black or even persons of colour in the room. As much as that didn't bother me I think it does highlight a need for change, a need to consider all people for management opportunities regardless of gender, race, etc. which doesn't always happen for one reason or another.
I also want to think I'm an example of what can happen when an employer and line manager supports an employee who is dealing with personal matters. Back in 2015, we found out that my only child was diagnosed with autism; for anyone going through that journey you know that there are many assessments and appointments to attend, and it's been an ongoing challenge. It's mentally and physically exhausting to be available for my son and at the same time work. If it weren't for the support of my line manager, the President and CEO of the company I don't think I would be where I am today in my career. It's a real example of how work can help an employee instead of hindering them to excel despite what's going on at home. I know for my own mental health, being able to contribute to work not only made a big difference financially, as many of the expenses supporting a child with autism are not government funded – especially if you want to get them help while they're waiting on the long waiting list for government funded therapy – but the social, emotional, intellectual elements of wellbeing can all in part, come from work. Not only is it the right thing to do to support your employees with caregiver responsibilities, a recent study conducted by the Institute for Work and Health (IWH) found it can result in savings for employers too.
Q - What motivates you to do your best at work every day?
A - First and foremost, it's the people in our organization. We're a people business. Our employees motivate me, and for the most part they are motivated to do a good job, to deliver high quality service to the clients that we work for and the customers we serve; I want to make sure that they can continue providing that excellent quality service In a safe and healthy workplace, and that their time working for us does not cause them harm.
Our management and leadership motivate what my team does. Our external COR audits have applauded the overall engagement and "Safepetency" (that's safety + competency combined) from our managers and supervisors. Our leaders already get that health, safety, environment, and quality are important foundational pieces to the success of the organization. That's why I sit on the executive leadership for the organization and I report directly to one of the CEOs. Many organizations don't have a role like mine, or the role reports into Human Resources or Regulatory Affairs vs. to the CEO. If an organization wants an easy way to show commitment, start by looking at the reporting lines and put health and safety reporting into who is ultimately responsible for the organization.
A shorter version of this article originally appeared in the Sep/Oct 2020 issue of COS.