Colin Druhan, executive director, Pride at Work Canada, tells us about his organization's essential mission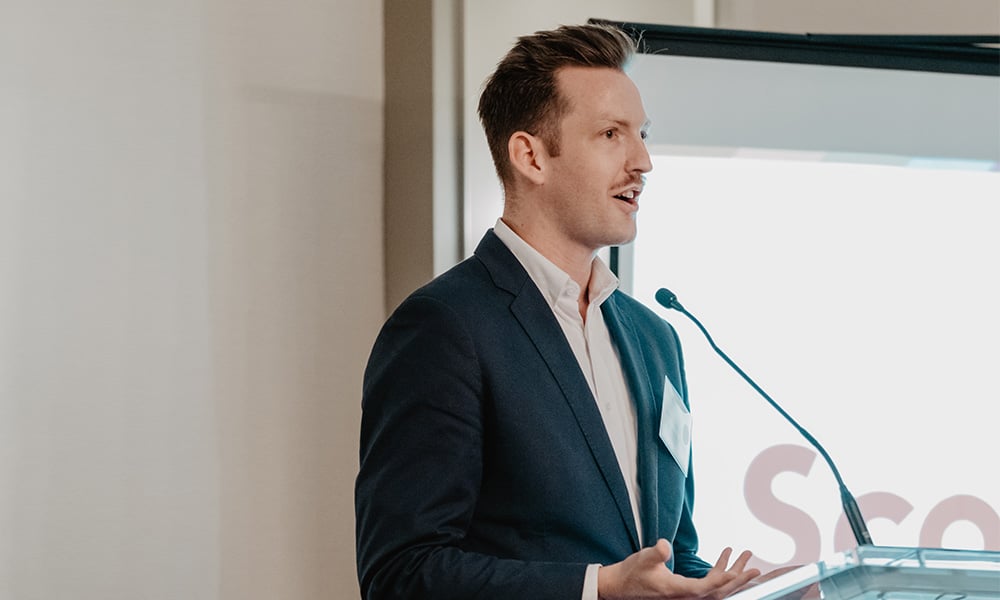 Pride at Work Canada/Fierté au Travail Canada was initially founded in 2008 by a group of passionate volunteers. The group mainly operates out of Toronto and Montreal, but it also has volunteer working groups in cities such as Calgary, Halifax, Ottawa and Vancouver.
COS recently spoke with Colin Druhan, executive director of Pride at Work Canada. Druhan joined the organization in 2014.
"When we were founded, our primary focus was getting inclusion for the LGBTQ2+ community and getting inclusion for that community on the agenda of Canadian businesses… We've been operating for a number of years and our vision has always remained the same, which is a Canada where everybody can achieve their full potential at work," says Druhan.
Druhan says the organization has grown a lot over the last 12 or so years. Pride at Work Canada has around 150 members now from 12 members in 2008. "We've gotten better and better and better at what we do," he says.
"When I started, we didn't have any full-time staff and I was an independent contractor. We've formalized a lot of the services that we offer through our membership program, which has made it a lot easier for organizations to see the value that [they're] getting," says Druhan.
"What we do now is operate more as a full-member services agency for employers. And we provide education, training, consulting and advice to our employer members around their inclusion strategy — mostly around the grounds that are most relevant to LGBTQ2+ communities in Canada," he says.
This includes sexual orientation, gender identity and gender expression. "Those are the grounds as they appear in human rights legislation," says Druhan.
A changing narrative
The social and political climate has rapidly evolved over the last few years.
"I think that it's been quite striking…There's been a real shift in the way a lot of companies look at diversity and inclusion," says Druhan.
He says that the conversation has shifted to focus less on the business case for diversity and inclusion; now, it is more focused on the social responsibility aspects of it. There is so much evidence out there that shows that diverse teams perform better and are more productive.
"The world we live in is diverse," says Druhan, "so the workforce is diverse. In order for you to be an employer who is taking advantage of every talent pool, you have to be inclusive, because you have to attract people from every pool that's out there."
Druhan says he sees a lot of companies getting involved with Pride at Work Canada because they've received feedback from employees saying that they don't feel comfortable going to work or coming out at work.
"It's very arresting," he says. "I think that the narrative around diversity and inclusion has changed drastically over the last five or six years."
Druhan also mentions the Black Lives Matter protests that took place last summer.
"It was a really important development. It's really great to see a lot of people start to tune in to conversations that have been going on in some communities for quite some time," he says.
"Any kind of metric that you see in terms of challenges around employment or inclusion in the workplace, those are always most exacerbated for BIPOC in the community or people with disabilities. Those intersecting identities certainly impact somebody," says Druhan.
"As an organization that's always really tried to speak up on behalf of the needs of the most marginalized people in the LGBTQ2+ community," says Druhan, "it was really great for us to be able to focus on how our broader mission around sexual orientation, gender identity and gender expression intersects with issues around racism and ableism, as well as challenges around sexism and misogyny."
Facing new challenges
COVID-19 has raised a number of issues, some of which employers may not think about.
"One of the things that has come up a lot with people working through Zoom or video calls and things like that is that some people might hesitate to be on camera because they're not out to the people who they work with," says Druhan.
"While some people find it really fun and interesting to see inside their colleagues' homes, I've talked to people who say 'I never go on video because I'm worried that my kid will show up in the background, and none of my colleagues know that I'm married, and none of them know that I have kids. Because that would involve being out at work, and I don't want to be out and I don't feel safe,'" he says.
"So, that's something that's come up a lot where [employers] said that [they] never really considered that that might be a source of anxiety for some people," says Druhan.
"We can start to have these conversations about how we're all facing the same challenges, but then there are some things that are really specific to our identity, that people aren't going to know unless we talk about them."
Indeed, something that came up during our conversation was the importance of dialogue.
Talking to people who serve or who are from other marginalized communities is essential because we become aware of challenges that we may have never considered before. Allowing for that ability to share is important to open up new perspectives and foster a better understanding of issues and challenges faced by marginalized communities.
This is especially important for businesses and organizations working toward more inclusive and equitable workplaces.
On the topic of COVID-19, Druhan says that, according to a number of surveys, COVID-19 has disproportionally affected the LGBTQ2+ community in Canada, notably with regards to unemployment and underemployment. The pandemic has had a huge economic impact. Furthermore, Druhan explains that people in the LGBTQ2+ community experience worse health outcomes due to negative interactions with health-care systems and because of homophobia, biphobia and transphobia within health care.
It has also impacted important social environments, such as Pride festivals. "We've obviously lost the connections there," says Druhan.
"I would also say that a lot of people in the community depend on peer support programs. And social programs run by people in the community… specifically designed for our community and that are designed around a peer support model," he says.
With stay-at-home orders and social distancing, many people are not able to access in-person interaction for these programs. Although some have moved online, "people miss that connection," says Druhan.
Silver linings
Nevertheless, Druhan says, "We've seen a really great amount of support from the community to pivot to delivering services online and collecting donations for redistribution to the community… So, as tough as things are, it's great to see people trying to meet those challenges together."
Druhan says his organization typically does a lot of in-person events around Pride as "it's a time of the year that a lot of people are hyper aware of the community that we work with."
It is a great opportunity to shine more light on the organization's mission, he says. In 2020, however, a lot of Pride events were cancelled, and Druhan says that they moved all of their events online at the start of the pandemic (highlights of 2020 virtual Pride can be found online).
Pride at Work Canada made the decision to make all of its programming free for the general public, with the online platform offering more visibility to the organization. Druhan says it was a huge success, and around 3,500 people attended the virtual events — a big increase over 2019 in-person events that happened across Canada.
"That was one big win for us. Through the pivot to online for us as a national organization in Canada — which is one where population is pretty spread out over a huge area — we were able to connect with more people in rural areas than ever before," says Druhan.
Indeed, although in a different format, online platforms allow for greater digital outreach. People living outside of urban areas or people with mental or physical disabilities are now able to access events or programs that they otherwise may not have been able to attend in person or may not even have known about.
Starting a conversation
There are some work environments in which diversity and inclusion may be a little more difficult to roll out. Skilled trades are one such environment. Druhan says this is actually something that Pride at Work Canada has been trying to push more in its programming.
"We did an event for pride [in 2020] that was LGBTQ2+ inclusion in skilled trades," he says. "We got a couple of comments from people saying, 'Why bother doing this, the industry is never going to change.' But we also got a lot of really great involvement from community members who are really happy to see the subject matter being touched on."
Druhan says that, for various reasons, diversity and inclusion efforts have always been easier to implement in an office environment. However, those difficulties can be overcome with a little bit of creative thinking.
"I think there's been a lot of great developments in how we talk about safety in the skilled trades over the years and roll out new ways of keeping people physically safe on job sites. And I don't think any of those were based on things that were first developed in an office environment," says Druhan.
"Those were things that were developed by people working on job sites, based on what they know about the job… I think part of the key to trying to introduce more diversity and inclusion measures is actually talking to people from marginalized communities who are working in those environments and asking them what they'd like to see," he says.
"I think that where we see the most progress happening is when employees are engaged and they're involved."
This article originally appeared in the March/April 2021 issue of COS.