Alerts when conditions may present increased risk factors for exposure to airborne viruses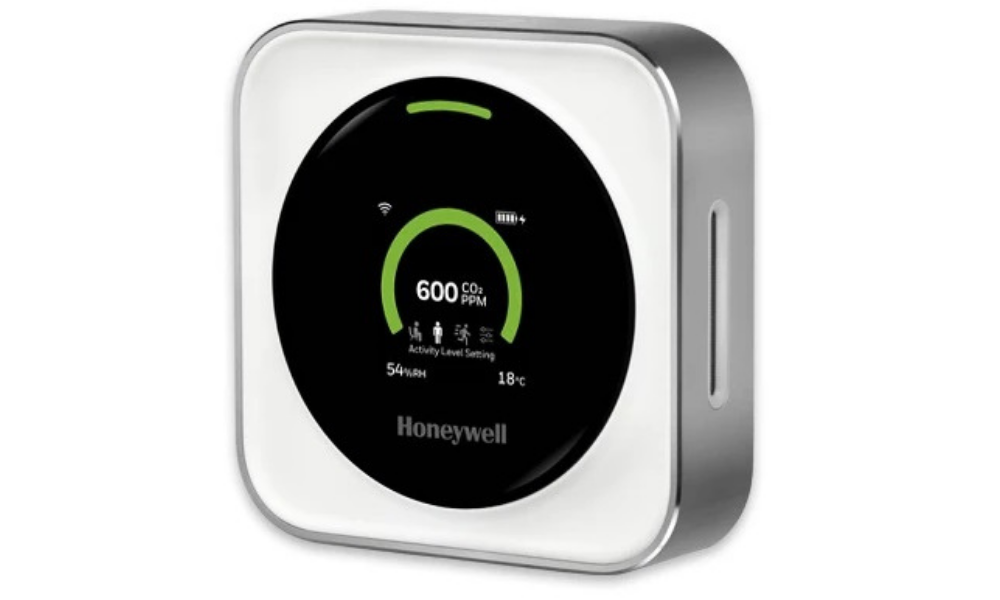 The Honeywell Transmission Risk Air Monitor is a portable device that measures carbon dioxide and features a proprietary risk alerting system based on user-selected activity levels within a room.
The new monitor incorporates a proprietary algorithm developed by Honeywell based on research conducted at the University of Colorado on the influence of aerosols on the transmission risks of airborne viruses. Users are alerted when conditions are present that indicate a certain air risk factor level is reached so they can increase ventilation with outdoor air and/or improve air filtration, which the U.S. Environmental Protection Agency recommends as important components of a larger strategy for indoor air quality.
Honeywell's monitor uses CO2, temperature and humidity sensors and offers three pre-programmed activity level settings. It features a green, yellow or red light to alert users about the potential for increased indoor air risk factors. It incorporates a digital display, a rechargeable battery and is Bluetooth®*- and WiFi-enabled to allow for connectivity between the device and its mobile application and online dashboard.
The Honeywell Transmission Risk Air Monitor (HTRAM) analyzes specific air quality conditions and alerts the user when conditions are present that may increase the risk of exposure to airborne viral transmission. It does not prevent or reduce virus transmission nor mitigate viruses that may be present, nor does it detect or warn against the presence of any virus, including but not limited to COVID-19. The HTRAM does not repel or destroy any microorganism, viruses, bacteria, or germs.