The Airframe by Levitate Technologies is a lightweight, wearable...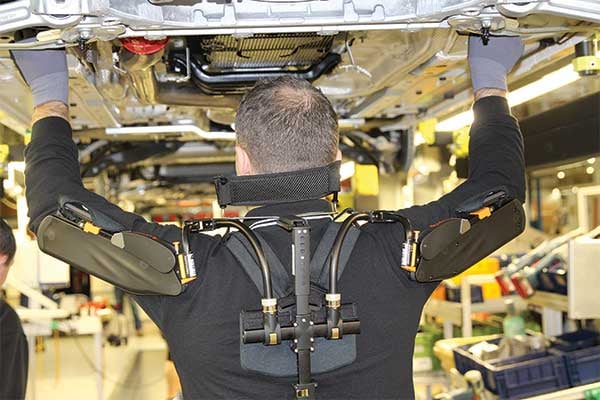 The Airframe by Levitate Technologies is a lightweight, wearable exoskeleton that's engineered to support the upper extremity of professionals and skilled trade workers who are exposed to repetitive elevation of the arms. The Airframe provides all-day, seamless ergonomic support and reduces muscle fatigue resulting in a healthier worker, said Levitate.
The Airframe transfers the weight of the arms from the shoulders, neck and back to the outside of the hips, evenly distributing the load to reduce muscle fatigue. Flexible and scalable to individuals of almost any size, it slips easily on and off, and moves with the wearer, without intruding into the work space or limiting motion or dexterity. The design allows for quick adjustments and selections of components that allow the device to be fitted for a five-foot-two person or a six-foot individual in a matter of two minutes, according to Levitate.
The Airframe mechanical support system progressively activates as the arm is raised, and gradually releases as the arm is lowered, resulting in "just the right level of support — at just the right time." The lightweight nature of the device is in itself a major part of the innovation.
"When walking into a BMW or Toyota plant, we are asking assemblers with 20 years of experience to put on an exoskeleton for the first time in their careers. The last thing these hard-working employees need or want is adding discomfort to their already aching bodies," said Joseph Zawaideh, vice-president of marketing at the San Diego company.
The device is strictly mechanical and does not have any lubricants, seals, software, electrical components, pistons or compressed air. This makes the Airframe reliable enough to be used all day and every day by the worker. The system consists of cables, pulleys, springs and aluminum tubing.
The technology has been used by assemblers, painters, welders and material handlers at automotive, aerospace, heavy machinery and agricultural equipment manufacturers.
"This is the first time that an upper body exoskeleton is being used throughout the shift for workers, so they do not ache at the end of the day," said Zawaideh. "It has the potential to allow workers to lead healthier lives and retire without the musculoskeletal disorders or aching."
The technology was validated in an Institutional Review Board-approved study for its performance in real jobs in a partnership between John Deere and Iowa State University. The university collected over 500 million electromyography data points on the eight different muscle groups on several workers, proving decrease of muscle overexertion, fatigue and injury potential.