The CoreChair is an ergonomic, active-sitting chair that encourages movement...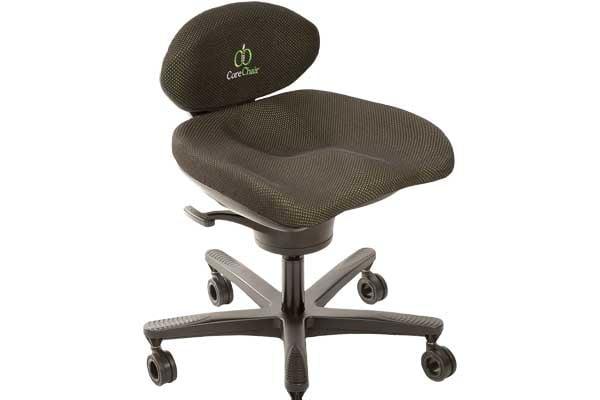 The CoreChair is an ergonomic, active-sitting chair that encourages movement. The COS staff could not stop talking about this chair at the 2017 Partners in Prevention trade show in Mississauga, Ont. in May. When you sit in the chair, it not only feels extremely comfortable, eliminates any pressure points and gives you instantly perfect posture, but it moves around with you.
CoreChair CEO and co-founder Patrick Harrison pitched the chair on CBC's Dragon's Den where he explained it was inspired by the trend toward exercise balls being used as chairs in the office.
"We set out to design an active-sitting chair that is really intended to optimize the posture, which the ball doesn't do, and above all things, make it safer in the office environment," he says.
The seat is highly sculpted to relieve pressure points, prevent sliding and deliver comfort. Prolonged static sitting in traditional chairs (even high-end ergonomic chairs) can result in uncomfortable back strain and lack of movement, says CoreChair.
The amount of static sitting workers do in a day contributes to obesity, disease and back pain, otherwise known as the sitting disease. Introducing a variety of movement into the workday helps to optimize worker health. The design of the CoreChair encourages movement in all directions to 14 degrees, enhancing joint mobilization of the hips, pelvis and spine. The chair engages core muscles and stimulates circulation and other vital systems.
"The chair allows you to move as you're reaching for things, so it's minimizing strain on your back as you're doing normal activities," says Harrison, who is a kinesiologist based in Aurora, Ont.
The vision of CoreChair is to offer the world's healthiest, therapeutic office chair. Studies by the Mayo Clinic in the United States show that moderate movement on the CoreChair stimulates metabolism 20 per cent more than on a standard office chair.
Harrison's wife is a personal trainer and she developed a series of exercises that can be done on the CoreChair to help workers build exercise and activity into their workday.
While some of us were a bit concerned about falling out of the chair, others were unsure about the lack of armrests. But the chair comes with a 60-day satisfaction guarantee, so if you just can't get used to it, the company has your back.