Musculoskeletal disorders (MSDs) are the most frequent type of lost-time...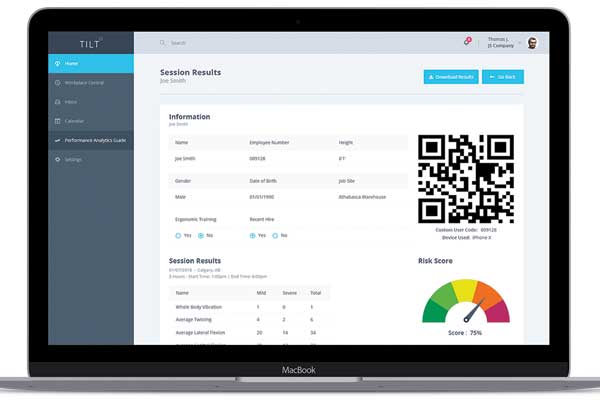 Musculoskeletal disorders (MSDs) are the most frequent type of lost-time injury and the single largest source of lost-time costs in Canadian workplaces, according to the Canadian Centre for Occupational Health and Safety. Workers' compensation board figures from various jurisdictions indicate that MSDs account for 25 per cent to 70 per cent of total annual compensation claims.
Tilt, a platform approach to assessing human movement, will be launching soon to address this problem. According to its founder, Christian Browne, Tilt helps to predict musculoskeletal injuries before they happen by identifying high-risk body posture movements. The mobile platform uses smartphone sensor technology, machine learning and data analytics algorithms to detect and score high-risk human movement in industrial workplaces.
The idea for Tilt came to Browne after working as an advisor for a Canadian safety association and seeing how many companies were struggling with MSDs.
"The best way to protect workers from the physical, financial and emotional harm caused by on-the-job injuries is to be proactive and prevent them from occurring in the first place," said Browne. "Our goal is to provide employers with meaningful human performance data, which can enable them to redesign certain workplace activities to improve safety and prevent injuries."
Once downloaded on a company-owned smartphone, Tilt continuously captures human movement data with internal sensors. The back-end analytics then search for events, such as an employee picking up an object from the floor, twisting, bending or spending extended periods in a static work posture.
The integrated algorithm captures and analyzes events and allocates a risk score, which is then transmitted to an online supervisor's portal. Aggregated data from all employees is supplied to the employer, so trends or high-risk areas can be identified and training efforts or improvements can be targeted. Tilt also provides insights and training recommendations for reducing injuries to the user.
The platform can be used in industries where workers undertake manual tasks, such as manufacturing, health care, construction and trucking.
The start-up was launched in Regina and recently passed through Saskatchewan's Co.Labs technology accelerator program. The Tilt platform is expected to be available by the end of this year.