Keen's Polar Traction outsole features micro-glass filaments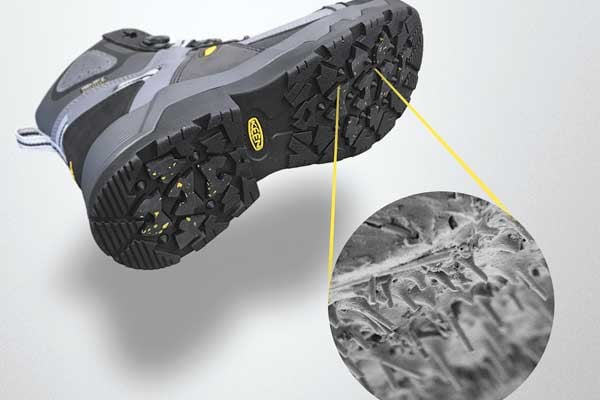 Keen's Polar Traction outsole features micro-glass filaments creating a "micro-cleat" effect that pierces the surface of wet or oily ice, improving traction. The low-temperature, flex-resistant rubber compound offers flexibility in cold temperatures, ensuring better performance and grip in some of the harshest environments. The outsole delivers remarkable traction without increasing weight or bulk for the wearer, said Keen.
Since slips, trips and falls is the number 1 reported safety concern in work environments, Keen is continually evaluating its rubber compounds. It saw a need in the marketplace for footwear that extended beyond non-slip standards into extreme temperatures and conditions — and the Polar Traction was born.
"A solution to improve performance, functionality and reduce mental stress while working and walking on ice and frigid surfaces was key — helping to keep workers safe and allow them to focus on the job at hand instead of worrying that they might slip or fall and hurt themselves," said Robin Skillings, director of global marketing for Keen Utility in Portland, Ore.
With Canada being home to some of the most extreme cold-weather working environments in North America, it's critical for safety managers to help staff identify the type of personal protective gear that not only protects on the job site but also within the working environment, Keen said.
"Safety and occupational health managers have an acute understanding of the unique challenges of their working environments. The innovation of Keen Polar Traction helps solve the issue of traction and stability in these conditions and provides another tool for managers to help keep their employees safe and sure-footed with every step they take," said Skillings.
Currently, in Canada, the Polar Traction outsole is incorporated into the Davenport 8-inch insulated waterproof work boot as well as the Midland 10-inch waterproof internal metatarsal work boot. The company has plans to incorporate it into four additional new styles available for consumers in August.
This article originally appeared in the June/July 2018 issue of COS.