Red Wing Shoe Company has launched Red Wing for Business — the ultimate...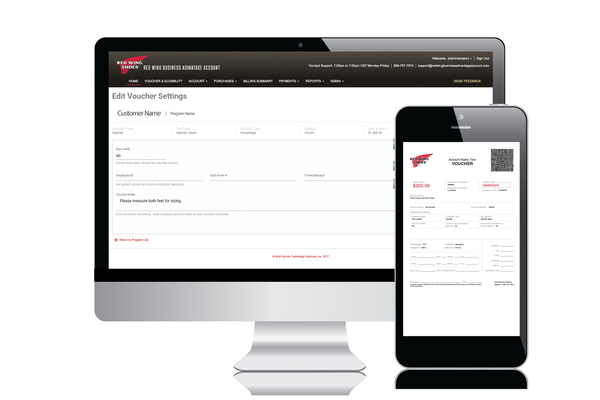 Red Wing Shoe Company has launched Red Wing for Business — the ultimate safety footwear experience for both safety professionals and their crews. Since 1905, Red Wing Shoes has provided purpose-built safety footwear that protects employees in construction, manufacturing, oil and gas, and many other occupations in the skilled trades. Building on that legacy, Red Wing for Business combines digital and retail experiences to help safety professionals manage their footwear programs with unprecedented speed and efficiency, making it easier for them to uphold worker safety while mitigating business risk and staying compliant with ever-changing regulations.
Through the program, employees can purchase safety footwear at any of more than 500 Red Wing retail stores, 170 on-site mobile shoe stores and more than 700 Red Wing authorized retailers. No matter where employees shop, safety professionals can manage the program — including digital vouchers, employee eligibility, billing and reporting — through a user-friendly, customized self-serve portal.
"We took a very close look at the needs of safety directors, procurement managers, accounts payable teams, senior leaders and, of course, workers to identify every potential hassle of various safety footwear programs in the marketplace and sought to eliminate them," said Shawn Sweeney, Red Wing Shoes vice-president and general manager of North America work. "This is a complete, end-to-end transformation of safety footwear management, making it faster and easier than ever, in ways that will impact the bottom line."
With Red Wing for Business, managers spend less time dealing with the day-to-day details of the safety footwear program. Invoices can be consolidated, custom reports are simple to run, and issuing single or multi-use vouchers only takes a few clicks. Most important, safety professional can have greater comfort in knowing that their employees will purchase the right footwear based on the unique environmental conditions of any given job.
The cornerstone of the program is selection, including more than 250 industry-specific designs from the Red Wing Shoes Work, Irish Setter Work and WORX brands. For program managers, the highlight of the program is the online portal, where they can manage employee eligibility with payroll file integration, view and pay invoices with custom sorting options, and issue single- or multi-use digital vouchers employees can redeem at any location.
Vouchers, which subsidize employee footwear based on specific program requirements, are one of the biggest administration challenges safety professionals face. Red Wing for Business streamlines the process, enabling program managers to exert greater control and make decisions with confidence.
Employees can receive vouchers digitally and managers can see eligibility at a glance, helping to ensure employees only purchase approved footwear. In fact, digital vouchers can be set to expire or be deactivated in real time. In addition, vouchers can be handled by multiple managers and customized to align purchases to specific cost centers. Managers can also choose frequency of invoicing, including the option for one consolidated invoice regardless of where employees buy their footwear.
"Red Wing has completely transformed the safety footwear experience by combining the latest technology with the human experience," said Todd Holzer, Red Wing Shoes director of business transformation. "No one in the safety industry has mastered this until now."
Holzer notes that Red Wing for Business will evolve to offer more options, such as e-commerce to serve employees in remote locations.