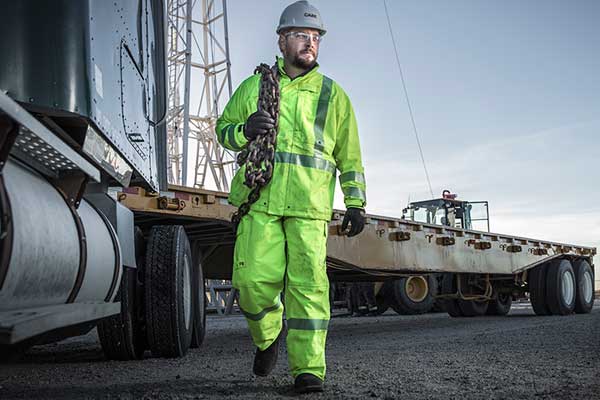 W. L. Gore & Associates has introduced high-visibility orange and yellow options to its new line of Gore FR Apparel products. The performance FR outerwear garments offer an ideal balance of protection, comfort and durability for oil and gas workers in physically demanding and extreme environmental conditions, says the manufacturer. The new high-visibility yellow and orange garments meet or exceed ANSI 107-15 Type R, Class 2 and CSA Z96-15, Class 2, Level 2.
"Adding high-visibility offerings to the Gore FR Apparel portfolio brings an additional element of safety to what is already a best-in-class line of protective outerwear," says Sean McDearmon, sales leader for Gore FR Apparel. "Our products continue to ensure worker safety and comfort by enhancing visibility, increasing range of motion, minimizing bulk and reducing the effects of moisture build-up across a wide range of environmental conditions and varying work rates."
Individuals may recognize Gore-Tex in their favourite outerwear, but now they can have that breathable protection from rain, wind and snow on the job with the added protection of FR and high-vis. Gore FR Apparel products boast superior breathability for excellent sweat management, with moisture evaporating through the Gore-Tex fabric.
Made with Gore-Tex Pyrad fabric, the garments protect against flash fire as the Pyrad layer forms protective, stable char, keeping the integrity of the laminate to provide enhanced protection. Workers are also protected against petroleum and oil-based hazards, as well as hot liquids and steam. The garments are resistant to abrasion, snagging and cracking in extreme low temperatures.
This article originally appeared in the December/January 2018 issue of COS.