Ansell has introduced its Redefine Your Comfort Zone communication initiative, designed to...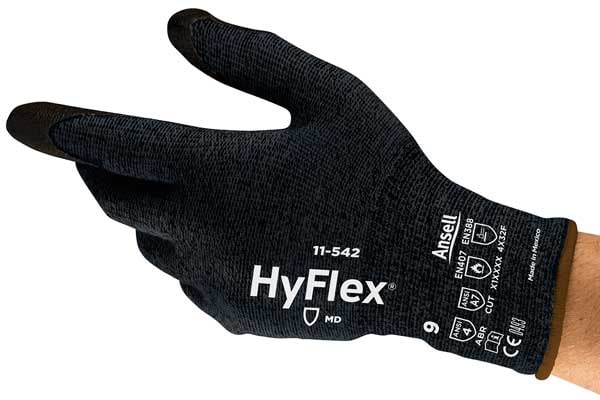 Ansell has introduced its Redefine Your Comfort Zone communication initiative, designed to drive meaningful changes in workplace behaviour when selecting industrial hand protection. Workers across a variety of industries are taken out of their comfort zone when wearing insufficient personal protective equipment (PPE), which can cause distractions, discomfort, or even worse, injury. Proper hand protection solutions can change worker habits so they can be more satisfied and productive, spending their day focused on the job instead of their gloves.
Nearly one-half of industrial workers are concerned that their hands are not adequately protected from injury, says Ansell. When using high cut solutions, workers often report poor dexterity, short-lived glove life and the need to frequently change gloves between tasks. They're faced with a choice between functionality and protection.
The new HyFlex 11-542 glove provides workers with all-day comfort, while still allowing workers to successfully perform tasks without interruption. This glove is designed to deliver superior hand protection from sharp, hot or oil-coated objects while providing enhanced worker comfort and high dexterity — a combination that eliminates the need to remove and replace gloves throughout the day to match the task at hand. This new HyFlex glove is the lightest weight high cut protection solution offered from Ansell, and is available today.
"Every day millions of industrial workers perform the same routines out of habit – this approach to safety and PPE use poses a major risk to both workers and employers," said Steve Genzer, president and general manager of the Ansell Industrial Global Business Unit. "With the new HyFlex 11-542, Ansell is bridging the gap to ensure workers are protected from cut risks all day while still staying comfortable, redefining what workers should expect from a high cut protection glove."
Engineered with Intercept Cut Resistance Technology, HyFlex 11-542 offers ANSI Level A7 and EN388:2016 Level F protection against cuts and lacerations in high-risk applications across multiple industries, including metal fabrication, automotive, machinery and glass. Zonz Comfort Fit Technology and an ultra-lightweight design allows workers to perform tasks effectively. Fortix Abrasion Resistance Technology provides increased durability and prolonged use life – on average, two times longer than other competitive gloves, says Ansell, driving down the cost of ownership. Ansell Grip technology provides unbeatable grip performance in dry-to-light oil environments.
The glove also complies with EN407 Contact Heat Level 1 standards, offering contact heat exposure protection up to 212 F. Workers can safely handle hot, sharp objects and equipment within industrial applications including stamping, injection moluding and machining. The glove is available in sizes XS to XXL (6-11).