​Deb Group has launched Solopol GFX, a heavy duty foam hand cleaner with grit...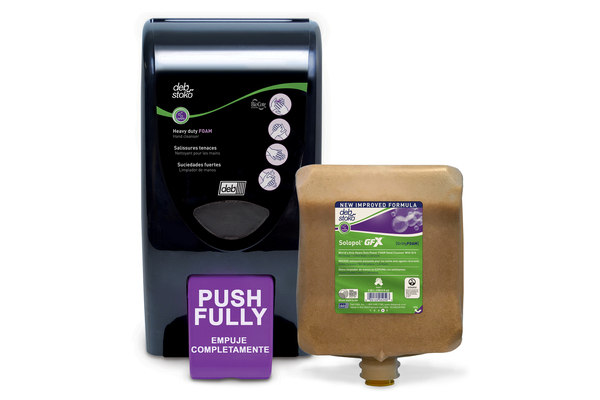 Deb Group has launched Solopol GFX, a heavy duty foam hand cleaner with grit. Solopol GFX quickly removes medium to heavy duty contamination such as oil, grease and grime from your hands, without leaving them feeling dry, rough and cracked.
"We're excited to introduce an industrial cleanser that benefits customers from so many angles, from how well it cleans, to how your hands feel after washing, to its efficient cost in use," said Isabelle Faivre, vice-president of marketing, Deb Group. "Unlike traditional heavy duty hand cleaners that contain ingredients like petroleum distillates or pumice that can damage the skin, Solopol GFX contains only skin-safe ingredients, biodegradable cornmeal and olive pit scrubbers."
Solopol GFX's patented foaming technology transforms the liquid into rich, creamy foam. The foam lather spreads quickly and easily for fast and powerful cleansing, delivering the optimum amount required for effective hand washing while providing up-to 42 per cent more hand washes per litre compared to traditional hand cleansers, says Deb Group. One dose out cleans up-to three doses of competing pumice-based cleansers. One cartridge of Solopol GFX will last nearly twice as long as traditional two-litre heavy duty cleansers, the manufacturer says, allowing organizations to cut back on maintenance costs and overall spending related to hand cleaner.
Ideal for use in industrial environments, Solopol GFX features a fresh citrus scent and is preferred by nine out of 10 users over traditional heavy duty cleansers, Deb Group found. The hand cleaner is designed to remove medium to heavy substances such as dust, dirt, grime, oil, grease, carbon black and lubricants without leaving behind a residue on hands or in the sink. It is certified UL ECOLOGO and USDA BioPreferred.