Lind Equipment is proud to announce the launch of its new Beacon980 LED Light Cart...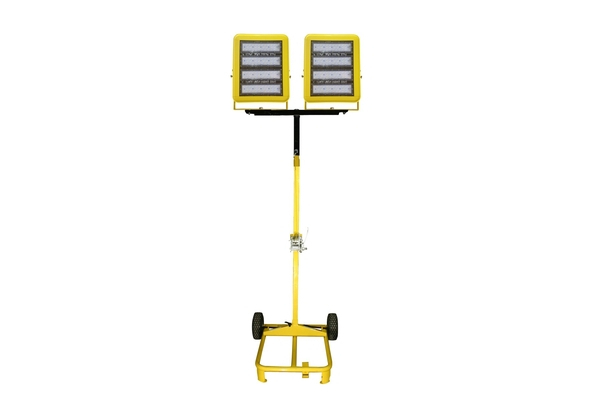 Lind Equipment is proud to announce the launch of its new Beacon980 LED Light Cart, the latest in its line of award-winning large area portable LED lights.
The Beacon980 LED Light Cart is a small portable cart that carries either one or two of Lind Equipment's Beacon980 LED light heads, producing the same amount of light as the equivalent number of 1,000W metal halide lights. The cart is ideal for construction sites and work areas where portability is as important as light output.
The Beacon LED Tower uses state-of-the-art Lind Equipment large area LED floodlights that provide more mean light output than traditional metal halide bulbs but use 80 per cent less power. These lights are warrantied for three years and rated for over 50,000 hours, meaning customers will never have to change a bulb again, Lind says.
"While the concept of the light cart is not new, we've added some great innovative touches that we are known for," said Brian Astl, president of Lind Equipment. "The Beacon980 Light Cart is more durable, more portable, safer and more cost efficient than the traditional metal-halide versions. We are excited to be able to offer this to our construction, mining, military and equipment rental customers."
Traditional metal halide light cart users will be familiar with the difficulties in bulb-breakage, ballast failure and long start/re-start times. The Beacon980 LED Light Cart makes all of these issues disappear with long-life LED panels that never require users to change a bulb or repair a ballast. The high-quality LEDs start up immediately in all weather conditions and are built to be impact resistant and weatherproof.
Safety is a huge concern when using traditional light carts and the most pressing ones have been addressed with the innovative Beacon980 LED Light Cart. The dangerous heat levels generated by metal halide lights have been removed by using cool-running high efficiency LED lights. Additionally, every unit comes standard with a winch to raise and lower the 12-foot mast, removing any pinch point and dropping issues.
The Beacon980 LED Light Cart also comes standard with foam-filled rubber tires, meaning you will never encounter a flat tire in the middle of the project that is common with traditional pneumatic-tired light carts. There is also a platform for users to place a small generator (the Beacon980 LED Light Cart uses only 3.3 amps / 400 watts) or weight for use in high winds.