Disinfecting wipes effective against SARS-CoV-2, the virus that causes COVID-19, in 30 seconds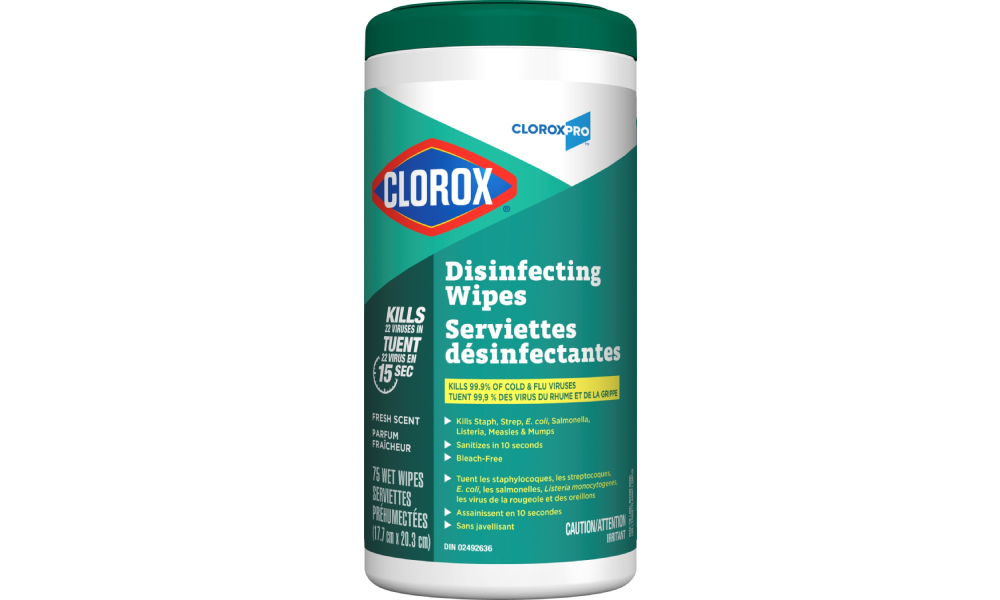 Clorox Canada's Total 360 Disinfectant Cleaner and Disinfecting Wipes are approved by Health Canada as effective in killing SARS-CoV-2, the virus that causes COVID-19, on hard, non-porous surfaces.
The Clorox Total 360 Disinfectant Cleaner kills SARS-CoV-2 in two minutes and the Clorox Disinfecting Wipes kill SARS-CoV-2 in 30 seconds. Both products are bleach-free. Instead, these Health Canada-approved Clorox products contain quaternary ammonium chemistry that has proven effective against SARS-CoV-2. The combination of the chemistries used and how the Total 360 System distributes them means there is no delayed re-entry time, allowing bystanders to enter the room once spraying is complete.
"Canadians have an interest in the efficacy of their disinfecting-cleaning products in fighting the COVID-19 virus. The positive and stringent regulatory review by Health Canada of Clorox products gives Canadians the confidence they're looking for when it comes to choosing the right product to protect them," said Dave Iacobelli, Clorox Canada president and general manager.
"Studies have highlighted the importance of disinfecting high-touch surfaces, and our Clorox Total 360 Disinfectant Cleaner, which can be used in conjunction with our unique and innovative Clorox Total 360 System, has been proven to kill SARS-CoV-2, the virus that causes COVID-19, in two minutes. We completed and compiled scientific efficacy data for Health Canada's review and now we have specific claims of scientifically proven, effective and fast disinfection-cleaning efficacy of CloroxPro disinfecting-cleaning products, which is welcome news as Canadians are returning to work and school," said Barley Chironda, infection control specialist at Clorox Canada.
Clorox's Total 360 System uses unique electrostatic technology to wrap around an item or surface to clean and disinfect. This revolutionary cleaning system delivers superior coverage in an efficient, cost-effective way. The Total 360 System is primarily used in institutional settings such as long-term care homes and hospitals, is proven to be safe to use on a variety of surfaces, and kills 99.9 per cent of bacteria.