Limited edition first aid kits for Halloween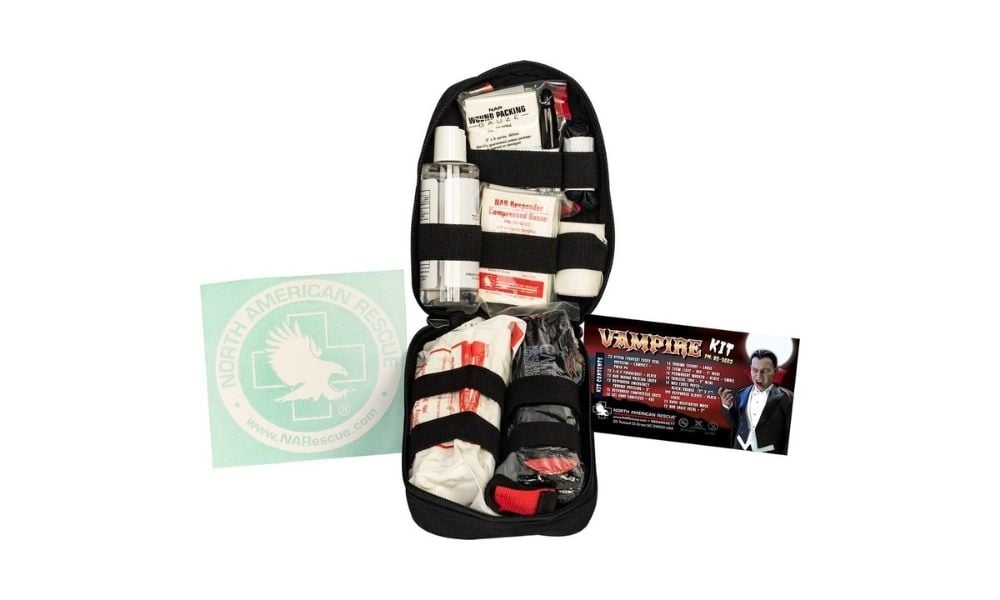 Says North American rescue:
"Vampires are notorious for their ability to attack when least expected. Be prepared with the limited edition Vampire Halloween Monster Kit!
The Vampire Kit was designed to prepare everyone for Nosferatu attacks. Have the confidence to Trick-or-Treat in creepy grave yards, mausoleums, and haunted houses. Ideal for use in action, it's compact and includes a diverse array of products to treat everything from fang wounds to blood loss. With this kit, you will not have to worry about becoming a vampire this year!"
The 'Vampire rescue kits' contain:
HyFin® Double Chest Seals
C-A-T® Tourniquet.
NAR Wound Packing Gauze
6 in. Emergency Trauma Dressing.
Responder Compressed Gauze
2 in. Surgical tape
KN95 Respirator
Gel Hand Sanitizer
NAR Trauma Shears
Red ChemLights
Black Responder Gloves
Permanent marker.
Orange/Black Med Cross PVC patch
NAR Halloween Monster Kits Decal
North American Rescue is also selling limited edition Frankenstein First Aid Kits and Werewolf First Aid Kits.